THREADing a community together
Where were all the creative geniuses, fashionistas and up-and-coming designers this past Sunday afternoon? At the eighth annual THREAD Show, of course. The multicity shopping event, which promotes emerging designers and encourages local artists, had its third show at The Lab in Costa Mesa, Calif.
As a gloomy Southern California morning gave way to a sunny afternoon, designers had a chance to showcase their work and connect with consumers on an intimate level. The show, which has nine stops along Southern California and Seattle, also provides a way for cities across the nation to support the creative genius in their local markets.
"By allowing shoppers to skip the third-party retailer, THREAD gives trendsetters an opportunity to meet the designers face-to-face, feed the local economy, be kind to the environment and ensure products are locally made and ethically produced," explained THREAD Show spokeswoman Danielle Gano. "This one-on-one connection also allows designers to get direct feedback from their consumers and lifts the veil for consumers to know exactly where their products come from."
This idea is what attracts new designers to the show and keeps the ones who have showcased before returning city after city, year after year. Liz Larios Jewelry, a line recently picked up by Fred Segel that carries raw, uncut stones, is a regular vendor at THREAD.
"It's a great way to put your brand out there in a local community," Liz Larios, designer of Liz Larios Jewelry, said. "I have a lot of things that are one-of-a-kind, not available online that I can bring to shoppers."
First-time vendor Olas Handbags has yet to complete her collection but saw THREAD as the perfect opportunity to gain exposure with her target audience. With only three styles of her lamb leather handbags, meant to effortlessly fuse functionality and utility with sophistication, she was enjoying being able to engage with curious onlookers and shoppers.
"It's the perfect place to interact with the kind of customer that the brand is made for," explained Olas. "It's made for the modern woman who is trendy yet exclusive."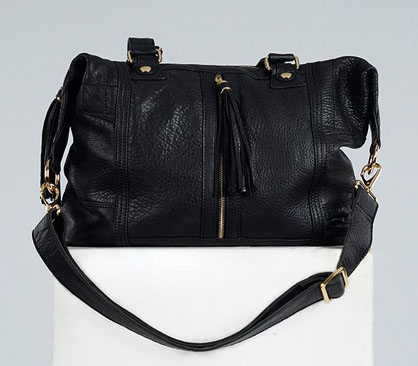 Olas Handbags, Fancy Collection
Tatum Lenahan of LoveTatum.com, a jewelry line of semiprecious stones, was grateful to meet her patrons and build lasting relationships with them.
"For me, each piece is like my baby," Lenahan said. "It's important for me to see who walks away with them. And when they do, I know that that piece was made for them."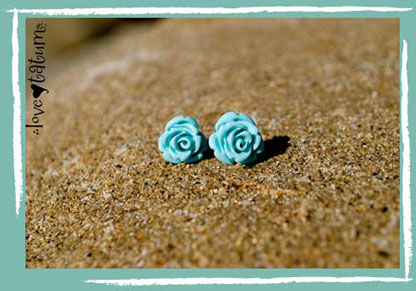 Lovetatum, hand carved coral stud earrings
Other showcased designers included Lovely Planet, an eco-friendly line; Lola Paige a vintage-inspired brand that specializes in beach coverups; Red Hawk Brigade, a menswear brand; ModerneMe, a fashion line for children; Saga, a swimsuit line; Bottlehood, a brand of jewelry that is made out of recycled and refurbished bottles; and many, many others.
While designers have a place to showcase their talent and gain exposure, consumers also had plenty reason—aside from the fashion and jewelry—to be excited about attending the show. With a nail bar providing complimentary all-day manicures, a DIY lounge with a make-your-own fashion designs and accessories (in case anyone felt the need to channel his or her inner fashion designer) and a Thread Wellness Lounge that featured massages to rub away any of the stresses that an overwhelming supply of fabulous designs can bring about, THREAD had plenty to do and plenty to experience.
Although this event was a one-of-a-kind experience, it will be back at The Lab on Oct. 9 for another shopping-filled, art-inspiring event. For more information on a stop near you, visit www.Threadshow.com.
This article was contributed by Dani Smith. To read more from Dani, follow her adventures on Twitter at @Danilaexoxo.
Tagged in: lux exclusives, fashion, events, liz larios, thread, thread show, indie fashion, lovetatum, olas handbags, the lab,