Tony Duquette and Hutton Wilkinson sparkles in 'Jewelry'
There are ordinary coffee table books, and then there's Tony Duquette and Hutton Wilkinson's exceptional cave of ultimate wonders, "Jewelry." Just released in November, the book journeys through a breathtaking and spectacular exhibit of Duquette's and Wilkinson's most coveted pieces: blinding precious and semiprecious gems, stunning coral, eye-catching turquoise, memorizing amber and more stunners, all photographed by Stephanie Hanchette at Duquette's Dawnridge estate.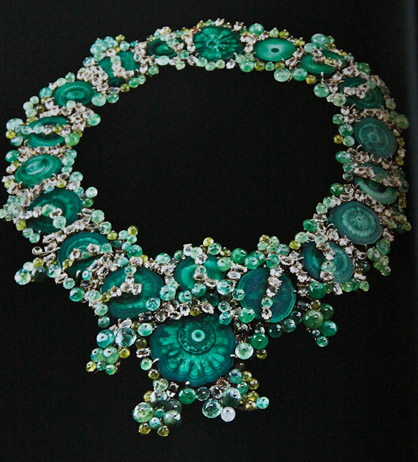 LadyLUX via Tony Duquette/Hutton Wilkinson Jewelry
"Jewelry," however, is more than just an epic fairytale of treasures from Renaissance kings, Chinese emperors, Egyptian pharaohs and fabled maharajas. It is Wilkinson's passionate story of finding a love for jewelry at a young age, how Duquette's work featured in the Los Angeles Times Home magazine changed his life, and the moment he met Duquette and became his protégé, business partner and now president and artistic director of Tony Duquette Inc. As Wilkinson travels through six chapters of different stones and extravagant works of art, he shares his knowledge of their history. In his witty manner, he reveals the duo's inspiring stories of bonding that revolved around these sparkling gems.
LadyLUX via Tony Duquette/Hutton Wilkinson Jewelry
In a particularly romantic love story about tourmalines, Wilkinson chronicles the pink stones, a favorite of the last empress of China and also the stone in which Wilkinson's wife, Ruth – then his girlfriend – wanted for her engagement ring. Wilkinson describes the difficulty of finding a tourmaline in 1976 – and a 30-carat one at that. Wilkinson and his wife visited gem shows, finding only one dealer who carried the stone and bought everything the man had, hoping to find the perfect stone for the engagement ring.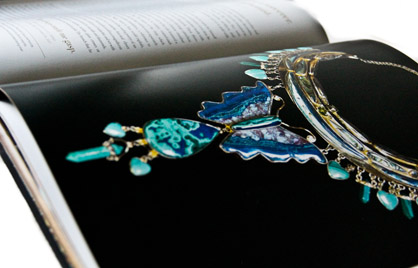 LadyLUX via Tony Duquette/Hutton Wilkinson Jewelry
Still uncertain, Wilkinson told Duquette of his troubles. Being a resourceful man, Duquette took him to his studio's attic filled of glorious old costumes, hats, shoes and beaded coats. Inside was a trunk of antique Chinese jewelry with several enchanting tourmaline bracelets. One in particular caught Wilkinson's eye, and he instantly knew it was the one.
"Handing it to Ruth, he (Duquette) said, 'It's an engagement present.' That became the clasp for the pearl necklace, as well as two earrings to hold my grandmother's drop pearls, which I also gave Ruth as a wedding present. One of the stones we purchased at the gem show, a large carved pink tourmaline that resembled a Jell-O mold, became the center of the engagement ring along with a diamond from a brooch that my mother gave me. I had the base of the ring surrounded by emerald beads" (page 89).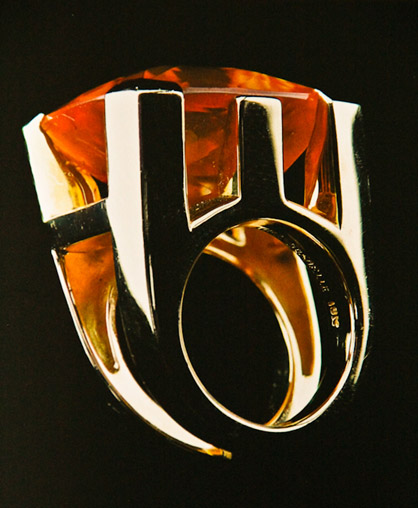 LadyLUX via Tony Duquette/Hutton Wilkinson Jewelry
Together, Duquette and Wilkinson had a personal mantra of "more is more" from which they never strayed far. Duquette had a way of creating spectacular effects with unusual materials, and Wilkinson quickly absorbed this manner while working side by side with him. Duquette would use unexpected Buddha eyes as if they were diamonds, or even ordinary things one would never consider, such as lobster shells, carved tree nuts, wood, resin, dead iridescent beetles or even metal from a vegetable steamer. He was always on the hunt for something inspiring, whether high- or low-end.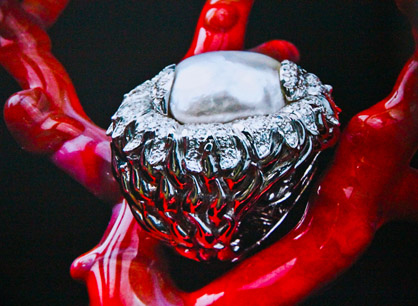 LadyLUX via Tony Duquette/Hutton Wilkinson Jewelry
In one chapter, Wilkinson illustrates an adventure concerning malachite stones. Duquette and Wilkinson met a man in Los Angeles who was visiting from Africa. The traveler had brought with him a car trunk full of malachite in every size and shape, which he offered to the two enthusiasts. "Of course we purchased the entire collection without thinking twice. What a thrill that was!" (page 17).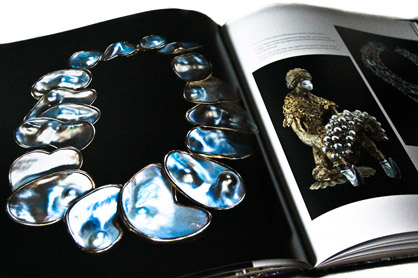 LadyLUX via Tony Duquette/Hutton Wilkinson Jewelry
It is stories such as these that bring an already beautiful piece to life and give it some extra charm or additional depth with its rich history. "Jewelry" is a one-of-a-kind book that inspires as much as it impresses. Wilkinson may be an artist at heart, but he also does an impeccable job of not only describing each story but making you fall head over heels in love with jewelry at the same time.

This article was contributed Annette Tang of the Versastyle. You can follow Annette and her fashion adventures on Twitter at @theversastyle.
Tagged in: lux exclusives, jewelry, tony duquette, hutton wilkinson, coffee table books, dawnridge estate, stephanie hanchette,