Feel the Burn: Top Fitness Apps
Fitness and technology play nice together, and these nine apps prove it! Whether you are a gym buff or love to be out on the streets; an out-of-shape newbie or a fitness superstar; a daredevil snowboarder or a mellow yogi, these apps will help maximize every workout. Check 'em out!
Sportaneous
Use this free app to mix up your workout routine and discover some great fitness experiences near you. Just sign up and choose which type of activity you're in the mood for, and browse the list of yoga, pilates, cycling, martial arts, swimming, dance, high intensity and other classes going on right now. You can sort by distance from your current location, price and time of the class. Choose the one you want, sign up, and, with social media fully plugged in, share with your friends to get some gym buddies! It's also a good spot to scout out free running clubs. Sportaneous is currently only available in New York City but coming to other cities soon.
Charity Miles
Get some extra motivation with Charity Miles, the app that empowers you to earn money and raise awareness for charities by walking, running or biking. As soon as you hit the streets, bikers will earn 10 cents per mile and runners and walkers will earn 25 cents per mile, up to the app's initial $1,000,000 corporate sponsorship pool. Choose from many top charities including Autism Speaks, Feeding America, Michael J. Fox Foundation, ASPCA, the Nature Conservancy and more to benefit from your hard work.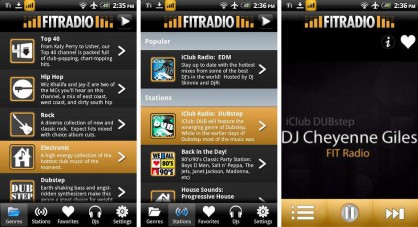 Fit Radio
Awesome music can boost your mood and performance during a tough workout. Amp it up with this free app that allows you to choose your favorite style of workout music, including top 40, hip hop, dubstep, hard rock and more, and start jamming out to a high-adrenaline playlist designed to get your blood pumping. You can also choose from stations created for special events like the Warrior Dash, or find your favorite DJ from a wide selection of talented contributors. Never be bored with your music during a workout again!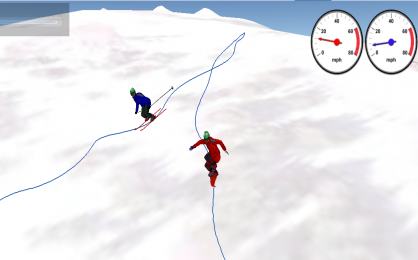 Alpine Replay
If you're planning to hit the slopes this season, this app is worth a try. Alpine Replay allows skiers and snowboarders to measure their speed, distance, vertical drop, airtime, calories and more for their runs on any mountain in the world. Start following your friends and earn bragging rights by comparing your stats or competing with the "head to head" feature. Earn medals for various downhill achievements, and start filling in your map with the resorts you've conquered.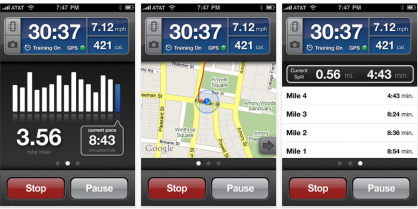 Runkeeper
Continually one of the most popular running apps, Runkeeper allows you to track your total mileage, current pace, average minute/mile, calories and more. It also helpfully maps out and saves each run, so you can start building your favorite routes. You can set specific fitness goals and choose from a wide array of training plans that will help keep you on schedule. Runkeeper also has settings for other workouts including cycling, mountain biking, hiking, skiing, swimming and more, and allows you to pump in your iTunes playlists from within the app. Once you try it, you will not be able to run without it.
Couch-to-5k
For those of us spending a little too much time in front of the TV recently, the idea of running a 5k might not be such a happy thought. Change that with Couch-to-5K, a proven training program that takes baby steps to safely build up stamina and endurance to be able to run a 5K with ease. The easy-to-follow program includes three days of training per week and allows you to listen to your favorite music as alerts tell you when to warm-up, run, walk, push it and cool down. Bring on the runner's high!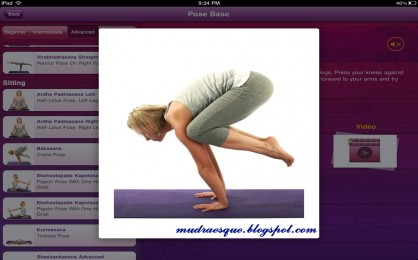 All-In Yoga
Perfect for the yoga addict, this popular app allows you to get flowing no matter where you are. All-In Yoga provides over 300 poses, video and audio guides in HD-quality, plus cool 3D muscle models for every pose. And for those days you're at work and need some pranayama to de-stress, try one of 30 breathing exercises with detailed guides to help calm those nerves. Users can select from dozens of predesigned programs for all levels, or create their own. Handy sound timers will let you know when it's time to transition from one pose to the next. When you're done, view your workout history within a colorful calendar sprinkled with inspirational yoga quotes.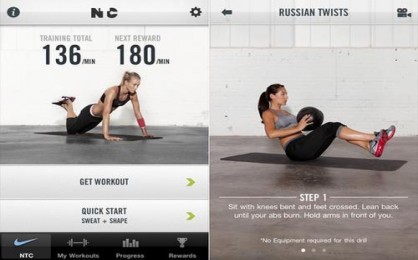 Nike Training Club
This comprehensive, sharply designed and intuitive app is your one-stop shop. Choose your goal from the Get Lean, Get Toned, Get Strong and Get Focused categories, select your fitness level, and get burning with one of the 85 custom-built workouts. In 30- or 45-minute jam-packed sessions, NTC breaks down each move with detailed instructions and helpful pictures. When you're ready to start, begin the activity and the audio cues will guide you through the whole sequence. Fun features include exclusive workouts from celebrities like Lea Michelle and athletes like Shawn Johnson. Say hello to the new personal trainer in your pocket.
Fitness Builder
This personal training app provides tons of diverse workouts searchable by goal and location (i.e. home, hotel, gym, outside) with detailed instructions and photos of each move. Though Fitness Builder doesn't have an audio-guided workout like NTC, users can swipe through as they complete each move, search their huge video library to ensure proper form and check their progress in the metrics section. The pricier app also allows you to ask a real trainer questions, schedule workouts directly into your iCal and read the latest health and fitness news from top exercise scientists. The first month of the Plus version is free, so give it a shot!
Read more on Fitness.
Tagged in: fitness, fitness apps, charity miles, fitness builder, fit radio, alpine replay, nike training club, sportaneous, runkeeper, all-in yoga, couch-to-5k,