Try This: "Trip To the Moon" Cocktail From Master Mixologist Jim Ryan
LadyLux is excited to descend on the Sun WineFest tomorrow, which promises to be a huge gathering of only the most luxe food, wine, beer and spirit creators around. To start the celebrations early, we will share one last recipe from one of WineFest's featured personalities. Jim Ryan, mixologist and brand ambassador for Hendricks Gin, will be on hand making his Trip To The Moon cocktail—it may be pink, but don't mistake it for a girly drink!
Ryan has worked his way up through the bartending ranks of New York to become a master in his craft. Valuing quality ingredients and a creative flair, he has worked with the famed Jean-Georges Vongerichten at Perry Street restaurant and went on to develop the entire drink program at Brooklyn's Dressler Restaurant as bar manager.
He scored the coveted role of ambassador for Hendricks Gin in 2008, and was recently honored with the Best American Brand Ambassador award at the 2012 Spirited Award®. In addition to Hendricks, he's looking forward to seeing some new trends unfold in the cocktail world in 2013. In particular, he advises to be on the lookout for exciting new artisanal mescals that he predicts will be populating drink menus.
In Trip To The Moon, however, he uses his beloved Hendricks gin and the flavors of fresh red pepper and lime juice to create a bold, impressive tipple. Brush up on those muddling skills and give it a try this weekend!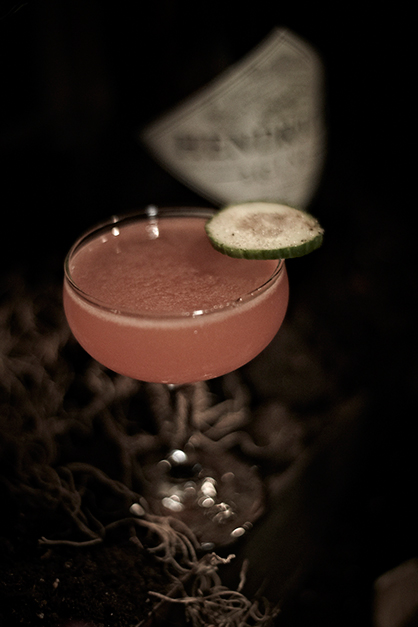 Trip To The Moon aka Georges Méliès
Ingredients:
1.5 parts Hendrick's Gin
.75 parts fresh lime juice
.75 parts simple syrup
3 one inch squares of red bell pepper
Garnish:
Thin English seedless cucumber wheel
Ground cubeb pepper
Kosher salt
Directions:
In a mixing vessel combine beautiful gin, juice, simple syrup and pepper squares.
Muddle well, add ice, shake with vigor and strain into a chilled cocktail glass.
Garnish with a cubeb/Kosher salt dusted cucumber wheel and serve.
Read more recipes

Tagged in: recipes, cocktails, mixology, sun winefest, jim ryan, trip to the moon,