USA Women's Olympic Water Polo Star Brenda Villa Talks Gold Medal, Retiring and her Nonprofit
It took three decades of practice and four Olympic tournaments, but Brenda Villa made history by leading the first USA women's water polo team to win an Olympic gold medal. A feat for any athlete, this achievement was the final award in a lifetime of many that allowed Villa to hang up her water polo cap, retire and start a nonprofit to encourage girls of all income levels to play water polo.
A native Southern California girl, Villa grew up in the City of Commerce and began swimming at the age of two. By age six, she was swimming with the Commerce Aquatics, a club team, before quickly becoming interested in water polo at age eight. Her progression as a water polo player continued through her time at Bell Gardens High School, where she played on the boy's team because there was no girl's team. "I was never as fast or as strong as the boys, so I had to find ways to compete with them and I think ultimately it helped me internationally," said Villa. Playing with boys also elevated her level of skill in comparison to other girls her age, as she was one of the few girls to be selected for the Junior Olympic Team. She was then recruited to Stanford University where she was named NCAA Women's Water Polo Player of the Year and won the Peter J. Cutino Award for the best female college water polo player in the United States.
Unsurprisingly, Villa joined the national team in 1998 and by 2000 was ready to attend her first Olympic games in Sydney. The team placed silver. In 2004, at the Athens Olympics, the team took home a second silver medal. In Beijing, the team placed bronze. After that, the team went through a coaching change and Villa began to consider whether she wanted to keep playing. "I had doubts. Can I still do this? Am I going to make the team?" explained Villa. "I thought maybe I should retire or maybe I should try other things." But, she didn't. She tried out to be on the team again and not only made it on, but was named the team's captain.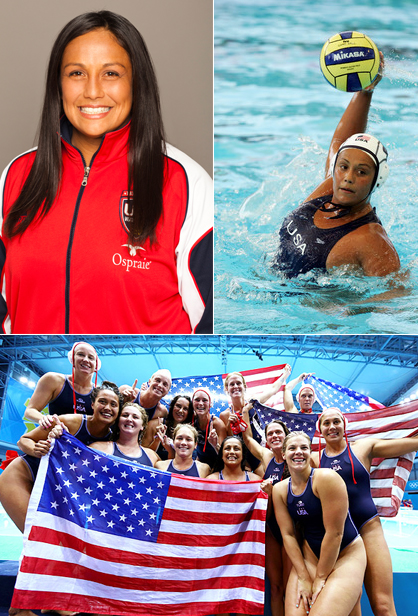 This year at the Olympics, Villa and her team — a team filled with both veterans and rookies alike — went to London with one goal in mind: gold. "There's a lot of distractions at the Olympics: There's so many amazing athletes there, everyone is there to watch you and everyone wants to talk to you. So, from the very beginning we told ourselves that we wanted to be playing the best water polo," said Villa.
The team knew that they would have to be at their all-time best to beat the other countries around the world, especially Spain. In the March before the Olympics, the U.S. team played Spain for the first time in nearly three years and lost. So, during the progression of the games, the team was keeping a close score on what was happening with the Spaniards. They played each other and tied in the preliminary and continued to be neck-and-neck throughout the tournament, each beating every team they played. During the semifinals, the USA played Australia and beat them 11 to 9, putting them in one of two places to compete for the gold medal. Spain played Hungary and beat them by one point in a 10 to 9 win, giving them the second place to compete for gold.
At 8 p.m. on August 9, Spain and the USA played in the finals to see who was win gold. "We were really excited that we got another chance to play Spain in the finals and I think you could tell from the beginning, we meant business," said Villa. The team beat Spain 8 to 5, earning her country its first Olympic gold medal in women's water polo. "It was definitely like icing on the cake. People ask if it was my best Olympics because we won gold and I'm like, 'it's special because I won gold, but it doesn't take away from all the other experiences.' But, I'd be lying if I said I wasn't ecstatic to bring home the gold to the USA," explained Villa. She added, "I always thought I would cry like a baby on the podium but no. All I could do was smile and nod my head and I was thinking to myself, we did it, I can't believe we actually did it. It was something I knew we could do, but I couldn't believe we had actually done it."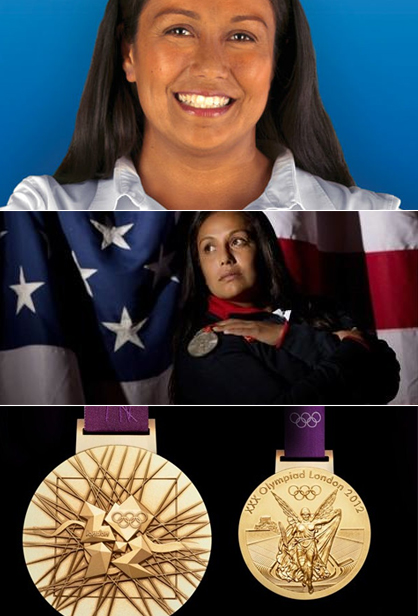 After the Olympic games in London, Villa retired, leaving a legacy in water polo behind her. "I don't think it's completely hit me that I'm done. I think when the team gets back together in May, it's going to hit me, but I want to pursue other things," she stated. "I want to eventually start a family and it's hard for women to start a family while competing at an elite level, especially a smaller sport like water polo."
Now, Villa is coaching at an all girls' school in Palo Alto, Calif. and has co-founded a nonprofit called Project 20-20. The nonprofit puts on free water polo clinics to introduce the sport to girls in lower income areas. Villa explained, "It's giving back to the sport and giving opportunity to those who don't have them. Water polo did so much for me and I know not everyone will become an Olympic athlete but the skills you learn playing a team sport like water polo and the opportunities it can give you, I want to be able to give to other little girls."
Learn more about Project 20-20 here.

Tagged in: lux exclusives, london, olympics, london 2012 olympics, london 2012, olympic games, brenda villa, water polo, usa women's water polo, project 20-20,