Valentine's Day: Gifts for her
Valentine's Day only comes once a year, so take the opportunity to give your gal a gift that shows you care. Whether it's romantic jewelry, a scent to set the mood or an outfit for just you and her, at least one item from the LadyLUX guide is sure to please her.
If food is the way to a man's heart, than a visit to Tiffany & Co. might be the way to a woman's. The renowned jeweler has an array of items – from heart-shaped earrings to key pendants – that will unlock her heart. Tiffany's "Loves & Kisses" ring will remind her of a kiss and hug from her beau whenever she wears it.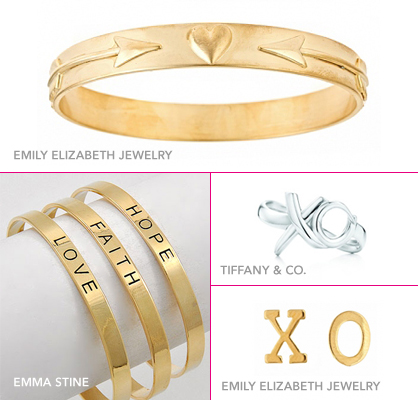 Emma Stine and Emily Elizabeth also offer cute pieces that won't break the bank. You can remind her what brought you two together with Cupid's Bangle. Emma Stine's Courage Cuff Bracelets have the words "Hope," "Faith" and "Love" embossed on them, reminding her what makes a good relationship work.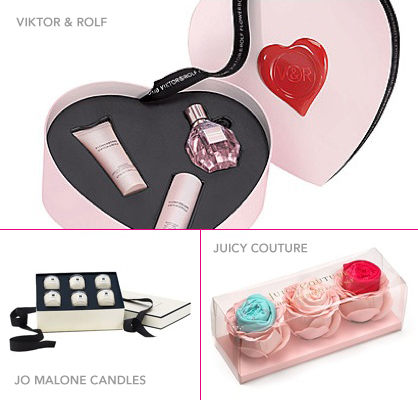 Every boudoir needs candles. Jo Malone is known as a favorite among the ladies for her myriad soothing scents. Test each one until you find the perfect candle for the two of you.
Scent isn't just in the candles. Use Valentine's Day as an opportunity to find a perfume that gets you both going. Viktor & Rolf's Flowerbomb is flirty and floral with a mysterious musty finish.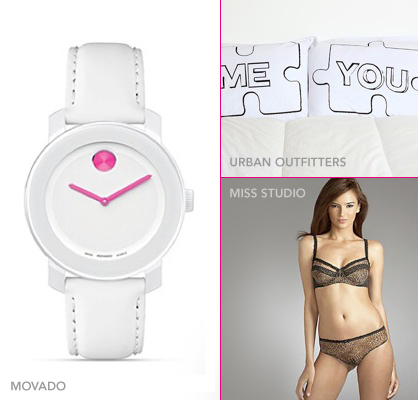 Juicy Couture's boy shorts come in special flower-shaped packaging for the romantic day. Want to spice it up a bit? Try La Perla's new line, Miss Studio. The lingerie collection, which sells at Bloomingdales and Bare Necessities, ranges from $75 to $300, a budget friendly La Perla alternative.
Want to spend more time together? Movado's Medium Bold watch in pink and white is a romantic way to remind her the importance of quality time.
Sometimes it's nice to give her something that will make her laugh. Urban Outfitters Me + You pillows might not match the décor, but for a few nights a year, you can show her how well you fit together.
Tagged in: jewelry, romance, gift guide, candles, jo malone, movado, miss studio, tiffany & co., valentine's day,