In The Kitchen: The Basics of Vegan Baking
Don't let being vegan spoil all your baking fun! From a milk alternative to a butter substitute and vegan gelatin, we break down the best vegan baking ingredients. Whether you prefer to cook without animal products or like to experiment with fun desserts, check out these tantalizing vegan recipes and start experiemnting in the kitchen today.
Coconut Oil
With its rich, buttery flavor, coconut oil is perfect for vegan desserts. As it is solid at room temperature and liquefies when heated, vegan bakers find it is a fantastic plant-based substitute for shortening or butter, lending its sweet, unique flavor to frostings, spreads, cakes, cookies and more. Use it on a 1:1 ratio to replace butter. Its extremely high flash point makes it works well for high heat applications. With no trans-fatty acids, even when heated to high temperatures, this delicious oil is made from the meat of the coconut from the coconut palm tree. Traditionally, the coconut meat is shredded and then squeezed to extract the coconut milk. After this milk settles, the true milk rises to the top, leaving the coconut oil beneath. If you are trying to avoid the coconuty flavor, try refined coconut oil, which is processed to remove this distinct taste. For a healthier option, try virgin coconut oil, which is made without using chemicals and with very little heat and is more flavorful and filled with nutrients. You can keep this oil for two years without fear of it turning rancid. If you are worried about its saturated fat content, know that coconut oil raises the good cholesterol, the HDL cholesterol. Try it spread on your breakfast toast or pancakes or mix it into sweet potatoes. With a mixture of pecans, brown sugar and oats, Caramel Pecan Ice Cream Dessert is the ultimate refresher on a summer day, full of creamy coconut flavor from the oil. Or use it in these Chocolate Fudge Zucchini Brownies, which get a healthy note from the shredded zucchini and applesauce, and some nice richness from the coconut oil in the brownies and their frosting.
Agar
Known as "vegan gelatin," agar is a gelatin substitute made from cooked and pressed seaweed vegetation. Available in flake and powder forms, agar is great for thickening or stabilizing dishes as it basically makes the recipe "gelatinous." It is often used to set desserts or whip up a creamy filling such as custards, puddings and vegan marshmallows. Completely flavorless, the gelling agent sets in around an hour. Powdered agar can be substituted for gelatin in a recipe using equal amounts, as gelatin is an animal-based product made from the boiled remnants of animal parts not used for meat. Use it to set this creamy Voluptuous Pumpkin Pie, a vegan version of the traditional Thanksgiving favorite. Agar also thickens this dairy-free Chocolate Mousse with Pomegranate Gelatin, a melding of rich dark chocolate and tangy pomegranate juice.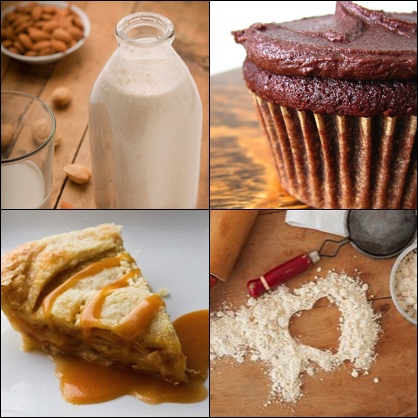 Cacao Butter
The pure oil of the cacao bean, cacao butter is the pale yellow stable vegetable fat made from cocoa beans. It is created by pressing ground, milled cacao nibs into a cocoa paste, dividing the creamy butter from the powder. Its rich chocolate aroma and taste make it the perfect addition to any dessert, ice cream or chocolate creation. Solid at room temperature, this buttery vegetable fat melts easily and is a key ingredient in chocolate recipes. It is also used as a massage oil, lip balm and skin cream. This chocolaty ingredient is the base of Easy Homemade Vegan Chocolate, which then can be used in other recipes, including a quick hot chocolate made from dissolving a piece in warmed up almond milk. Try it in Chocolate Vegan Butter, a vegan butter that is a sort of cross between chocolate and dairy fat.
Almond Milk
A go-to substitute for cow's milk, almond milk tastes very different from its dairy counterpart. Available in original, vanilla and chocolate, the milk substitute boasts a nutty flavor in its original flavor and a sweeter version in vanilla and chocolate. When baking, replace equal amounts of almond milk with cow's milk and watch the time as it may bake slightly faster. Plain almond milk should not alter the taste of your recipes. When using in a thick dessert such as custard, add a few tablespoon of a thickening agent. While it works well in savory recipes, almond milk is best in desserts, from cakes and breads to pies and muffins. It is easily made at home. Simply soak one cup of almonds overnight in four cups of water, then blend in a blender until smooth, strain it through a cheesecloth or fine strainer, and drink. It can easily be added to morning cereal or evening coffee. One of the more nutritious milk alternatives, almond milks is full of iron, potassium, magnesium, zinc, phosphorous, vitamin E and omega-3 fatty acids, plus is free of cholesterol and saturated fat. Best of all, it is only 30 to 40 calories a cup and extremely low in carbs. Almond milk adds its creamy touch to this Almond Milk Panna Cotta featuring fresh blueberries and a touch of lemon zest. Or try it in No-Bake Espresso Vegan Cookies, a coffee-flavored drop cookie with an enticing blend of smooth peanut butter and cocoa powder.
Tagged in: food, eco, recipes, vegan, green, cooking,