What to Buy: Halloween Beauty Products
The countdown to Halloween has begun! As we finalize our costumes and prepare for the most frightful holiday of the year, our Halloween makeup should never be last on our list to take care of. Whether ghoulish, glamorous, bloody or beautiful, LadyLUX offers the best products out there that will complete your Halloween style stat! Read on to find out what to buy for your spooky, pretty or bold costume ideas.
Spooky & Sexy Costumes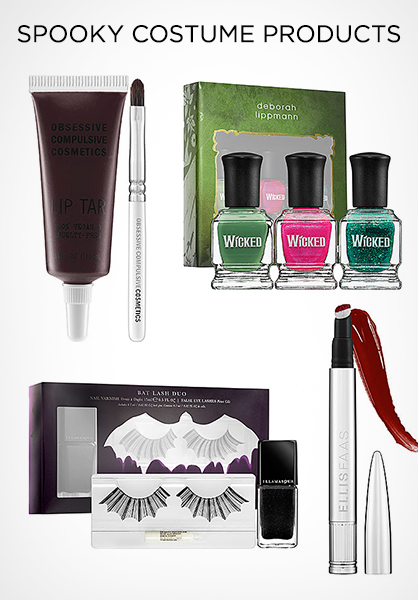 Illamasqua/Bat Lashes
Obsessive Compulsive/Lip Tar
Ellis Faas/Blood Red Creamy Lips
Deborah Lippmann/Wicked Nail Polish Set
Take your spooky costume to the next level by bringing a sexy side to it! If you're face makeup is the highlight of your costume, bring some extra attention to your eyes with some creepy yet creative bat wing lashes. Make sure that your lips are slathered with a long-lasting lip color in a dramatic shade like black cherry or blood red to last all throughout the night of partying or running around the graveyard. Don't forget to paint your nails in some wickedly witchy shades to match your green-tinted skin.
Pretty Princess Costumes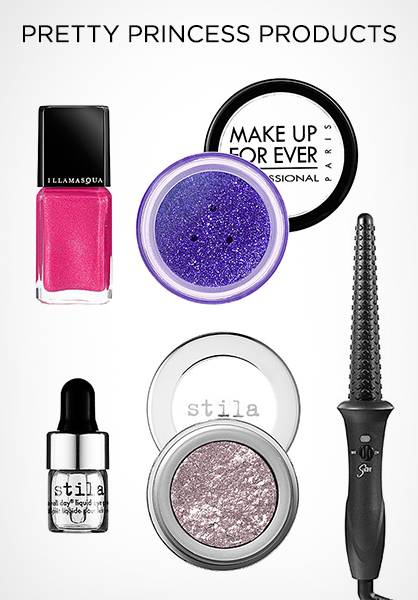 Stila/Metal Eye Shadow
Make Up For Ever/Loose Glitter
Sultra/Curling Iron Rod
Illamasqua/Glitter Nail Varnish
Those going the pretty route for their Halloween costume must make it memorable! Glitter, pink and metallics are the top three must-haves for fairy, princess and uber-feminine costumes. Sparkle throughout the night with a shimmering eye shadow and glow in the dark glitter nail varnish. Curl your hair in ringlets for beautiful bounciness and sprinkle glitter liberally over your hair and your entire costume for some extra oomph! Don't forget a couple of rhinestones as well!
Bold & Beautiful Costumes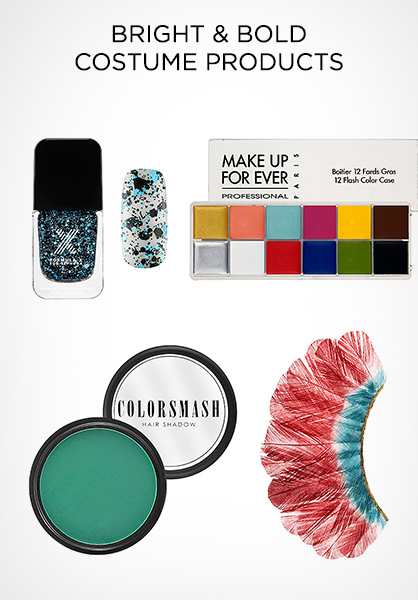 Make Up For Ever/Feather Lashes
Colorsmash/Hair Shadow
Formula X/Explosive Top Coat
Make Up For Ever/Color Case

For the extra bright, bold and "out-there" costumes, play up your own with colorful beauty products that will certainly make you stand out! Bring all eyes to your Halloween beauty after using a multi-colored cosmetic case to create the perfect face makeup before swiping on some green hair shadow which will add some pizzazz to your locks. Don't miss out on applying some multi-hued feather lashes and vibrant and crazy nail polish to complete the look!
Read more LUX Beauty
Read more Halloween
Tagged in: lux beauty, beauty, halloween, halloween makeup, halloween makeup ideas, halloween beauty,