Zamrie designer Ashley Zygmunt is inspired by her grandparents for Fall 2012
Exuding a sophisticated modernity, Chicago brand Zamrie draws inspiration from different generations of style and all types of women, ranging from the elegant grandmother to the bold, confident best friend. The stylish yet comfortable and versatile pieces are the brainchild of designer Ashley Zygmunt.
The creative personality began her career working for some of New York City's greats including Zac Posen and Peter Som, but has also catered to mainstream, everyday women with three collaborated collections for the retail giant, Walmart. Yet, passionate as she was about the New York fashion scene, Zygmunt wasn't satisfied. Determined to move back to her hometown of Chicago, she took her mother's advice and did an internet search for &ddquo;Chicago fashion."
"Through the search I found the application for the 2009 class of the Chicago Fashion Incubator (CFI) and it was on the first web page I clicked on. It was the Sunday before the Friday it was due. I frantically started creating a company that today I am proud to call Zamrie. That Friday, the application was successfully handed in and I waited/sweated/held my breath to see if I would get an interview," Zygmunt explained. "Two weeks later I was on my way home for Thanksgiving and got the call while on the plane. The interview was rough. I talked for almost the entire thing and was told it wouldn't be until January whether or not I would be accepted."
A month later, she was selected as one of the 6 Designers in Residence for the Chicago Fashion Incubator. Zygmunt began her year at CFI in March of 2009 and Zamrie was born.
To find her inspiration, the Chicago designer thinks outside of the box and doesn't always look to department stores and the runway for ideas.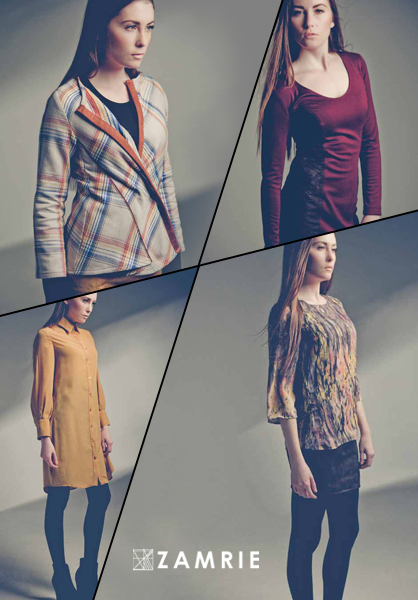 LadyLUX via Zamrie
"I am always, everyday, inspired by real women on the street, and by what is not in department stores. I like being different, in the way where I can wear the same piece different ways and outsiders think I have a completely different outfit on. I try to have all my Zamrie pieces to have that ability," she described.
Confirming the collection isn't specifically created for any age group, Zygmunt looked to her grandparents in her vision for the Fall 2012 collection. She evoked their staple ensembles and the little details that enhance each piece.
"I always remember my grandpa wearing sweaters and blazers that were piped, plaid, or warm and cozy. My grandmother always had a housecoat on because she was cold, but underneath I remember her wearing beautiful silhouettes which could be worn by themselves and be a classic staple," she reminisced. "I wanted to make a line for winter where you can't wait to wear sweaters, classic dresses that can be layered, and tops with prints and class which are more exciting than a boring button up. I wanted to mix classy sophistication with a bit of elegant yet mysterious edge. Like my grandma always said, just show a little to keep it interesting."

The new Fall styles portray warmth with easy-to-wear dresses, stylish mini-skirts, modern button-up dresses, classy blouses and peplum blazers in comforting shades of red, blue, orange and neutrals. Pieces can easily be combined for layering or styled with opaque tights.
In the three years since Zamrie's launch, the brand has received a lot of buzz and has helped evolve street style in the Chicago fashion scene. For the upcoming seasons, Zygmunt plans to simply give the customer what she wants.
"We are looking into using new and more convenient fabrications. A lot of my competitors use silk, which I have noticed my customer doesn't respond to as well. I have realized the Zamrie woman likes the easiness of washable textiles. Taking items to the dry cleaners isn't what people today want to do. People like convenience. I am sure at some point in your life you have done something or not done something because of convenience. I am trying to give that to Zamrie women everywhere, while still feeling like a million bucks while wearing the label," Zygmunt explained.
Tagged in: lux exclusives, fall 2012, ready-to-wear, fall 2012 collection, chicago, chicago fashion incubator, ashely zygmunt, zamrie,