2014 Golden Globes: Color Trends
Last night was one of Hollywood's biggest events of the year, the 71st Annual Golden Globes. We have anxiously been waiting this night to see what our favorite leading ladies would be wearing. Here's not only some of the best dressed of the night, but also the key color trends.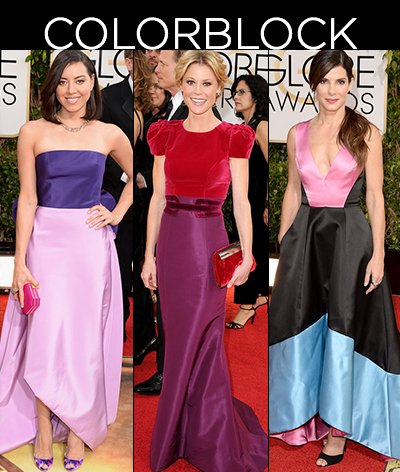 One of the surprising color trends on the red carpet was the numerous amount of colorblocked dresses. It began with Aubrey Plaza in a lavender and dark purple dress by Oscar De La Renta. Plaza accessorized perfectly with a hot pink clutch and floral pumps. Julie Bowen also was spotted in the trend wearing Carolina Herrera, as was Sandra Bullock who wore a Prabal Gurung design.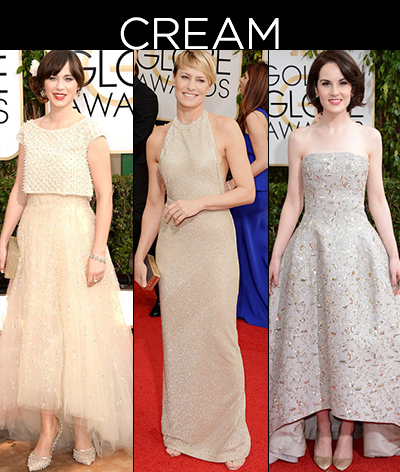 Cream-colored gowns seemed to be very popular among nominees this year. The flattering shade worn by Zooey Deschanel was designed by Oscar De La Renta. Complete with delicate beading and matching pumps, the actress' head-to-toe cream outfit was perfect. The winner for Best Actress in a Television Drama, Robin Wright, walked the red carpet in a sequin cream frock by Reem Acra. Michelle Dockery, another leading lady known for her red carpet style, also wore an Oscar De La Renta cream colored gown, featuring gold speckled detailing.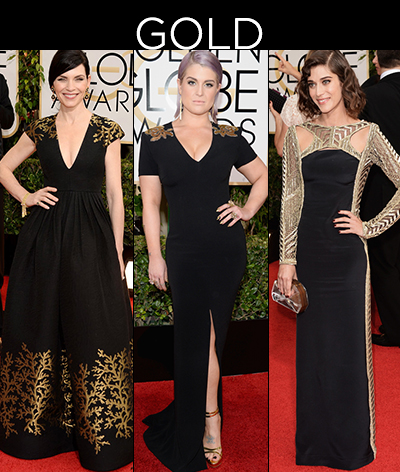 While black gowns are a norm for award shows, at the Golden Globes the color was prominently featured with gold detailing. Julianna Margulies walked the carpet in an Andrew Gn gown featuring a gold leaf detailing and a deep neckline. Another beauty to wear this trend was E! Fashion Police host, Kelly Osbourne, whose Escada gown hugged her curves perfectly and featured gold floral embellishments. Lizzy Caplan wore this trend as well in an Emilio Pucci design with gold embroidered sleeves.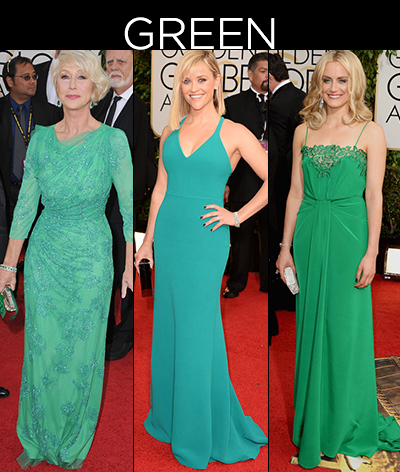 While green isn't the typical go-to color you'll see on the red carpet, it sure was a hit among many starlets last night. A favorite designer of ours, Jenny Packham, designed the mint green sequined frock worn by Helen Mirren. Another green shade we saw come down the red carpet was Reese Witherspoon's teal-hued dress by Calvin Klein. The emerald gown worn by the Best Actress in a TV Drama nominee, Taylor Schilling, was a beauty by Thakoon featuring lace embroidery.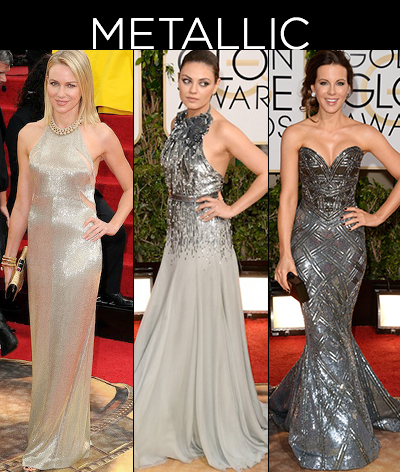 As a favorite color of the night, metallic dresses were spotted all across the red carpet. Naomi Watts stunned in a Tom Ford body-hugging gown that featured cut outs and a halter neck design. Another actress who wowed us in a metallic gown was Mila Kunis. The Gucci gown showed her off in a silver sequined bodice. Kate Beckinsale continued the trend in her sequin gunmetal gown designed by Zuhair Murad.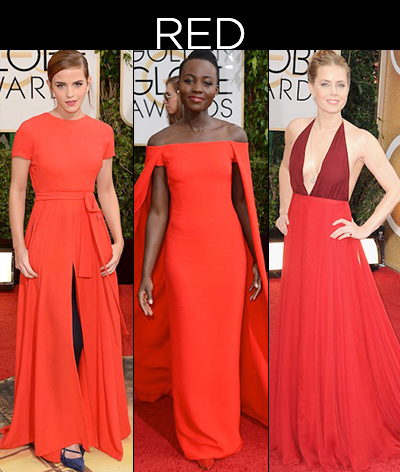 A big hit color for the night was red. The vibrant color looked flawless on newcomer Lupita Nyong'o, as she made her debut to the Golden Globes in a Ralph Lauren gown. Fashionista Emma Watson wore the color on an unconventional design by Dior. The gown featured a long slit revealing the actress' satin black pants underneath. Winner for Best Actress, Amy Adams, looked the part of her role in a red Valentino gown.
Read more Fashion.
Tagged in: fashion, celebrity, red carpet, golden globes, award shows, 71st annual golden globes,