Wellness Wednesday: 5 Healthy Comfort Soups for Fall
Nothing says comfort when it starts to get cool like a hearty bowl of soup. Simmering on the stove, blends of fresh vegetables and spices create an aromatic scent that will have everyone's mouths watering. For a bowl that's nutritious and delicious, check out these 5 healthy recipes.
Roasted Cauliflower Soup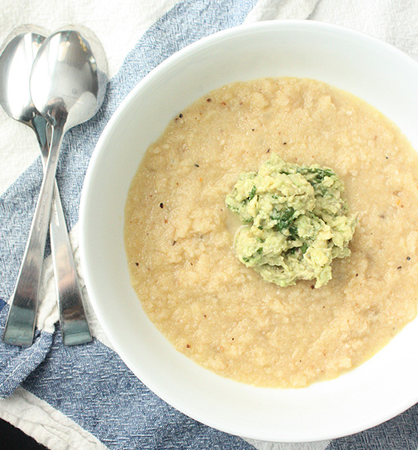 Craving a tasty potato soup? Try a recipe using roasted cauliflower as a healthy alternative. You'll be surprised how much it tastes like the real thing! Featuring garlic and onion to taste, a dollop of light sour cream gives it an extra creamy flavor. Top with chives.
Curried Chickpea + Kale Soup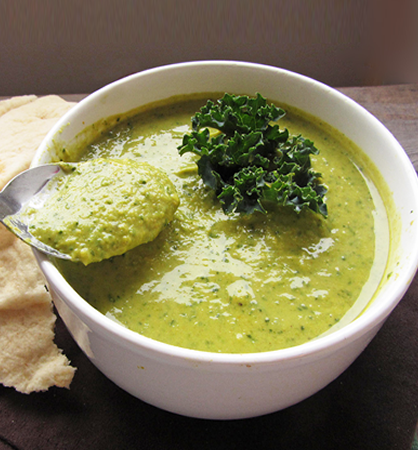 If an exotic, flavorful soup is what you're after this fall, look no further than this curried chickpea and kale soup recipe to satisfy your taste buds. Featuring both Thai and Indian flavors, all natural ingredients including kale, chickpeas and onions make this a healthy, vegan choice. Serve with warm Naan bread.
Spicy Tomato Soup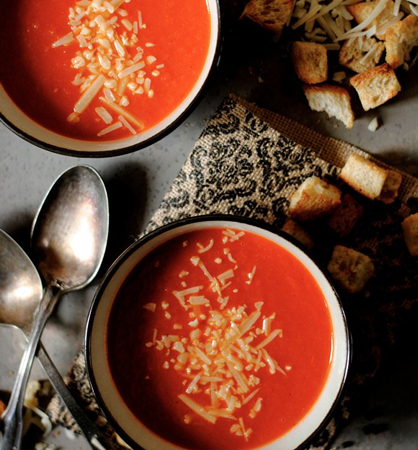 Put a zesty spin on a seasonal favorite with this spicy tomato soup recipe. Filled with lycopene and vitamin C, this healthy soup gets its kick from Tabasco sauce. Tapatio or Sriracha will also do the trick. To really make it a comfort food meal, pair with a warm grilled cheese sandwich.
Quinoa + Lentil & Vegetable Soup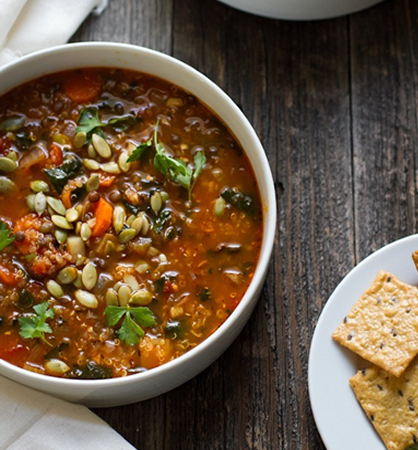 For a recipe that's full of texture and chock-full of veggies, try this quinoa and lentil vegetable soup. Packed with fiber, this gluten free and vegan soup is perfect for those with food allergies and is filling enough on its own as a meal. Add oyster crackers for a little crunch.
Sweet Potato Soup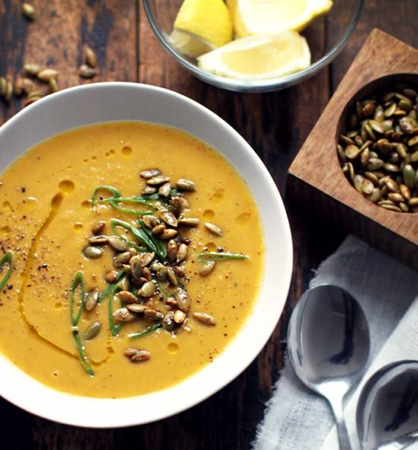 Get your fill of antioxidants, beta-carotene and vitamin C with sweet potato and leek soup. Using beans instead of dairy to achieve a velvety texture, you can still enjoy a creamy and fiber-filled soup without the fat. Top this autumn classic with ginger-kissed, roasted pumpkin seeds.
Tip: Invest in an
immersion blender to quickly whip up pureed soups and sauces directly in the pot in which they are being prepared. This will alleviate the transferring back and forth from pot to blender and equals less cleaning!
Read more Wellness Wednesday
Tagged in: wellness, food, wellness wednesday, recipes, kitchen, nutrition, health,