Cooking Basics: Inside a Mexican Kitchen
You may know your way around a quesadilla or a taco, but learn these basic ingredients, from Oaxaca cheese to tomatillos and cactus paddles, to really be a pro in a Mexican kitchen. Here we give you four common Mexican ingredients, including different Mexican cheeses and favorite chilies, in delicious recipes such as Fettuccine with Tomatillo and Cilantro Pesto, Ancho Chile And Pumpkin Mole, and Breast of Chicken Oaxaca.
MEXICAN CHEESE
While Monterey Jack is a popular, mainstream Mexican favorite, there are a few other cheeses you should be familiar with. Queso fresco, also referred to as queso blanco, meaning white or fresh cheese, is a fresh salty cheese similar to farmers' cheese. Soft yet able to crumble, this creamy cheese is great for cooking. Enjoy it sprinkled on tacos, beans, soups and enchiladas. Comparable to Monterey Jack, Oaxaca cheese is a semisoft mild cheese sold in a stringy ball of long threads. This chewy cheese from the Oaxaca region in Mexico is great for melting and one of the most popular choices for quesadillas. Finally, cotija cheese is a semihard finishing cheese similar to parmesan, adding a sharp touch to enchiladas or tostadas. This Queso Blanco Mexican White Cheese Dip is a favorite way to enjoy the cheese as a dipping sauce. Requiring both queso fresco and Oaxaca cheese, these chicken Enchiladas Suizas get the title "Swiss" from their heavy cream and cheese content. With lowfat sour cream, avocado, olives and pasta, this Breast of Chicken Oaxaca gets a great deal of flavor from, what else, Oaxaca cheese.
TOMATILLOS
Although these round green vegetables are referred to as tomato verde in Mexico, they are not green tomatoes (despite looking like them) but rather from the same family as the tomato. Firmer and less juicy than its cousin, the tart green globes are the base of salsa verde – which can be made by peeling away the papery husk and roasting the vegetable until tender and pureeing it with arbol chili – and many other sauces. Be sure to look inside the husk to be sure they are bright green and not mushed, wrinkled or colorless, which would signal they are old and bitter. Tomatillos also form a great pasta sauce when combined with garlic, cilantro, lime and jalapeno in this Fettuccine with Tomatillo and Cilantro Pesto. Or toss it into this Chicken Tomatillo and Chile Soup, flavored with lime, roasted chilies and cumin.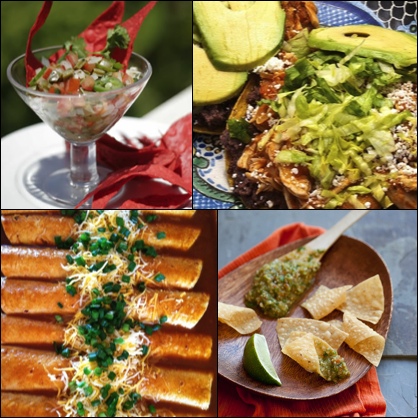 DRIED CHILIES
You can't have Mexican cooking without chili peppers. Chilies get their heat from capsaicin, which is usually found in the chili's veins and seeds. Generally, the larger the chili, the less heat it has. Although there are more than 200 types of chilies, we picked out three to present. First, smoked-dried jalapenos have a smoky, chipotle flavor perfect for salsas, barbecue sauce and marinades. A deep, rich chili, it is readily available canned with adobo sauce. Chicken Tinga gets some smoky heat from chipotle peppers, spiced up with oregano, marjoram and thyme and blended with tomato and tomatillo. Next up is the guajillo chilie. One of the most commonly used Mexican dried chilies, the guajillo is a tough-skinned long hot pepper that can pack some mild heat. With its earthy flavor, it is a key ingredient in mole sauces and red chile sauce. Third, also widely used in Mexican cuisine, the flavorful ancho chilie is the dried form of the poblano (the famous base of chile relleno) with a smoky, fruit flavor that complements meat well. Ancho Chile And Pumpkin Mole is a spicy sauce that uses three of the whole chilies with an innovative combination of cinnamon, allspice, brown sugar and cloves with creamy pumpkin and pumpkin seeds.
NOPALES
A base for many Mexican dishes, these shoots from the prickly pear cactus can be intimidating when confronted with their sharp spines. Luckily, you can often find them cleaned, dethorned and peeled prepared whole or chopped. Similar in flavor to okra, nopales have fleshy paddles used as a vegetable in salads, stews and soups and as filling for tamales and quesadillas. Try them sautéed with garlic, onions, tomato and eggs, or brush them with oil and grill them, then top with Oaxaca cheese. Shrimp, lime juice and red bell peppers perfectly complement the cactus paddles in this Shrimp Ceviche Recipe with Nopales. Or mix them up fresh with tomato, onion, avocado and cheese in this traditional salad.
Tagged in: food, recipes, kitchen, cooking,