Designer Spotlight: Lisa Maree
For truly fab beach-bound styles, who would know better than a designer from Down Under? Having grown up in Australia's Bondi Beach, Sydney, Lisa Maree Boersma found her design niche in glam swimwear for the beach babe. She launched her line of unique signature crochet-worked beachwear and ready-to-wear in 2009 and hasn't paused to take a breath since.
Debuting at Australian Fashion Week, the Lisa Maree collection truly hit the big time with the United States launch at Miami Swim Week. Her lines are now sold in high-end boutiques around the globe and have shown up on the likes of celebrities such as Rihanna, Vanessa Hudgens, Mel B, Kate Upton and Kourtney Kardashian.
"Being Australian and living in Bondi Beach, Sydney, I was always surrounded by sun, surf and swimwear," Boersma said. "The beach is such a big influence in my life and my work; it just made sense that my designs would be swimwear focused."
A former fashion model, Boersma found a natural progression from studying graphic design at a university to modeling to designing. Design, she claims, is just such a beautiful process.
She takes classic looks and adds a little Australian beach flair, drawing on everything from Breton stripes to crochet knits. Her very first line was rooted in retro-crochet swimwear and day-to-night beachwear.
"Lisa Maree is a niche brand that has single handedly brought crochet swimwear back. We have re-engineered our yarn, so our suits hold their shape when wet, do not fade or sag but still have that gorgeous crochet weave that is now fully functional as swimwear," the designer declared.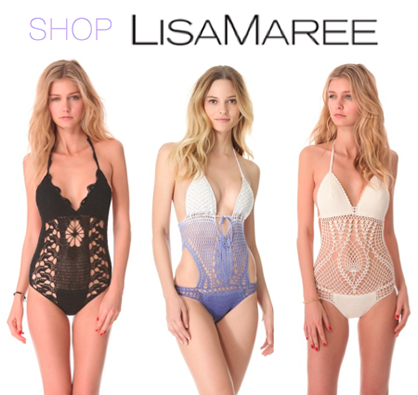 Black Crochet One Piece Swimsuit
Ombre Crochet One Piece Swimsuit
White Crochet One Piece Swimsuit
Her inspiration comes from "everywhere," perhaps a style glimpsed while strolling casually down the street or the white sand beaches and sparkling blue waters of Europe. The designer is particularly enthusiastic about experimenting with new ground this season, namely tie dye and ombre color, which she claims "has brought a whole new element to these styles."
Her top pick from her latest collection, the LOVE HARD collection, is the "My Extremist" bodysuit. "It is unique and a silhouette I've never created before. I just love it!" she exclaimed.
Always "growing and evolving," the next step for the Aussie brand will be launching the Lisa Maree Homewares line, featuring home furnishings and giftware with a kick from the signature Lisa Maree style.
Experience all her glamorous looks for yourself at lisamaree.com.au.
Tagged in: swimwear, swimsuits, beachwear, designer spotlight, crochet, lisa maree,