Get the Look: Fall 2013's Coolest Sneakers
Sneakers aren't just for the boys anymore! With a plethora of street and sport looks hitting the shelves, it's perfectly acceptable to ditch the heels for a chic and comfy pair of sneakers. Check out Fall 2013's coolest pairs we'd like to get our hands on.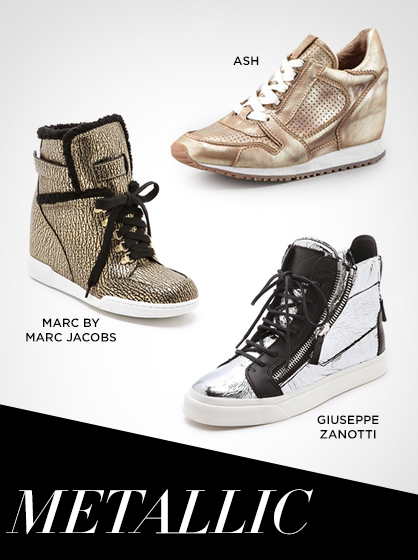 Ash / Metallic Low-Top Wedge Sneaker
Marc by Marc Jacobs / Metallic Wedge Sneakers
Giuseppe Zanotti / Metallic Zip Sneakers
Accentuate your sneakers with wrinkled leather looks in glossy metallics. Shown here in gold, bronze and silver, these wedge styles will give you some added height for long and lean legs.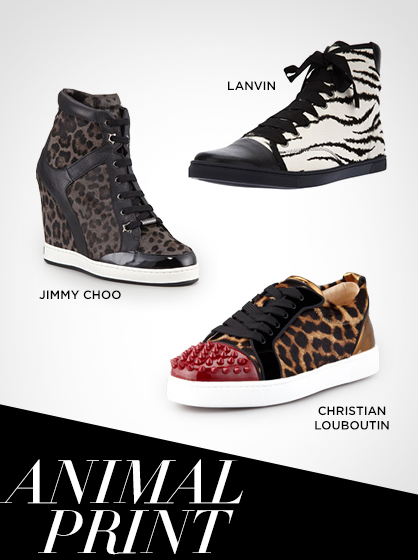 Lanvin / Zebra Hi-Top Shoes
Jimmy Choo / Leopard Wedge Sneakers
Christian Louboutin / Leopard Low-Top Sneakers
Take your animal print to a whole new level for fall by incorporating the trend into the season's hottest sneakers. Seen in wedges, hi-tops and low-tops, you can play it safe in flats or stand out 4 inch wedges.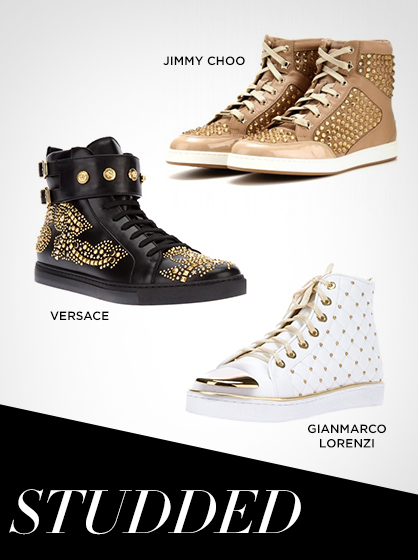 Jimmy Choo / Studded Hi-Top Sneakers
Versace / Black Studded Hi-Tops
Gianmarco Lorenzi / White Studded Hi-Tops
Give your feet a much-needed break from your stilettos in studded sneakers for the season. Whether you're going for rock star chic or off-duty-cool, there are studded designs to suit any look.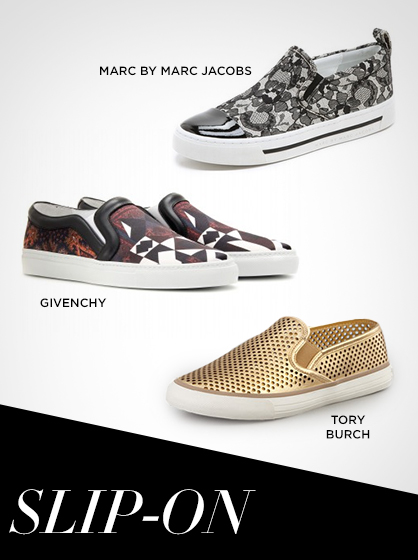 Marc by Marc Jacobs / Lace Slip-On Sneakers
Givenchy / Geometric Slip-On Sneakers
Tory Burch / Perforated Slip-On Sneaker
Another borrowed-from-the-boys trend, slip-on sneakers are popular this season and will continue to gain traction for Resort 2014. Easy and comfortable, these effortless styles blend sporty with chic.
Read more LUX Style
Tagged in: shoes, fall 2013, lux style, studs, metallic, flats, animal print, sneakers,