Future Leaders of Our Community Inspires Young Professionals
Future Leaders of Our Community was born from a brief conversation in a stairwell. Shawn Wehan was talking with a friend about the huge gap between the for-profit business world and the nonprofit sector. Young professionals who were looking to get involved in the community had no idea where to start. Wehan decided to band together some friends and FLOC was created in 2009 to address this need. Today, Wehan is the organization's national director and FLOC operates three nonprofit chapters (San Diego, Orange County and Los Angeles), engaging thousands of young professionals in making a difference.
"FLOC helps young professionals become leaders by providing opportunities for them to serve their community," Wehan explained. "In fact, our fundamental belief is that unless one is serving their community, they are not a leader. So, with this in mind, we provide ongoing opportunities for young professionals to engage philanthropically and develop their leadership potential."
Wehan saw a need for more accessible volunteer opportunities: relevant events that encouraged direct action while inspiring and motivating the next generation to become, as the name declares, the future leaders of our time. Only 19 percent of 21 to 35 year-olds report being engaged in the community, yet it is precisely this same group that possesses the greatest potential to impact our local areas. If this demographic can be reached and become involved in the nonprofit community early on, the impact they can have later in their lives becomes all the greater. These are the young people who will grow up to be the board members and donors, raising awareness and funds for causes of all types.
Last year, FLOC sponsored 65,000 volunteer hours, the monetary equivalent of more than $1.6 million, offering 157 volunteer opportunities to its members. Nonprofit partners range from The American Red Cross and Mothers Against Drunk Driving to Surfrider Foundation, United Way and Oceana, totaling 120 organizations overall.
In summer 2012, for example, FLOC partnered with the charity Hailey's House, which empowers at-risk teen girls, to sponsor "Paddle Party," a paddleboarding event to raise awareness for the youth organization, as well as break the Guinness Book of World Records for the largest paddleboard lesson. Around 30 FLOC volunteers helped make the event a success: 750 attendees turned out and the record was broken.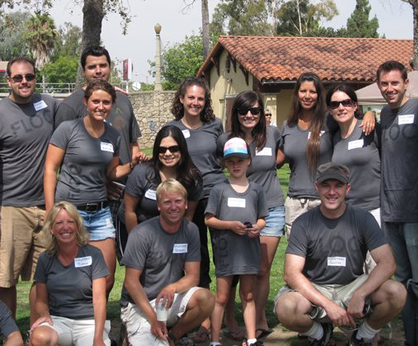 FLOC believes in the power of the individual. Through leadership training seminars and networking opportunities, FLOC instills the right tools and skills to grow new leaders ready to take action in their community. Whether feeding the homeless, building homes for families in need, supporting at-risk children or advocating for victims of cancer, FLOC offers chances to connect with others. Each month, an executive director of a local charity speaks at an informal fun gathering, followed by a chance to sign up and volunteer.
"It's no secret that young professionals are busy. We're starting careers, dating, raising young families and learning what it means to be adults. In the busy 21st century, it's hard to find time to network, make new friends, and develop relationships with others that help us grow as leaders. FLOC understands this, which is why our calendar is full of ongoing events, service projects, social gatherings and trainings that put us in front of new faces and members of the community. It's been said that one cannot become a leader in their community without first knowing who their community is," FLOC declared.
The nonprofit focuses on three areas: generating new awareness for community nonprofit organizations; creating engaging, hands-on volunteer opportunities; and providing the professional training needed to transform young professionals into the volunteers, committee members and board members of tomorrow.
"Positive results include building relationship with like-minded young professionals, building relationships with nonprofit staff and generating a strong philanthropic resume," the director declared. "FLOC also assists young professionals in finding jobs in the nonprofit sector and creating environments that allow for new business and personal friendships to flourish. FLOC events are fun and a great way to grow both professionally and personally."
One of the big challenges is lack of funds. While FLOC generates revenue through membership fees, partnership fees, corporate sponsorships, general donations and fundraisers, these funds are not sufficient to pay the necessary two employees per chapter. FLOC has therefore created Givsum, a new app, to bridge the funding gap. Givsum allows users to create a "philanthropic resume" similar to LinkedIn, connecting individuals, nonprofits and businesses.
FLOC looks ahead to a brighter future, hoping to launch nationally in many cities in 2014.
"The goal is to create the greatest impact with young professionals and nonprofits by designing a national organization that can operate chapters all over the United States and beyond," Wehan said. "There are young professionals in Seattle, San Francisco, Chicago, Denver, Phoenix, Dallas and New York that are standing by waiting to start a FLOC chapter. We are hoping to give them the green light soon to begin the formation process."
For more information, sign up for FLOC's newsletteror visit FLOC's website.
Tagged in: charity, causes, nonprofit, philanthropy, orange county, community, floc,