Golden Globes Best Dressed Characters
The Golden Globes are on January 12 and we certainly are excited to see the amazing fashion pieces the lovely nominees are going to be wearing. To curb our excitement for this fashionable night, we gathered a list of the best-dressed characters. We love watching our favorite actresses walk down the red carpet, but we thought their characters deserved a little love as well.
Jasmine for Blue Jasmine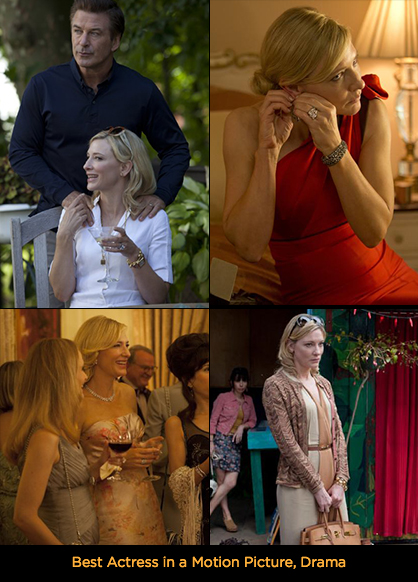 Cate Blanchett is a stunning actress and her wardrobe for her character, Jasmine, was meant to portray that, as well as wealth. Her well-to-do socialite character is styled in items that is meant to reflect her status. Name brands were obviously a big influence for this film as Jasmine is seen toting around Louis Vuitton luggage and Birkin bags. Even when the character falls from grace, she is meticulously dressed in name brand clothing. The film's costume designer, Suzy Benzinger, used notable designers throughout the film including Marc Jacobs, Valentino and Chanel.
Sydney Prosser for American Hustle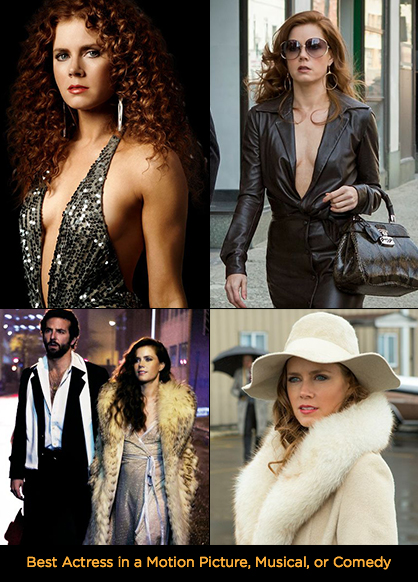 By far the best dressed of any character nominated, Amy Adam's character in American Hustle had quite an enviable wardrobe. Being set in the '70s didn't deter anyone from lusting over the pieces that Sydney Prosser wore. The character was meant to be a bit provocative and that was portrayed in her wardrobe of low-cut blouses and sexy leather. Costume designer Michael Wilkinson brought to life the quintessential wardrobe of that decade with fur coats, sequins and key accessories such as large face-framing sunglasses and big gold jewelry.
Rosalyn Rosenfeld for American Hustle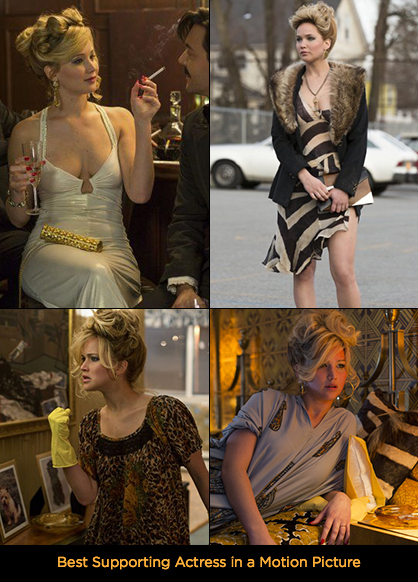 Rosalyn Rosenfeld may have been a bit eccentric, her wardrobe was far from that. Much like co-star Amy Adams, Jennifer Lawrence looked flawless in her chic '70s outfits as Rosalyn Rosenfeld. Michael Wilkinson accompanied her signature updo in the film with patterned pieces like leopard, stripes and paisley. Much like Adams' character, Rosalyn was outfitted with signature pieces from that time era which included fur lining, hoop earrings and form-fitting dresses.
Olivia Pope for Scandal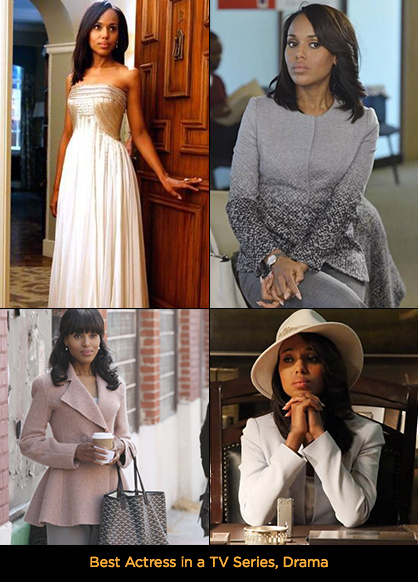 This is a fierce character who exudes confidence and power and owns a very enviable wardrobe. Always in professional pieces, Olivia Pope is a force to be reckoned with and her wardrobe perfectly reflects that. Her power is seen in the pieces that she wears, and the neutral tones are softened with shades such as blush, gray, white and black. Known for wearing white, while drinking her go-to red wine, actress Kerry Washington, who plays Olivia Pope, looks great in the neutral colors her character often wears.
Jess for New Girl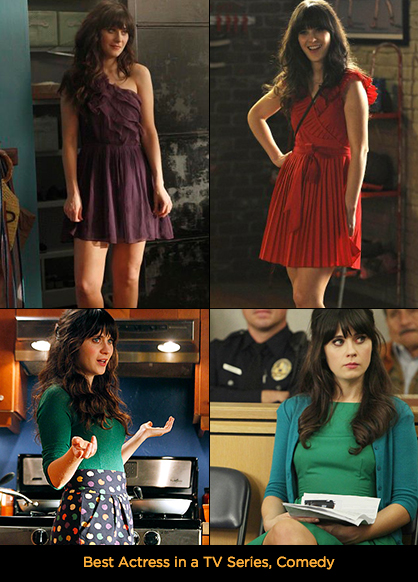 Jess has to be one of the quirkiest characters on television right now and her wardrobe absolutely reflects that. Wearing clothing that are usually vibrant and girly, Jess, played by Zooey Deschanel, has a both and appropriate and fun style. While some pieces may reflect the teacher side of her character's personality, she own quite a few dresses that shows off her more playful and sexy side. There's no other actress who could perfectly portray the quirky and lovable Jess.
Juliette Barnes for Nashville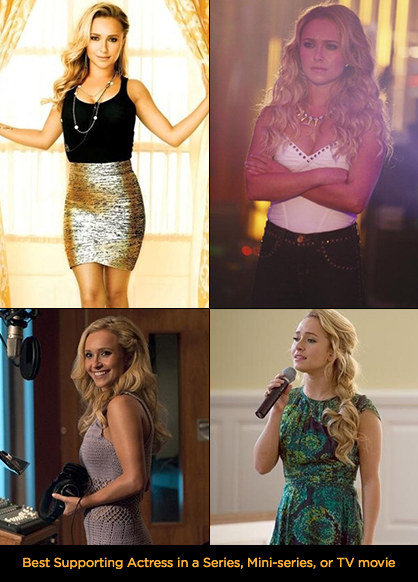 Quite the firecracker, Juliette's clothing choices emulate that perfectly. Played by Hayden Panettiere, Juliette's wardrobe tends to be a bit on the sexy side but never veers into trashy. She tends to wear form-fitting pieces that can be both sweet and sexy, usually in the form of cute dresses or skinny jeans. The youthful outfits showcase the character's personality quite well.
Read more fashion.
Tagged in: fashion, entertainment, golden globes, award season,