Dedicated Mom Danielle Navidi Fights Cancer With Healthy Recipes In New Book, 'Happily Hungry'
Danielle Navidi lived a parent's nightmare when her son Fabien was diagnosed with cancer at 11 years old. For her, this traumatic event was made that much worse by her feeling of powerlessness. His medical treatment was essentially out of her hands and even the simple act of cooking for her child was complicated by the ravages of chemotherapy and radiation. His appetite, tastes and cravings changed so much that she found it difficult to cook him a simple meal and, even more troubling, no resources on how to deal with this common problem. Her book, "Happily Hungry," happily changes this by offering nutrition-packed recipes designed for kids with cancer and the specific challenges they face.
After Fabien was diagnosed with Stage III Hodgkin's lymphoma, Navidi's daily routine disappeared as the "mayhem" of living between the hospital and the home became the new normal. One of the biggest shocks however, was the profound effect of treatment on his ability to eat.
"His tastes and his taste buds and his moods and everything really just took such a hit that food became a real issue for him," she recalls. His appetite suffered so much that he would often be unable to eat for days and couldn't keep down many of the meals that were once his favorites.
Unfortunately, she found a severe lack of information available to parents in this situation.
"There was no guidance whatsoever from the hospital as to how to handle this other than, 'He's going to want McDonalds. Don't worry about it. He needs the calories. Just let him eat what he wants to eat.' I just found that really, honestly an unacceptable way to handle this," she said.
Navidi grew up in France where her family would visit the markets and prepare fresh, healthy meals each day. A lifelong "avid cook," she made a career in catering and then offering seasonal cooking demos and instruction. To her, the idea that her son should eat McDonalds every day at a time when he needed good nutrition the most was preposterous. She explained that for young cancer patients undergoing the rigors of chemo, "Every bite has to count." They need the strength to keep up with their treatment, and she saw that eating well should be an essential strategy.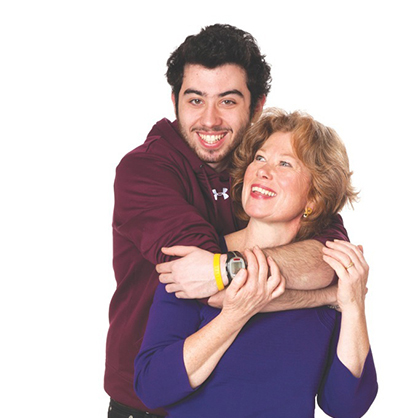 As Fabien successfully completed his last rounds of radiation and the worst part of their crisis mode ended, Navidi realized that there was still much work to be done to rebuild his weakened young body and, through much trial and error, found things that worked for him. Committed to doing her homework, she pursued a Masters in holistic nutrition and began to gain the tools she needed to "heal him from the inside out."
The challenge was great. "His whole GI tract was just absolutely wrecked," she recalls; "It took well over a year for him to be able to eat normally."
Yet, her efforts worked. Fabien is now a healthy college student training for an Iron Man and is using his own kitchen skills to teach his ramen-loving roommates to appreciate the benefits of a good diet. Meanwhile, his mom has poured all the wisdom she gained into "Happily Hungry." "To help families focus on why this is important has been really my mission," she says.
The book is organized into chapters including "Smoothies and Soothing Beverages," "Better in a Bowl: Broths and Soups," and "Vibrant and Vital Veggies," and contains a special key to help decipher which recipes are best for dealing with specific side effects of cancer treatment. The Purple Power Smoothie, for example, is great for those suffering from mouth sores or difficulty swallowing; Fluffy Mashed Potatoes with Perfect Poached Eggs can help fight nausea, appetite loss and fatigue; and the Red Beans and Rice Soup can help those experiencing taste alterations to "awaken tired taste buds."
In addition to the book, Danielle teaches a nutrition program at MedStar Georgetown Hospital in Washington, DC, where Fabien was treated, that counsels families dealing with childhood cancer on the benefits of a healthy diet and how to maintain one under their special circumstances. Drawing on her professional background, Danielle demos recipes and helps parents to feel "a sense of control; you have a sense that you're healing your child."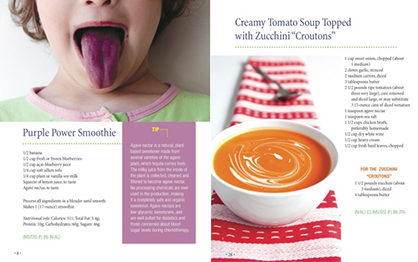 The program is the only one of it's kind in the area and Navidi is thankful for the enthusiasm of the participants and the support the program has received. "There's just this desire from the families to make smarter choices moving forward. That's so satisfying that I can have that kind of impact on families who never were big cooks," she says.
Many of these families are featured in the book and note that Navidi's recipes not only helped them through crisis mode, but also helped them to build healthful eating habits that will last a lifetime.
And, while the book is designed especially for children with cancer, her commitment to eating a whole foods, seasonal, local and balanced diet can be appreciated by all. "Generally," she says, "I think this country has lost its way with…food," and sees her efforts as a small part in the bigger conversation about food issues that is so important to our country's health and future.
While the book and her nutrition program serve as the resources she wish she had during Fabien's illness, she knows this is an issue that deserves more attention on a larger scale.
"My future is to just grow [the nutrition] program. I would love to use this as a model and be able to implement it in other hospitals that are looking for this kind of a thing for pediatric oncology. I really want to be able to take this wherever it needs to go - take it nationwide! - but right now I'm a one-woman show," she explains.
Read more about Danielle's work here, and if you are cooking for a sick child or just enjoy healthy family meals, order "Happily Hungry" here.
Read more LUX Health here.
Tagged in: lux exclusives, health, cancer, lux exclusive, healthy recipes, childhood cancer, pediatric oncology, nutrition for kids with cancer, happily hungry cookbook, whole foods, health & wellness, danielle navidi, happily hungry,