Blogger Spotlight: Haute Cocktail Shares her New Year's Eve Plans, Tips and Traditions
Carla Ortiz is the fashion blogger, stylist and curator behind Haute Cocktail. The blog chronicles her adventures around the world where readers can find fashion inspiration, current trends and a new cocktail recipe every week. With her mixology, fashion and hostess experience, Carla is the perfect candidate to share a few New Year's Eve ideas with the rest of us!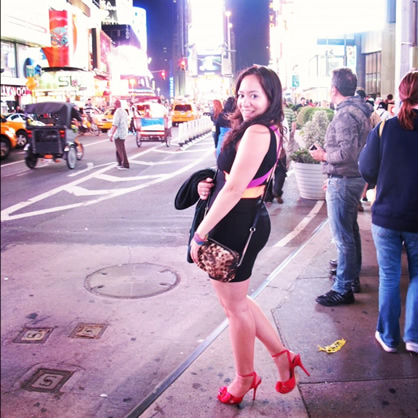 LL: What is your cocktail of choice for New Year's Eve?
CO: If I'm mixing my own cocktails I go for a flavored vodka (right now I'm into Pumpkin Pie) with club soda. Ideally, I would be drinking champagne the whole night, maybe with splashes of liqueurs like Chambord, Amaretto or St. Germaine.
LL: New Year's Eve plans?
CO: For NYE 2013 I will be going with my boyfriend and a group of friends to a local lounge where we'll have a VIP table, gourmet buffet, open bar, champagne and party favors waiting for us. If I spend NYE at a lounge or club I really like having a designated area that's ours to sit down and rest after all the dancing in heels.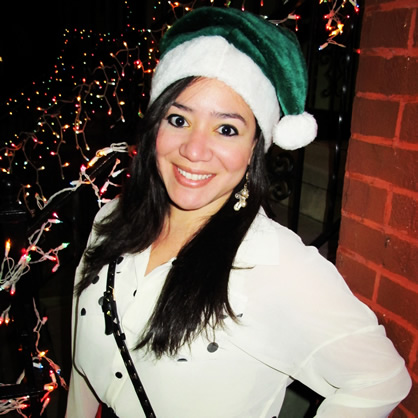 LL: What do you plan to wear?
CO: I'll be wearing a vintage inspired blue dress… and now that I think of it, its name is perfect for the occasion! It is the Moonlight Kiss dress with a white rhinestone collar necklace and sparkly heels—unless I find sparkly wedges to keep my feet more comfortable.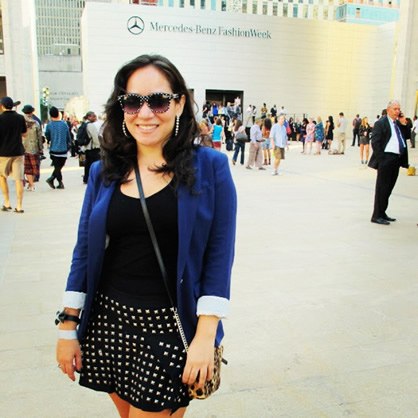 LL: What is your New Year's resolution?
CO: I think I will basically extend the ones from this year. I've accomplished all of them, but I can definitely keep pushing forward from where I left off. Examples are losing weight (14 more pounds to go!), keep singing (I started taking classes and even sang background for a friend at an open mic, so I'd like to get more experience) and travel some more (I went to Puerto Rico and Florida this year and I have lots of ideas of places to go for next year).
LL: Goals for 2013 (for you as well as your blog)?
CO: Well, aside from the resolutions we spoke about, I would love to take my blog to the next level. I'd like to get more professionally organized with it to continue to grow it and bring better and maybe more content to my readers. Also, maybe a bigger paycheck for myself. Haha. (This year I understood that after all, blogging might just be that dream career I always wanted.) In order to do this, I need to accomplish one thing first…finish my MFA in Fashion Journalism in May! Wish me luck and have an amazing and productive 2013!!
You can follow Carla and her adventures at Haute Cocktail and on Twitter or Facebook!

Tagged in: holiday 2012, blogger spotlight, nye, cocktails, carla ortiz, haute cocktail, new year's eve, holiday fashion,