LUX Deals: Shop Holiday Discounts
Get started on your holiday shopping early this year with these LUX deals from our Haute for the Holidays Guide. From some of our favorite brands, these shopping codes are sure to make your day a little more merry and bright. (Don't be afraid to buy yourself a little something while you're at it).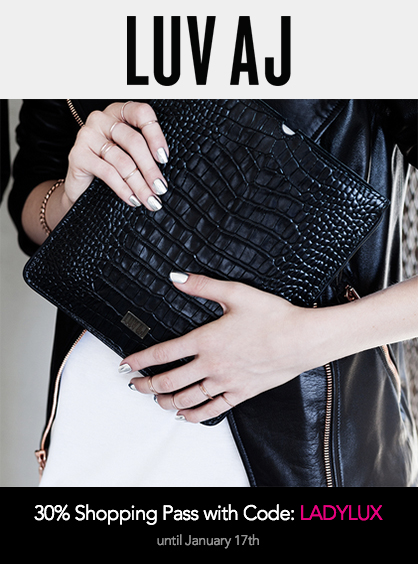 For a gift that's unique and a little bit edgy, you're sure to find something special from Luv Aj. From rings to bracelets to necklaces, you'll be able to take care of a few people on your list. Be sure to take a peek at The Shark Tooth Collection.
Enjoy 30 percent off the entire store with code LADYLUX from Nov. 11 – Jan. 17.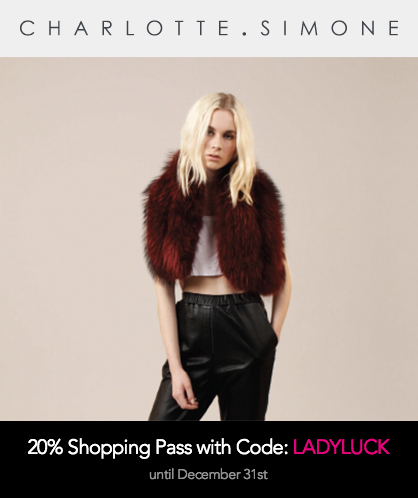 Wrap someone up in luxury this holiday season in a designer scarf or fur stole by Charlotte Simone. Inspired by the effortless style of Parisian women, these pieces are so much more than an accessory. Her multifunctional collections are filled with wearable knits, furs and woven fabrics.
Enjoy 20 percent off the entire store with code LADYLUCK from Nov. 15 – Dec. 31.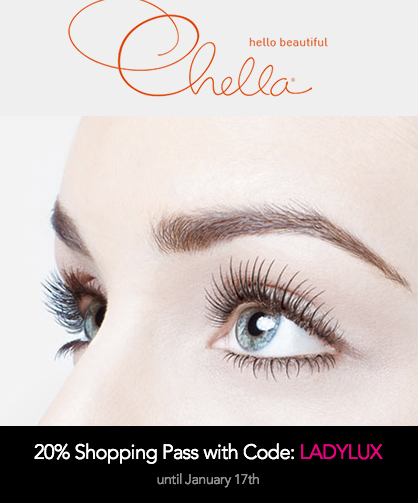 Stop by Chella for the beauty fanatics on your list. Known for their skin care products and beautiful brow tools, these items make the perfect stocking stuffers. Whether it's luscious lashes, full brows or a glowing complexion they're after, you'll find the perfect gift at Chella.
Enjoy 20 percent off the entire store with code LADYLUX from Nov. 11 – Jan. 17.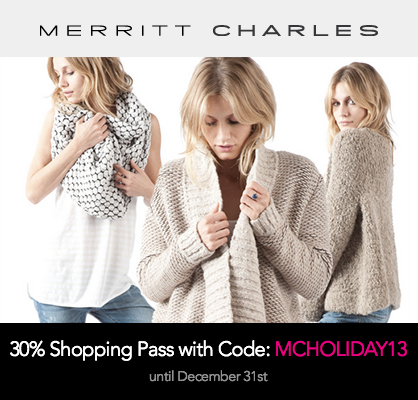 For simple basics, cozy sweaters and winter warmers, shop the Merritt Charles Fall 2013 collection. An oversized cardigan or infinity scarf will be their new winter wardrobe go-to.
Enjoy 30 percent off the entire store with code MCHOLIDAY13 from Nov. 25 – Dec. 31.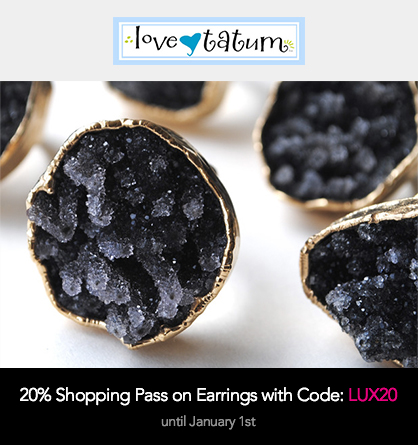 Known for her usage of rare and semi-precious stones in design, Love Tatum offers handmade pieces from materials curated all over the world. From colorful drusy earrings to stone cuffs, every piece expresses something personal and individual.
Enjoy 20 percent off earrings with code LUX20 from Nov. 20 – Jan. 1.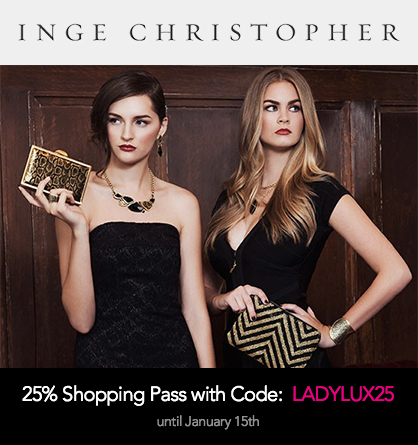 Invested in the art of design, if a new handbag is what you're after, look no further than Inge Christopher for a unique piece. Through the use of exquisite materials and fine craftsmanship, you'll find a variety of clutches with embellishments, exotic prints and shiny metallics.
Enjoy 25 percent off the entire store with code LADYLUX25 from Nov. 11 – Jan. 15.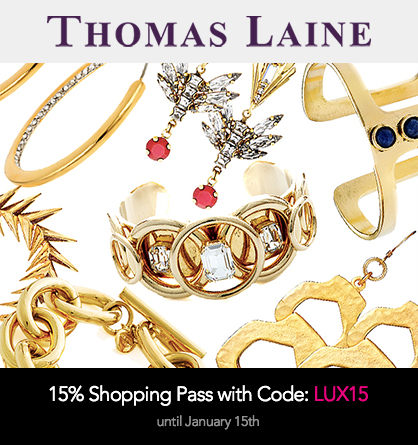 Your one-stop fine jewelry shop, don't miss out on this shopping pass from Thomas Laine. Offering collections from some of the best and brightest designers in the jewelry design world, Thomas Laine offers an inspiring array of bling and baubles for that special someone.
Enjoy 15 percent off entire store with the code LUX15 from Nov. 11 - Jan. 15.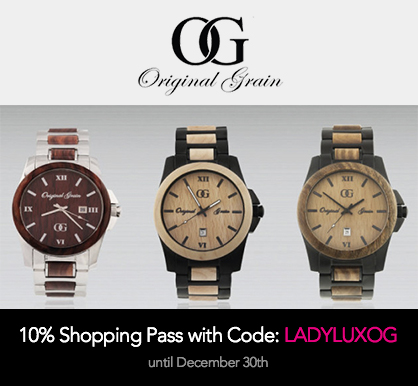 More than just a watch collection, Original Grain is a lifestyle brand for individuals who seek to set trends and stand out from the rest. Perfect for men and women, their original wood watches mix with stainless steel and crystal glass to create one-of-a-kind designs.
Enjoy 10 percent off entire store with code LADYLUXOG from Nov. 15 - Dec. 30.
See more from the LadyLUX Holiday Guide
Tagged in: lux exclusives, jewelry, beauty, accessories, shopping, holiday 2013, lux deals,