LUX Beauty: How to Clean Your Makeup Brushes
It's time for some spring cleaning! But don't let it only apply to your home or closet. A few items that you use every day that are probably in need of some sprucing up are your makeup brushes. Professional makeup brushes can be pricy, so what better way to give them a longer life span than to cleanse them properly? LadyLUX offers beauty buffs a step-by-step guide on how to deep clean your makeup brushes to get them squeaky clean and ready to beautify your skin!
Step 1: Recognize When to Clean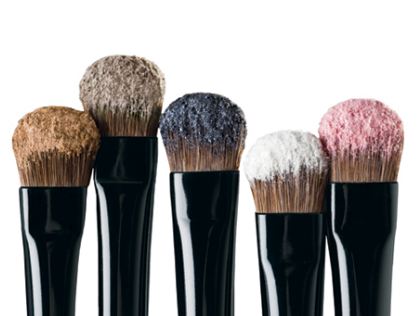 Caring for your brushes should be a priority. Ideally, you should wash your makeup brushes every day. But realistically, washing them thoroughly every one to two weeks is a good plan. Regular cleaning will help remove old makeup, dirt and debris, dead skin cells, bacteria and oils, which can help prevent skin infections, acne and clogged pores! Plus, it will keep your brushes in great shape.
Brushes ready to be cleaned will appear darker, dirty and maybe even matted because of makeup remnants stuck to the hairs. Foundation, powder and blush brushes should be washed once a week or more. Brushes that should be cleaned more often are eye shadow brushes and especially eyeliner brushes. The closer the brush gets to your eyes, the more sanitized they should be in order to protect against infection.
Step 2: Get the Products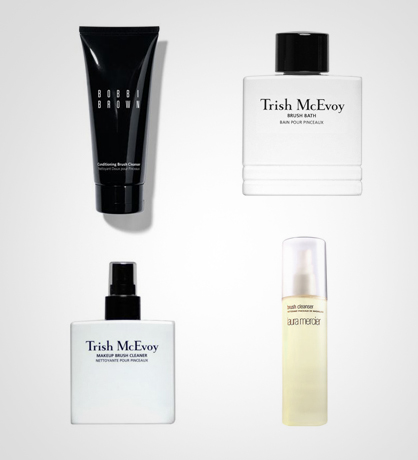 There are a few ways that you can wash your makeup brushes easily and effectively. Some of the necessary products might already be in your home. Using a professional brush wash or a mild soap like Johnson's baby shampoo will get the job done efficiently. For quick, in-between uses, the Trish McEvoy brush cleanser and the Laura Mercier brush cleanser spray will do the job fast with its quick-drying, antibacterial formula. For a stronger, thicker formula, Bobbi Brown offers the conditioning brush cleanser and Trish McEvoy features the brush bath which safely removes makeup and residue without drying or damaging.
Step 3: Spritz, Lather & Wash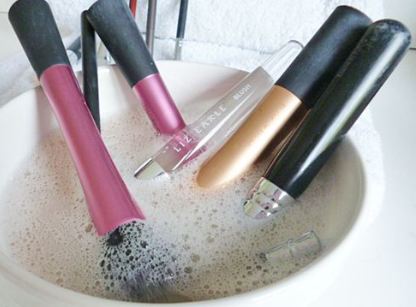 For a light cleaning in-between brush uses, spritz the brush hairs with warm water or hold them under the faucet downward so water does not damage the metal section and loosen the hairs. Swirl brushes in a small bowl of soapy water or water mixed with brush bath to lather the hairs and then let them soak for five to ten minutes. Rinse with cold water again holding the brush hairs downward. For extra care, swipe brushes onto a dry paper towel gently back and forth, removing all traces of color.
If your brush is caked with a lot of makeup, use a bit of olive or almond oil first to help loosen the buildup.
Step 4: Let Air Dry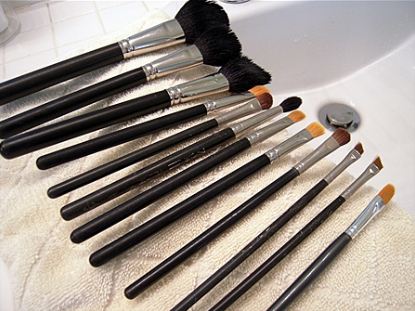 Gently squeeze out excess water and allow brushes to dry fully before using again. Letting brushes air dry is the best process. Lay them flat over a dry paper towel or hanging off the side of the counter for a few hours or until completely dry. Drying time will depend on the density and thickness of the hairs.
Step 5: Reshape & Trim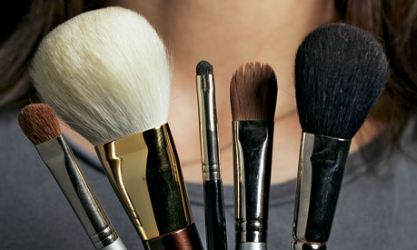 After cleaning your makeup brushes, some can look a bit ill-shaped. Reshape them by using the pads of your thumb, index and middle finger to get back to its original shape. Trimming your brushes can bring the life back into them after lots of use. Use small nail cutting scissors to gently cut off the tops of the hairs a small amount at a time. But don't go overboard and cut off too much! Just a little snip will do.
And voila! Your makeup brushes are like new again!
Read more LUX Beauty

Tagged in: guides, lux beauty, beauty, makeup, brushes, makeup brush,