Jen Mascali: 'Handbags that dance with soul'
Handbag designer Jen Mascali can easily say that artisanship is in her DNA. Her great-grandfather designed Grace Kelly's wedding shoes, placing a penny in the sole for good luck, and her mother has dabbled in everything from interior design to painting.
Now based in Florence, known as the "it" place to make quality leather handbags, Mascali moved to the city to study visual display design. While working for luxury handbag designer Pauric Sweeney, Mascali realized her true calling.
"I learned how important it is for a designer to know every step that goes into creating a finished handbag," she said. "I truly fell in love with every part of the process and knew that I would someday bring my own ideas to fruition."
Her designs are beautiful in their imperfections. Scraps of supple leather show uneven edges, and each bag looks especially made for the wearer with unique, nature-inspired hardware gracing each piece.
"Leaves to me are symbolic of life and in keeping with the natural look of the collection. I found them to work as the perfect embellishment," she said of the leaf adornments. "Each leaf is hand finished and affixed to the bags, leaving behind a little piece of each person who made the bags."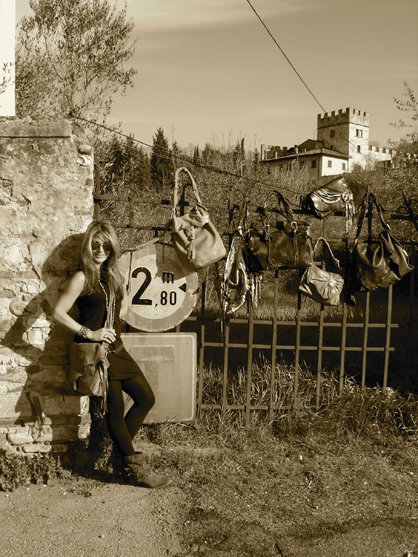 Jen Mascali with her handbags in Florence.
The muted neutral hues—it appears as if the soft leather has been softened by the sun—give a romantic tone, many finished off with a delicate gold broach.
Her bags could be compared to jewelry as they appear so personal. Many times the same designs rotate season to season among designers, but Mascali's designs are unique, such as an heirloom accessory or a vintage pendant. The style is all her own.
"It has become so difficult to distinguish between designers with the repetitive shapes we see in the market," she said. "My main goal was to develop handbags that dance with the soul and reflect the beauty of the individual carrying them."
Mascali models after her great-grandfather, who she watched cobble as a child.
"He was a true artist and perfectionist at everything he did, and that truly inspires me in my work today—to find something you love and do it to the best of your ability," she said. "His work ethic pushes me to go that extra step to make my pieces individual and special."
Besides her great-grandfather, her grandfather was a commercial artist, and her mother is a floral and an interior designer.
"Art most definitely runs through the veins in my family," she said.
Jen Mascali's first collection for Fall/Winter 2010/2011 was released in Europe last year, hitting stores in August. She's currently getting the word out on Spring 2011, which will feature a beach-toned color palette and the introduction of silver hardware.
For more information about Jen Mascali, visit her website at jenmascali.com.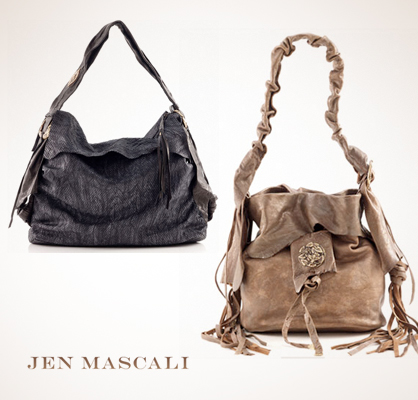 Tagged in: lux exclusives, handbags, accessories, jen mascali,