Keaton Row: The Future of Personal Styling
The online fashion world is being rocked, in style, of course, with a new website, Keaton Row, where customers are treated to free personal stylist services. The site gives women around the globe immediate access to their own personal stylist who will create customized lookbooks based on the customer's preferences, body type and preferred styles.
The site was created by Cheryl Han and Elenor Mak, who realized the importance of helping busy, professional women have access to their own stylist. Any outfits recommended by Keaton Row stylists are also available to purchase online, either piece by piece or in their entirety. The best part is, there is no cost involved, other than if a client decides to purchase any suggested merchandise in a client's individualized virtual lookbook.
Han and Mak explain the site, "(A) Keaton Row stylist is there in the moment you have a shopping and styling need and in that moment, you have a real personal stylist who knows your taste, preferences and budget to show you only the pieces and looks she know you would love. The result is that our clients love the convenience and true personalization of Keaton Row. The other benefit is that KR clients know their stylists have true objectivity because they are choosing from thousands of products from hundreds of brands."
To register on the site, visitors enter as many personal details as they want, from height, weight and shoe size to preferred clothing styles and colors, as well as those prints or colors the client might detest. Private photos can also be uploaded to give the stylist a solid sense of a client's appearance and coloring. Clients are then paired with a qualified, compatible stylist. This stylist then creates five to seven ensembles, as well as two Express Boutiques to fill holes in the woman's closet, including notes on why the stylist selected the pieces for that client.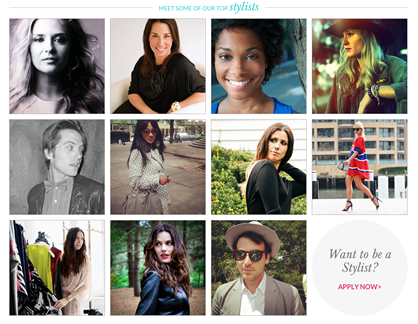 Over time, just like with a celebrity's stylist, the Keaton Row stylist learns more about their clients' preferences and what looks best on them, and additional flattering ensembles are created by the stylist. The Keaton Row catalog includes more than 5,000 products from a range of retailers, and Han said this collection will expand in the future.
The idea is to empower the average, real woman to discover and flaunt her personal sense of style. Sometimes, a woman never knows what looks good on her until she tries it out. This allows her to do so in the privacy of her own home.
"The one-on-one stylist, client relationship is key in helping women express their style because first, you have to discover your style and that cannot be done just by filling out a questionnaire. It is done over time, over exchanged emails, photo sharing, Skype sessions where the Keaton Row stylist helps her client discover her style and then she is able to make her life easier by showing her the best pieces/looks to express that style," said both Han and Mak.
The average online shopper is inundated with shopping choices. Keaton Row sorts through the clutter, offering a curated selection of items handpicked for each client. There is no inflated cost. Clients pay the retail value for each item they purchase; the bill is footed by the ecommerce partners' commission on each item sold – ShopBop, Nordstrom, Piperlime, and BaubleBar are all on board as partners. The partnering retailers offer an amazing variety of products and price points, meeting the diverse needs and preferences of today's digital woman, including plus size, petite and maternity. The average order, according to Keaton Row, is $450.
Women everywhere can embrace the concept, as Keaton Row already boasts a very diverse customer base.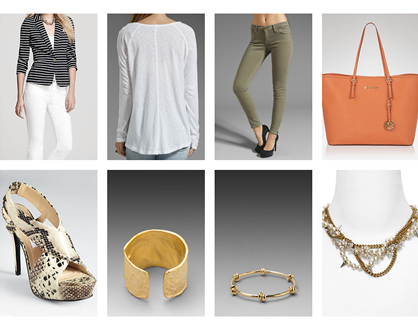 "Whether it is a recent college grad starting her first job, a full-time professional, a newly engaged bride to be, or a new mother – all of our customers represent the modern woman who considers fashion a necessary aspect of her life but she lacks the time and/or confidence to always know what to buy and how to wear it," said the co-founders. "Our customer is not the celebrity who uses stylists for the red carpet or photo shoots. For our customer, the allure is truly the luxury of having someone who knows your personal taste, can help you discover your style, make it easier to shop and bring confidence to your everyday life."
The site was founded after Han, at the time operating an e-commerce business at L'Oreal and Clarins, saw a market for bringing the personalized experience from offline to the digital world. Mak was working as director of sales at Mark Cosmetics at Avon and witnessed a gap in the market to leverage e-commerce along with social media. The two Harvard Business School graduates, who had long dreamed of starting their own business, connected and put together the vision of Keaton Row.
"The concept of Keaton Row is a result of our unique professional and personal experiences … Combining our professional experiences along with the shared experience of the challenges real women face navigating the overwhelming world of consuming and shopping for fashion, the idea of Keaton Row was born," the founders said.
Although newly arrived to the scene, Keaton Row is already looking ahead to the future. The founders see the potential to bring the same level of personalization to all kinds of arenas, such as home, family, travel and beauty.
Tested since January, Keaton Row has now officially launched. Check it out at www.keatonrow.com.