Lux Look: Go Native
One popular way to spruce up the minimalistic cuts of this season is with a bold, Native-American-inspired accessory. This fall, many of fashion's top designers jumped onboard with this leading trend.
Designers such as Emilio Pucci and Roberto Cavali featured cohesive collections of hippie, boho-inspired looks in Fall's Milan Fashion Week. Both collections also played with details true to American-Indian aesthetics, incorporating free-flowing fringe and lace-up touches.
In his Fall 2010 Collection, Jean Paul Gaultier paired a wide spectrum of woven prints from around the world, layered with hot hues, creating warm fall ensembles. Craft this look by adding a vibrant, Native-American-style printed sweater as part of a cozy layered outfit.
Whether you choose feathers, fringe or intricate beadwork, these accents are sure to add an instant flair to your ensemble.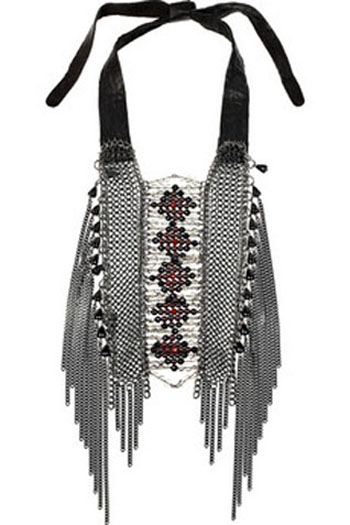 1. Stonerose Chest Plate Necklace by Falconiere
This statement necklace is guaranteed to be a conversation piece at any holiday fête. Composed of gunmetal strands draped from a collection of clear, black and red beads arranged in a standard Native-American pattern, the elaborate accessory is a piece of art in its own right. Pair it with a basic black top and let it pop.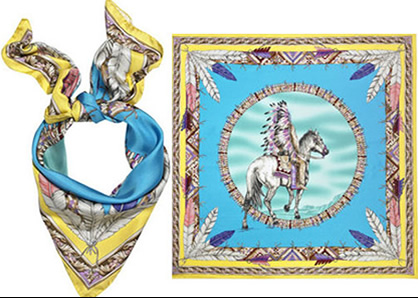 2. Native-American Printed Silk Scarf by Versace
One way to embellish any ensemble is with a bright scarf. This Versace scarf not only adds color, but also stays on trend with its ornate, Native-American graphic in the center, accentuated with a woven, feathered trim. The scarf incorporates a clever combination of hues, from an eye-catching turquoise to a light salmon and baby yellow.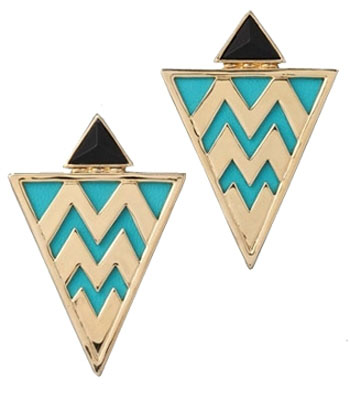 3. Gold Tribal Earrings by House of Harlow
House of Harlow is known for its offbeat accessory pieces. These geometric earrings feature a 14k gold-plated zigzag pattern, complemented by a turquoise leather inlay. Triangular black studs make these earrings the go-to fashion-forward accessory.
4. Sawla Fringe Clutch by Tory Burch
Tory Burch's Sawla clutch is late-night posh meets Cherokee aesthetic. The classic-shaped clutch is embellished with outward flaring fringe down its center. Completed in a distinctive, mustard yellow, textured leather, this purse is an excellent way to give your evening ensemble a fun touch.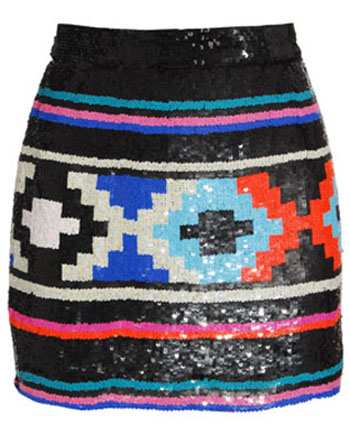 5. Sequined 'Mini Kiss' Miniskirt by Ashish
Ashish's mini puts a new twist on a classic Native-American geometric pattern. Completely covered in multicolored sequins and replacing the customary earthy tones with brighter hues, this ultra-chic mini gives its fashion-forward wearer the opportunity to stand out. Pair the piece with a basic black tee and solid black tights to play up the skirt.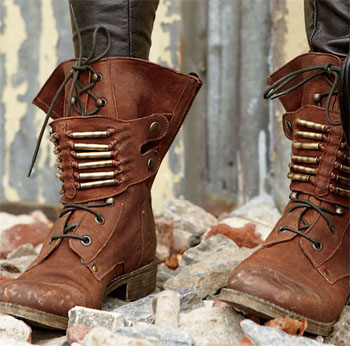 6. Bullet Boot by Boutique 9
These edgy combat boots incorporate motorcycle chic with an American-Indian flair. The chest plate-inspired beading accent includes long metal beads strung horizontally across the boot, attached at the sides with weathered buckles. Offered in a deep cinnamon suede, these biker boots are an ultra-functional strategy for staying on-trend while maintaining a rocker's flair.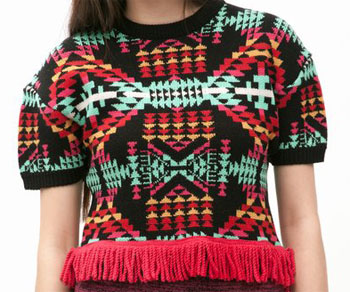 7. Fringe Blanket Tee by Pendleton Meets Opening Ceremony
For the third season in a row, Opening Ceremony has collaborated with Pendleton, the legendary American textile outfitter, to create one-of-a-kind winter pieces. This sweater-shirt, characteristic of a classic American-Indian blanket, is made of 100-percent wool and is woven into a tribal pattern that incorporates hues of bright turquoise, ruby and canary yellow on a dramatic black background. Trimmed with hot pink fringe, this top is sure to attract all the attention a gal wants.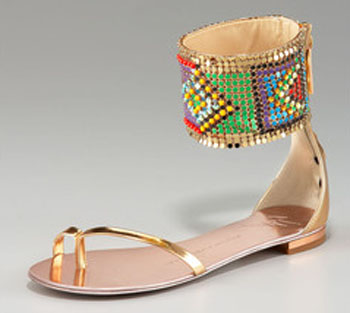 8. Tribal-Cuffed Flat Sandal by Giuseppe Zanotti
This season, cuffed sandals are all the rage, making this shoe the quintessential way to combine two of the season's leading trends. The striking ankle band is decorated with multicolored sequins and arranged in a geometric, tribal pattern. Thin metallic gold straps around the toes contrast with a dramatic, wide cuff. Sport these treads with a pair of black skinnies for a sophisticated on-the-run look.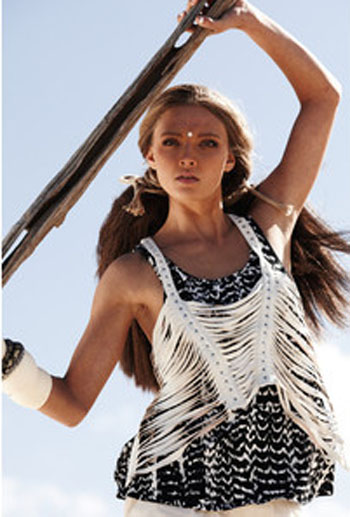 9. Sleep Forever Tribal Knit Tank by Uscari
Uscari's striking top is composed of cutout slits that naturally drape the figure, featuring a longer, rounded hemline in the front contrasted with a raised back. The solid white of this top allows its wearer to layer it with another color of her choice. Try it over a long-sleeved blouse to weather the chillier days.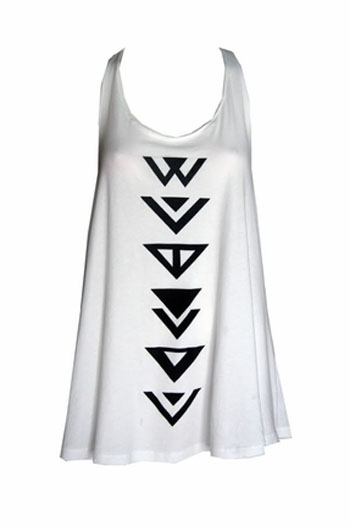 10. Indian Brave Tank Dress by Wildfox
Wildfox's basic tank dress, featuring a tribal arrow graphic, is an understated way to sport one of the more popular trends of the season. Made of soft cotton detailed with a scoop neck, this piece's racer back and natural draping make it a perfect part of a layered ensemble. Complement this tank with basic black leggings, a biker jacket and lace-up combat boots for an edgy, layered look.
Tagged in: jewelry, accessories, fringe, american indian, native american,