Mercedes-Benz Fashion Week Swim Miami 2013: Mara Hoffman
Since her first Mercedes-Benz Fashion Week Swim show in 2009, Mara Hoffman has been celebrated for her exotic printed swimsuits and simple silhouettes. Also known for her ready-to-wear pieces, Hoffman adapts her pleasing aesthetic to her swim collection. Hoffman's 2013 swimwear line made an entrance onto the Mercedes-Benz Fashion Week Swim runway as she presented on July 21 at the Raleigh Hotel in Miami. Although the show began with a simple black one piece and a white cover-up, both featuring beaded fringe, the vibe transformed dramatically and brought forth a whirlwind of swimwear pieces containing vibrant colors and intricate prints, reported Mercedes-Benz Fashion Week Swim.
Other swimwear cover-ups followed on the catwalk, including floor-length sheer and gauzy white dresses, a skin-tight, neon Native American print dress and a vibrantly colored V-neck cover-up with sunburst designs in red, orange, blue, yellow and green. Worn over a bikini or alone, these effortless cover-ups make a declaration that summer is in full swing.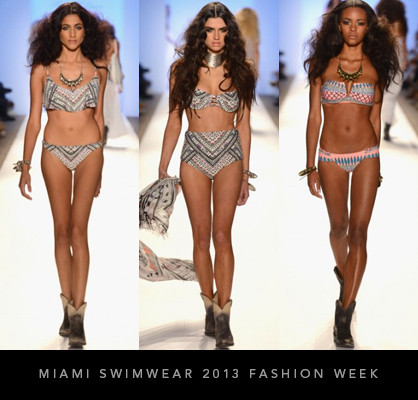 Bikinis presented during the show were colorful, printed beyond belief and structured. Some bikinis that stood out during the show were a white, green and blue suit with a ruffled top, a pink and blue feather print suit with a V-neck bandeau top, various high-waisted bikini bottom suits and more simple itty bitty bikinis in snake prints and solid black.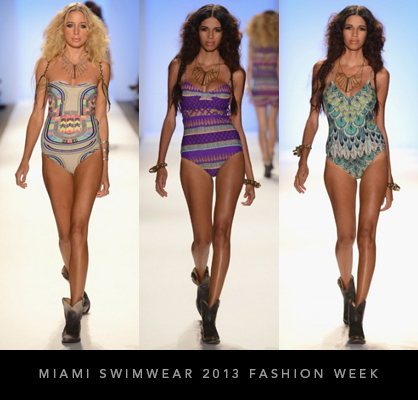 The most dramatic swimsuits of Hoffman's line were the one pieces. A feather-printed one piece stood out with fabulous peacock colors, while a purple, aqua and orange striped suit and a neon print strapless one piece also made a big impression.
Similar to her previous swimwear lines, her newest collection brought a fresh take on her trademark print choices and detailing. The collection featured many Incan, Native American, South American tribal, Egyptian and animal prints with contrasting colors of neutrals with neons and pastels with darks. Bib front beaded embellishments were added to swim tops and cover-ups, while some suits displayed subdued high waists and flirty cutout details. A few non-swimwear pieces that stood out were a pair of brown snakeskin print pants and various midriff-baring crop tops worn over bikinis.

Hoffman's choice of accessories helped to create the striking ambiance of the entire show. The models strutted down the runway in rugged brown and grey ankle boots and sported metallic statement jewelry of necklaces, chokers and single bangles. A few models carried sheer scarves and printed tote bags to suggest that any piece from the collection can be worn to the beach or a pool party.
Models' hairstyles were teased with long braids hanging down in front and wrapped with ribbons. Their makeup was kept modest with dark eye shadow and thick, jet-black eyeliner. Cheeks were bronzed and lips were kept neutral so swimwear could command all attention.
Hoffman's new swim collection will shine under the sun and brighten up an overcast day.
It is the epitome of fun, eclectic beach wear that can be worn from the sand to the streets.

Read more Mercedes-Benz Fashion Week Swim coverage.
Tagged in: swimwear, runway, swimsuits, miami, miami swim, mara hoffman, bikinis, raleigh hotel, beaded embellishments, tribal prints, mercedes-benz fashion week swim 2013,