Paris Couture 2010: Hues of Nude
Although neutrals tend to dominate the Fall/Winter lineup at runway shows, it was a tad surprising to see shades of nude, gold and taupe take over the runway like never before. Some designers, like Armani Privé, Bouchra Jarrar and Elie Saab, dressed at least half of their models in the fair hue. Although Chanel showed off plenty of jewel tones, they had many of their ladies dressed in classic suits or short evening dresses, baring the barley-there color. So Young Kang rocked a Chanel couture knit dress. The white jeweled embellishment at the neck, arms and waist, gave it a snowy sophistication.
Jean Paul Gaultier is known for avoiding anything near a shade of pale, but somehow he managed to drop some gold-topped numbers in amongst the gothic collection. The metallic frock he sent down the runway harkens old-world Bohemia, but the head-to-toe drapery and turban-esque cap give a taste of the Middle East. Armani Privé took a note Gaultier in terms of length. There was no shortage of fabric. Yet, the styles were simple, long and elegant. The silky jumper, in a shade of khaki, speaks 70s glamour. Who couldn't see Jaclyn Smith wearing it?
As always, Bouchra Jarrar was modern, clean-cut and serious. The models hit the catwalk in shades of black, white and nude… with the occasional pop of a gold belt on a few of her styles. The simple sheath is a classic pick from her presentation, showcasing the designer's immense talent for detail and structure. Other designers, such as Elie Saab and Givenchy incorporated a lack of color into their couture collections. If you want lace, don't head to Paris. Givenchy used it all up. Almost every style incorporated the feminine fabric and all the looks were in alternating shades of white, ivory, beige and gold… except for one black dress, which is dipped pink at the bottom and covered in feathers.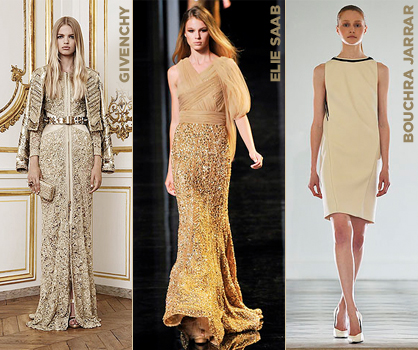 Tagged in: paris, givenchy, runway, chanel, couture, nude, beige, khaki,