Paris Fashion Week Spring 2012: Christian Dior
Paris Fashion Week witnessed a collection of sensual modernity from new Christian Dior designer Bill Gaytten. Dior has practically invented many of the classic styles that Gaytten used in his chic and glamorous looks for Spring 2012, reported Style.com.
Gaytten chose to cleanse the Spring 2012 line palette after his unusual Fall haute couture move, which had featured theatrical looks of wild colored ensembles incorporated with 3D shapes and accessories. The Spring collection went back to the archives of proper 1950s and 1960s dresses we are used to seeing from Dior.
The show kicked off with the perfect opening number: a sheer, black collared shirt paired with a black-and-white checkered jacket and flowing, white knee-length skirt. The styles exhibited a ladylike sensation throughout the show.
Many looks exuded simplicity and beauty, with classic bar jackets modernized with a wider neckline, thinly-belted suit separates, Grace Kelly-inspired dresses with wrapped bodices, floral prints and various full-skirt cocktail dresses in thick and sheer fabrics.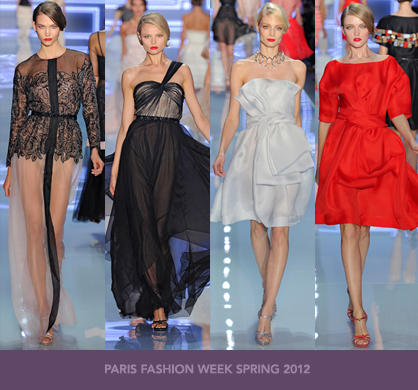 via Style.com
The collection transitioned into luxurious gowns of rich fabrics, including silk organza embellished with thin ribbon belts, rosettes and lace. Dresses in hot oranges and reds added the perfect pop of Spring colors, while dresses with flowing transparent fabrics were sexy but still appropriate with knee-length hemlines and full skirts.

There was nothing daring about the collection, other than the sheer and body-hugging fabrics. The closing of the show featured a flawless exhibition of floor-length feminine gowns in black lace and sheer nudes, ideal for a red carpet affair.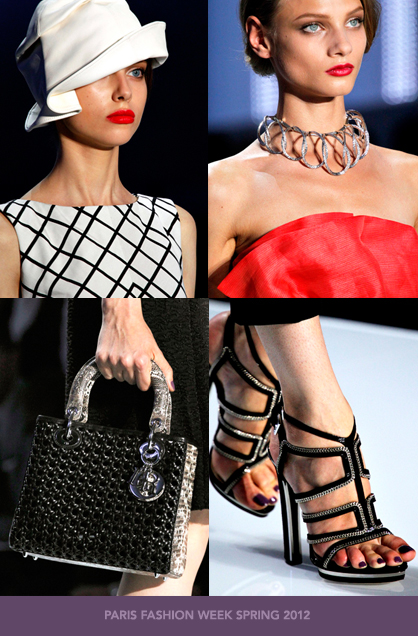 via Style.com
Accessories were key and added modern details to the collection, such as softly shaped 1920s fedora hats in black and white, box purses in snakeskins with Dior letter charms, tweed clutches, high-heeled sandals with silver zipper trims, and oversized silver choker necklaces and cuffs. Models' hair was kept attractive with sleek, side-parted buns, and the makeup highlighted crimson lips and long lashes.
Some fashionistas may have called the collection pretty and safe, but nothing compares to Dior and its effortlessly stunning Spring looks.

Tagged in: runway, spring 2012, christian dior, paris fashion week, dior, bill gaytten,