Princess Diana exhibit makes a royal arrival aboard the Queen Mary
A new exhibit entitled, "Diana: Legacy of a Princess," has arrived aboard the Queen Mary cruise ship. Dedicated to the memory of Diana, the long-term exhibit features over two thousand pieces of personal items that once belonged to or were associated with the Princess of Wales. The newly remodeled 13,000-square-foot exhibit made its debut on June 16 and is located on the sun deck of the docked passenger liner in Long Beach, Calif.
Divided into three sections, the exhibit begins with the history of the "Older Royals," which introduces visitors to Queen Mary (whom the ship was named after), King George, Queen Mother Elizabeth, Queen Elizabeth II, the Duke and Duchess of Windsor and Prince Charles. At the entrance is a wall depicting the Royal Family tree, displaying framed photos of each family member. Key items presented in this portion of the exhibit include newspaper clips, letters, royal china, military attire, the Queen Mother's purse, a pink negligee once belonging to the Duchess of Windsor and Princess Sarah Ferguson's back-up wedding dress.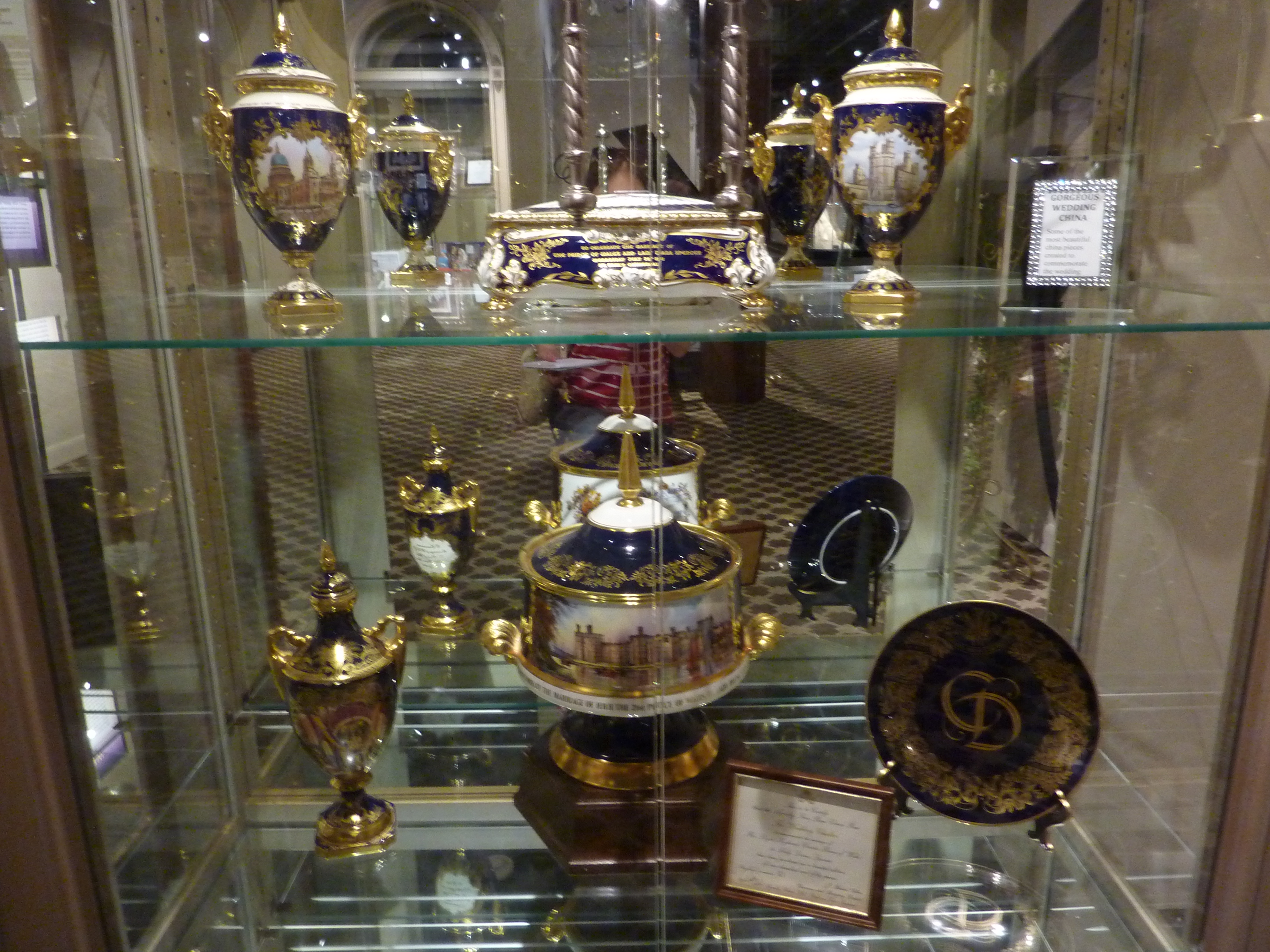 via Marisa Machak
The second section of the exhibit transitions from Prince Charles' life to the introduction of Diana, followed by their engagement, wedding, Diana's motherhood, her royal tours and public appearances. Significant pieces include hand-written letters from Diana's adolescence, Diana look-alike wedding dolls wearing her famous dress with sketches, royal family wedding photos, a wedding reception seating chart and commemorative navy blue and gold wedding china. It also features a collection of Diana's personal items including wedding gifts, early princess dresses and accessories. And, of course, there is a Diana doll collection and other Diana-themed memorabilia such as perfume bottles, books, paper dolls, figurines and games.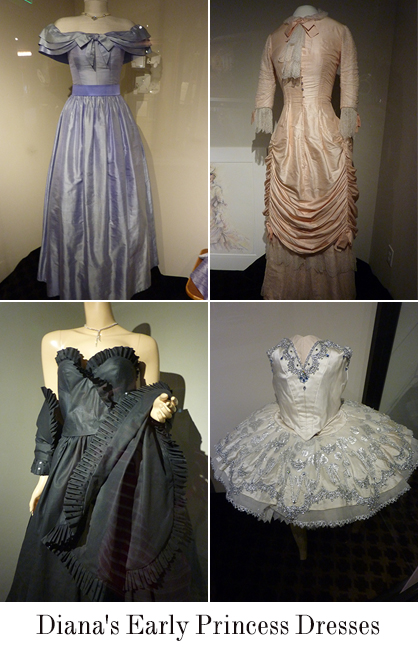 via Marisa Machak
The gowns on display date from Diana's early princess days. Notable here are her sequined black engagement party dress with the sketch by designer Elizabeth Emanuel, a powder blue dress with bow, a pink Klondike era dress from a royal Canadian tour and a sequined white ballet leotard with matching tutu and ballet slippers.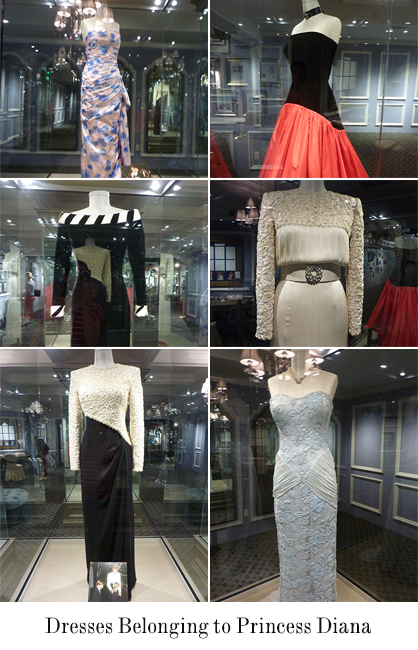 via Marisa Machak
The exhibit displays her entry into the world of fashion and her transformation into one of the world's most glamorous women. It includes various hats with designers' sketches and seven of her gowns, each placed in its own glass case. The dazzling dresses include a long black and white gown, a shorter black dress with white ribbon trim, a strapless blue beaded gown, a strapless satin lavender gown with blue flowers, a long-sleeved ivory dress with jeweled belt, a strapless black and red ball gown and a belted burgundy coat.
via Marisa Machak
Also on display is a handwritten schedule of Diana's hair appointments, her grooming tools and perfume bottles placed on a vanity in between her two tiaras. The Spencer tiara was a part of her family heirloom and the Cambridge Lover's Knot tiara was a wedding present from Queen Elizabeth II.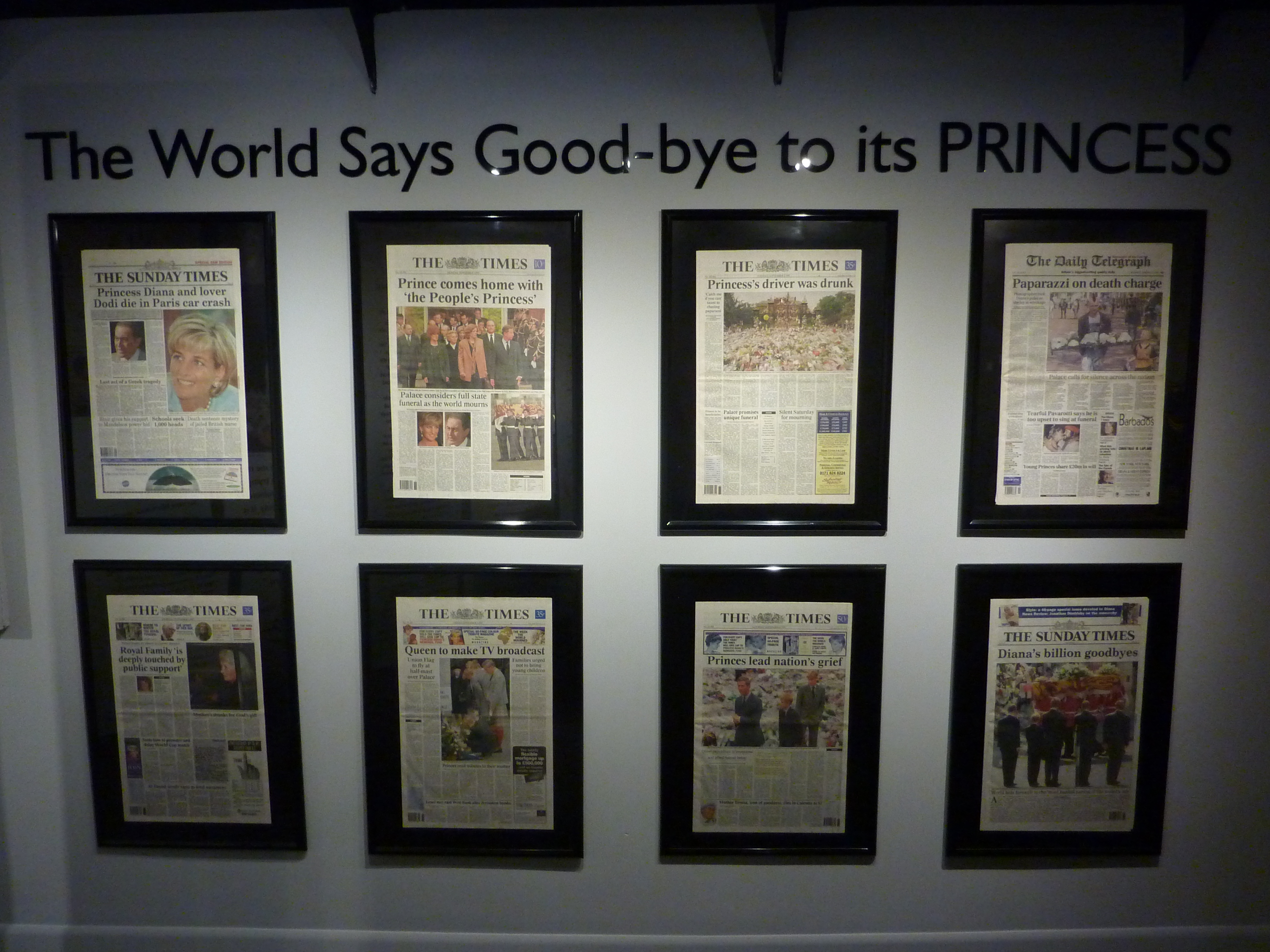 via Marisa Machak
This section ends with Princess Diana's charity work and her 1997 death caused by a car accident, displayed on a wall with eight front page newspaper articles. Some of Diana's most memorable quotes and works of charity are also displayed. One such notable quote reads, "Nothing brings me more happiness than trying to help the most vulnerable people in society. It is a goal and essential part of my life—a kind of destiny. Whoever is in distress can call on me. I will come running wherever they are."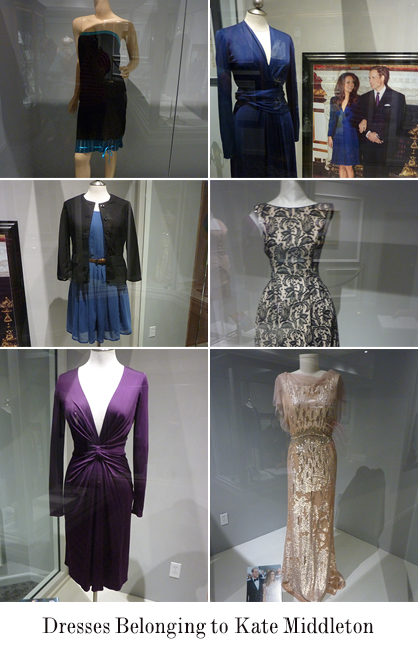 via Marisa Machak
The exhibit's third and final section, "Diana's Legacy," focuses on her two sons, Prince William and Prince Harry, with Diana's pregnancy newspaper clips, a large black and white painting of the three together, and mugs and plates displaying the princes' profiles. "Diana's Legacy" even covers the royal wedding of William and Kate, the Duke and Duchess of Cambridge, with wedding commemorative mugs and plates. Eight dresses belonging to Kate Middleton are on display, including her blue wedding engagement announcement dress and the transparent dress she modeled when William first laid eyes on her. Kate's dresses bring new life to the exhibit and foreshadow the new "People's Princess" of England.
The royal exhibit pieces belong to private collectors, while most items are courtesy of Pink Ribbons Crusade co-founder Suzanne King, who hopes that the exhibit will become a permanent attraction of the Queen Mary. Pink Ribbons is an all-volunteer organization started by King to use her large collection of Princess Diana dresses and royal memorabilia to provide support for women and families dealing with breast cancer, and to fund prevention and awareness efforts. King owns six of her original dresses.
In celebration of the Princess Diana royal exhibit, a new Tea Room has been installed on the Sun Deck to the left of the exhibit where visitors can enjoy tea and sandwiches in true English fashion.
For more information on "Diana: Legacy of a Princess," ticket prices and all other Queen Mary inquiries, visit www.QueenMary.com or call 877-342-0738.

Tagged in: queen mary, diana dresses, princess diana, kate middleton dresses, diana: legacy of a princess, prince william and harry memorabilia, royal memorabilia, princess of wales, royal exhibit, diana doll collection, cruiseliner, long beach, calif.,