Rescued Shelter Dogs Give Vets a Second Chance
After Sergeant Adam Renteria returned from Iraq with post traumatic stress disorder and traumatic brain injury, the medication and occasional therapy sessions were not enough. He suffered from such severe panic attacks when he went outside that he isolated himself indoors: he suspected rooftops and windows of harboring snipers, walking around corners made him anxious and strong noises reminded him of his wartime experiences. At night, he could barely sleep due to agonizing nightmares.
Then Pets for Vets, a nonprofit that provides rescue dogs to veterans struggling to return to civilian life, matched Adam with Rakassan, a dog from a local shelter. After going through training, Rakassan learned to help with his new owner's PTSD. The change was miraculous. The two became inseparable. Rakassan sleeps by Adam's side every night, which lessens the nightmares, and has made Adam able to feel comfortable going out in public again.
Vets who are coming back to civilian life can confront unemployment, broken relationships, depression and more. A companion animal may be the lifesaver they need. For both the veterans and the dogs, which are rescued from shelters, it is another chance at life. Studies have proven that companion animals substantially increase mental and physical health, including reducing the stress, depression and anxiety that military servicepeople frequently confront.
An animal trainer for years, Pets for Vets founder Clarissa Black provided therapy work with her own dog at a VA program. Seeing the faces of the veterans light up as they handled the dog – along with the persistent questions on whether they could take her dog home with them – inspired Black to take it to the next level.
"It got me started thinking: Why is there therapy one hour a week within the walls of the VA? Why isn't it 24/7 at home?" Black questioned.
Having worked extensively with rescued shelter animals, she began to imagine a program where rescue dogs were paired with veterans in need to provide that therapy that she saw with her own eyes as being so effective, forming a healing bond.
When she started Pets for Vets in 2009, she thought she would handle things herself, accomplishing a handful of local matches. Now the organization has 15 chapters nationwide, and veterans suffering from everything from brain injury to anxiety and depression can get a lift and a lifelong companion from these matches.
Each match is meticulously made. The temperament of the dog and the personality and lifestyle of the veteran are carefully evaluated.
"It's kind of a matchmaking process," Black explained. "We go out and specifically select the dog for the veteran based on meeting him … It is not just getting a dog, it is making a lifelong friendship. We have discovered that by finding the right dog for each veteran, that these dogs are so in tune with what these veterans need that they can start to pick up on things that each veteran needs. What we are doing is going beyond the training we are giving them. It is about this incredible bond they have together and the dog wanting to look out for the veteran and be in tune to what their person needs."
Black cites cases in which dogs with no specific training learned to wake up their owners in the middle of nightmares because they sensed a problem, or a dog whose owner had difficulty hearing sirens so the dog would howl to alert him every time it heard a siren.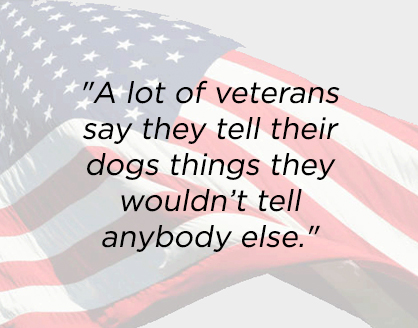 After the organization finds the right dog, the dog goes through a training program with experienced trainers to learn specific behaviors geared toward helping their new veteran. Dogs can learn everything from helping a vet to brace and stand to training the dogs to wake their owner when having a nightmare or responding to panic behavior.
Veterans often return after bravely serving their country with serious physical and emotional injuries. A 2008 study found 20 percent of veterans returning from overseas suffered from post traumatic stress disorder. PTSD manifests itself differently for each veteran. It could be a sense of hypervigilancy, in which something as innocuous as a soda can becomes a potential threat. Or it could be difficulty turning the lights off at night or problems creating relationships with people.
One veteran said his heart and soul died in Iraq. He was so dead inside; he couldn't care about anything or anyone.
"He said he was either going to get a dog or a gun and fortunately he came to us and received a dog," Black said. "He knew it was going to help with his PTSD, but what he didn't realize was the bond he was going to form with his dog and the way his dog would help to bring him out of his shell. Ii was going to give him so much more. It was going to give him a connection back to his humanity … The dog was able to navigate through that minefield to open up his heart and his soul."
Today his dog accompanies him everywhere, from baseball games to walks. The two's bond is instantly noticeable.
Veterans aren't the only ones who benefit. The dogs are all rescued from shelters where they are often facing euthanasia. With 3 to 4 million shelter animals put down each year, there are plenty of dogs in need of good homes.
"These dogs would have been overlooked. They are now with owners who will love them unconditionally and look out for them ... they are getting a new lease on life," Black said.
The bond, on an emotional level, is healing. One vet reported that the day before he called Pets for Vets, he called a suicide prevention hotline. A month into owning his rescue dog, his desire to kill himself had passed and his nightmares had ended.
"It is incredible to hear these stories," Black said. "I am turning the lights off every night. I am taking half my medication. I can finally walk outside in my own neighborhood and not feel that I'm going to be attacked or that I am vulnerable."
For more information, visit pets-for-vets.com.
Tagged in: philanthropy, animal shelter, dogs, pets for vets, vets, veterans, rescue dogs,