Road To Oscars: Fashionable Starlets of Hollywood
As the most important event in Tinseltown inches closer, we begin to make our Oscar predictions. With so many questions up in the air, we can't wait to see not only who is going to be nominated on January 16, but also what they are going to be wearing. There are many possibilities of who might get the coveted best actress and best supporting actress nods. The list of possible candidates looks familiar as most of the potential nominees have received nominations in the past. Newbies or veterans, here's our list of 2014 Oscar nominee predictions.
Emma Thompson, "Saving Mr.Banks"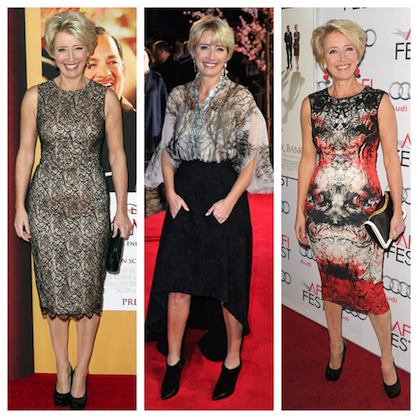 A prior winner, Emma Thompson seems to get better looking as the years go by. This is proven with her recent red carpet looks while promoting her film, Saving Mr. Banks. With a fresh new bob and looking more toned than ever, the actress showed off in form fitting and flattering dresses. Oscar night certainly calls for a more dressed up look, so it will be nice to see how her new style carries over into a formal gown.
Meryl Streep, "August: Osage County"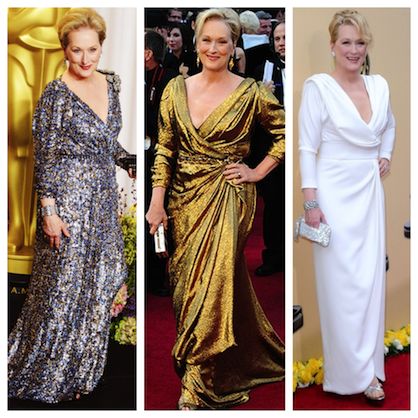 This veteran actress is no stranger to the Oscars. Having received 17 Oscar nominations, Streep is well-versed in red carpet looks. Always choosing figure-flattering dresses that drape in all the right places, she seems to enjoy playing with metallics. Whether she's opting for silver sequins or a gold hue, she knows how to dress for her shape.
Cate Blanchett, "Blue Jasmine"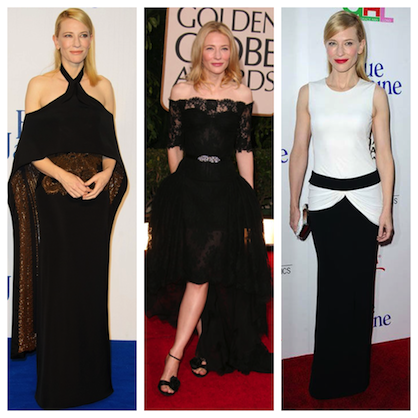 This list of past Oscar winner goes on, including Cate Blanchett. She won for Best Supporting Actress in 2005 for her work in Aviator and it seems like she may win this year for Blue Jasmine. The black pieces she's been opting for lately have looked great on her but we'd love to see some color. A natural beauty, there's no doubt whatever couture gown she wears will be worthy of an Oscar. The knitted John Galliano number she chose when nominated in 1999 is still mentioned on the all-time best-dressed lists for the Academy Awards.
Sandra Bullock, "Gravity"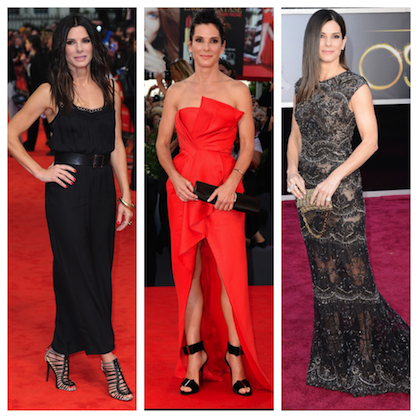 America's sweetheart, Sandra Bullock, will definitely be dressed to impress on Oscar Sunday. Always mixing up her style, she can pull off glamorous gowns as well as sultry styles. Her best looks are more on the glitzy side, such as the floor length beaded gown that has winner written all over it.
Judi Dench, "Philomena"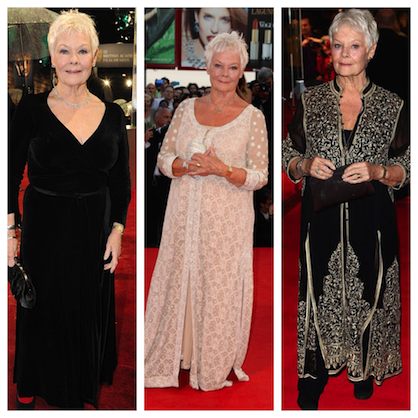 The 79-year-old actress knows how to dress in outfits fit for the red carpet. With six nominations under her belt, it won't be a surprise for her to receive her seventh nod. Dame Judi Dench is always looking classy on the red carpet and opts for neutral pieces that offer just a bit of glitz. Previously winning Best Supporting Actress in 1999 for an 8-minute performance in Shakespeare in Love, Dench looked the part of an Oscar winner in a cream, beaded gown.
Amy Adams, "American Hustle"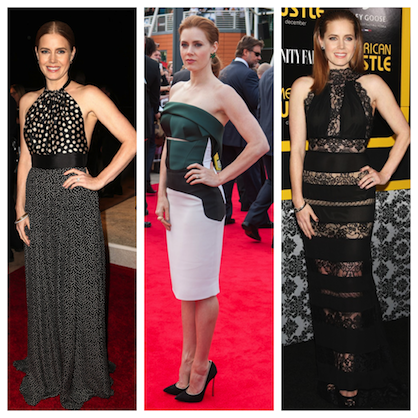 This multiple Oscar nominee is set to add another nomination to her resume with her role in American Hustle. The red-headed beauty always looks chic and polished on the red carpet. We've seen her award's style, usually wearing glitzy tulle gowns. This year, she was playful with her style, sticking with black pieces that featured patterns. If she sticks with this trend, we see her wearing something black and lacy on Oscar night.
Jennifer Lawrence, "American Hustle"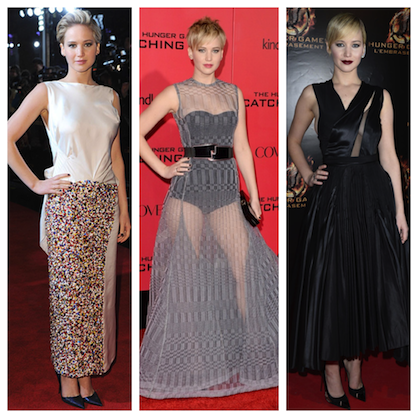 Hot off her win last year, Jennifer Lawrence hasn't missed any time on the red carpet. With this year being quite busy as she promoted the new Hunger Games installment, Lawrence has had a lot of fun with her fashion choices and beauty. After chopping her hair into a chic pixie cut, the actress has opted to wear sequin and sheer gowns. As she goes through this phase with fashion, we can't wait to see what she wears for the Oscars.
Julia Roberts, "August: Osage County"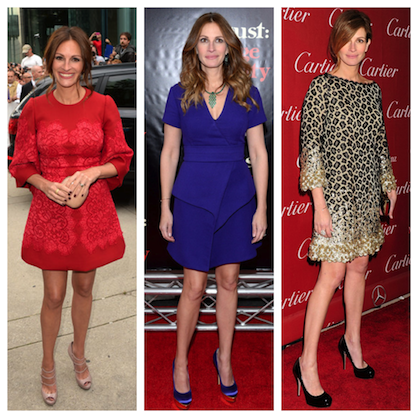 It's been some time since we've seen this actress on an award show red carpet. After winning in 2001 for Erin Brockovich, Roberts started a family and backed away from the limelight. With her role in August: Osage County, we get to see more of the actress' fashion statements. Not shying away from color, Roberts has been dazzling us this year in purple, red and leopard frocks.
Lupita Nyong'o, "12 Years A Slave"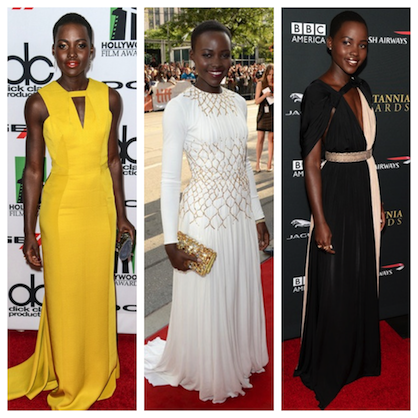 The first on this list to not have previously received an Oscar nomination, we think next week this newcomer will add a Best Supporting Actress nomination to her resume. It's been a treat getting to know her red carpet style, as she stunned us in her canary gown and looked elegant in white. We loved her in a colorblocked gown and with all the versatile looks she's shown us, we look forward to her Oscar gown.
Read more Oscars.
Tagged in: fashion, red carpet, oscars, award season,