Socially interactive app theBlu brings the ocean to screens and supports ocean conservation
In celebration of the ocean, theBlu is the world's first socially connected, global, interactive app that allows enthusiasts to explore, connect, learn and support ocean conservation. The unique app is the result of collaboration between Academy Award-winning leaders of the film industry and world-class artists and developers, called the Makers.
Currently available for MAC and PC, theBlu is a beautiful virtual 3D underwater experience complete with numerous species of fish, plants and animals. The app invites users to discover and learn about these ocean fauna and flora, while interactive features connect users with friends via Facebook to dive into theBlu together. Each time a user participates, the interactions and connections impact the flow of life in theBlu and everyone's experience of it.
Courtesy of theBlu.com
The program is designed to increase awareness and reach for collaborating organizations and their conservation efforts. Users not only learn about ocean conservation, but also support the cause by contributing to theBlu. Participating non-profits sponsor ambassador species in theBlu and users are offered the opportunity to purchase these species for their virtual ocean environments. Twenty-five percent of the purchase price of these virtual animals goes directly to the non-profit collaborators to fund projects supporting real ocean environments. Users of theBlu have the opportunity to create real change for the world's oceans.
"Our oceans face a crisis. While beauty remains, overfishing, pollution and habitat destruction threaten whole species and ecosystems. I'm intrigued by the potential of theBlu as an Internet tool to protect the oceans," said actor and ocean activist Ted Danson, as reported by theBlu.
TheBlu aims to reach 1 million screens worldwide by World Ocean's Day on June 8. To celebrate the honored day, Ocean Elders, Wild Aid and theBlu are holding an online global celebration at theblu.com, entitled "If you love the ocean, download it!" The celebration will also include the debut of the Big Blu whale, created by Academy Award winner Andy Jones from "Avatar," and ambassador species sponsored by Wild Aid and Ocean Elders. These virtual sea creatures will be available for purchase to support ocean conservation.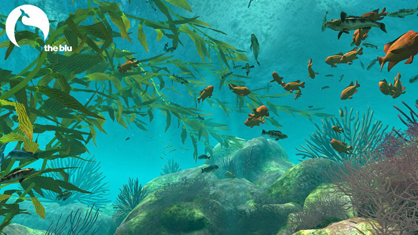 Photo Courtesy of theBlu.com
As the project continues, makers are collaborating on new art that will be released into theBlu on a regular basis. The virtual environment plans to develop hundreds of new habitats and thousands of species to add to the ocean. TheBlu also plans to create more stories and events centered on ocean life, including global whale migration and jellyfish viewing during the full moon. On top of these efforts for theBlue, two new paths of exploration are in development through collaboration with artists and scientists. OpenBlu offers artists the freedom of expression to create imaginative and fictional species and habitats, while TrueBlu is a research-based interactive ocean for educational and scientific purposes.
TheBlu will soon be available as a web app, on mobile devices, tablets and smart TVs. The current app is available for a limited time offer of $19.99.
Please click here to visit theBlu.
Tagged in: causes, app, philanthropy, collaboration, ocean, ocean conservation, ocean day, socially interactive, theblu, world ocean's day,