Souchi offers classic luxurious knitwear
When you think of knits, thick sweaters and cozying up for warmth during the colder months probably come to mind. But Suzi Johnson's Souchi, a line of handcrafted luxury knitwear made of the highest quality natural fibers, takes knits far beyond the typical sweater. She has recreated knitwear in every category of womenswear and beyond, from dresses to hats, including Spring and Summer lines. (See below for a giveaway.)
"Anything you can think of that is possible in women's for regular textiles, we are going to make for you in knits … We do bikinis, we do pants, we do skirts … whole collections that just happen to be made out of yarn. It's coming up with a new contemporary way to be in head-to-toe knits and have it look modern and cool and it is almost an afterthought that it is actually yarn," Johnson said.
At heart, the brand is about classic luxury. Easily transitioning from season to season, her designs are classic enough to become perennial favorites yet different enough to stand out.
"You're not going to be buying something crazy and trendy from us. We're not going to be that designer. We're selling something that people want to wear and it has nothing to do with the trends," Johnson said.
Her collections run the gamut, including babies' (blankets, hats, hoodies, dresses), men's (hats and sweaters), home (pillows, runners, placemats, coasters) and women's (underwear, leggings, pants, skirts, tops, strapless dresses). For the holiday season, she has crafted a 12-piece capsule line in black, charcoal and winter white, featuring hand-latticed and -crocheted details and sexy shapes ideal for layering.
Her first foray into the fashion world was cutting up and redesigning her Barbies' clothes. Although she had a long-standing interest in fashion, things fell into place slowly. After trying her hand at a few careers, she landed on going to school for clothing design.
The knitwear angle, she reports, was "happenstance." She chose a knitting class to fill a hole in her schedule and fell in love.
The rest fell in her lap. While Johnson was strolling down the street one day in one of her own sweaters from the class, a passerby stopped her and asked where she had purchased it. It turned out that the woman owned a store in San Francisco and ordered ten of the garments on the spot.
"The sweaters I designed I thought would look great with that menswear kind of look and then I never had time to design the clothes," Johnson said. "I just started designing sweaters and selling them without a plan or a vision or anything, and now it is 15 years later and I am still designing sweaters."
She founded her line on her own personal style. Knitwear, to put it simply, was fun.
"I spent four years studying clothing concept and design and with knitwear, it was literally 15 weeks and so it was so fun to try something completely new … So I had this new take on how to design a sweater because I didn't know the traditional ways of knitting … And because of that, I ended up with some different fits, different design ideas that typically weren't used in knitwear," Johnson said.
Even 15 years later, it is still fun.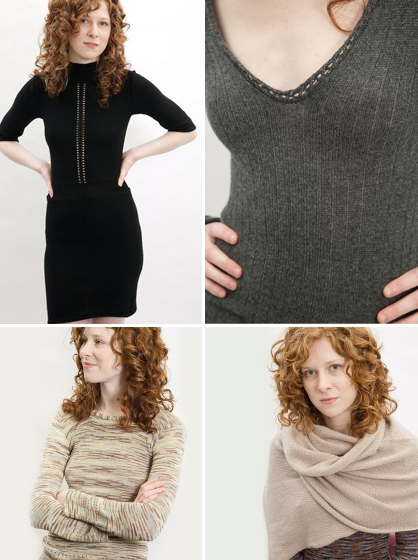 via Souchi
Her material of choice is cashmere, as well as Italian merinos. In the warmer seasons, her collections focus on exquisite yarn blends of bamboo, organic cotton and silk, offering "light drapey sheer" knits. With four collections each year, she is always creating something new.
Eschewing factory production, her brand is proudly crafted in the United States by six women in a handloom studio who do it all. Johnson searched the world over to find the most expensive and top-of-the-line yarns, including the most luxurious cashmere.
"We are creating a product that is meant to last a lifetime," the designer said. "They are investment pieces. You are investing in not only a product and a brand, but basically a small cottage industry."
She describes her items as "not cheap but affordable." At a time when companies are opting for cheaper materials and outsourcing overseas, Johnson decided to take a different path and maintain her quality standards. Cashmere prices rose 40 percent, but her prices didn't budge.
"In tough times when you don't have money to spend, I didn't want people to spend $700 and have a lesser-quality product," she said. "So we are doing what we can, we are cutting what we can, to help stay at a price that is affordable, but we are not going to lessen the quality of the product or the production of the garment."
With 15 years of history, her company has definitely seen some changes.
"We are always changing and evolving," she said. "What has made us last 15 years and still be under the radar is people are still wearing pieces they bought from me 15 years ago and they still love them. They still feel modern. They still want to wear it. The key is that we are really, really making a product … that feels amazing on the body, that you want to wear."
Souchi also has an environmental focus, striving for zero percent waste, recycling the yarn, employing vegetable dyes when possible, and using natural fibers such as organic cotton, hemp and soy.
"It's kind of what is happening and we want to be on the forefront of that. That is the future … (Our country) needs to think globally and think long-term. It is very easy in the fashion industry. Everything is so shortsighted and even though we are thinking ahead of time for a collection, we are not thinking ahead of time for what we are doing and the effects it is causing on the environment," Johnson said.
She just opened her third Souchi store in Aspen and is looking for a fourth location, and has five additional stores in the pipeline.
Experience her collections at www.souchi.com.
Souchi Scarf Giveaway:
One winner will receive a Bottega Cashmere Scarf ($180 value)
Here's how to enter:
1) "Like" Souchi on Facebook
2) Comment under the picture of the scarf on the LadyLUX Facebook page and tell us your favorite thing about the holiday season
This giveaway is open for seven days (until Dec. 6). Our favorite answer will be selected and the winner will be notified via Facebook.
Tagged in: lux exclusives, designer, winter, knitwear, knits, souchi, suzi johnson,