Spring 2012 Runway Trends: Footwear
For Spring 2012, footwear broke new ground with some understated styling that flashed back to the simple era of pumps and minimalist sandals. But don't worry, sky-high wedges and chunky platforms aren't going anywhere just yet. Designers also introduced new trends with square toes, boots with a Western flair and pastel-colored heels.
Block heels
Chunky yet sturdy, block heels are no stranger to the runway, but this season they got a fresh injection with metal details, new shapes and more pump designs. For a fresh take on block heels, Rochas created a sophisticated shoe with a high throatline and an open toe, while Celine's round-toe number was all about retro vibes. Whether on a single sole or low platform, sandal pumps had wide-strap uppers to balance the thick heels. Try a pair of block heels with trendy wide-leg pants or a miniskirt.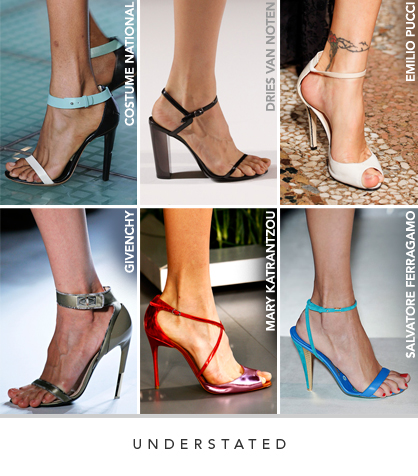 LadyLUX via Style.com
Understated
Keeping it classy with no frills or fuss, single-sole sandals with minimal straps proved effortless styling is often the best way to go. Salvatore Ferragamo, Mary Katrantzou and Costume National chose colorblock straps for a playful touch, and Givenchy created excitement by juxtaposing reptilian skin with leather and metallic. Understated sandals can easily be worn with everything from feminine skirts to skintight pants.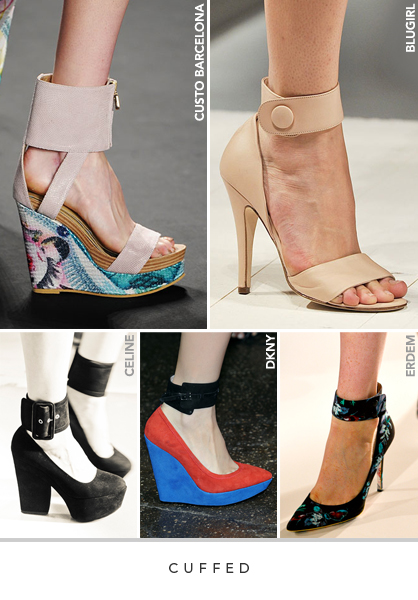 LadyLUX via Style.com
Cuffed
Designers may be toning down on the embellishments, but they are beefing up on the ankle cuffs. Wedges, pumps and sandals have been outfitted with wide, chunky cuffs that give an outfit some extra attitude. To complete the looks, designers added oversized buckles, exposed zippers and round buttons as clasps and closures. Style cuffed footwear with skirts or shorts to elongate the legs or with cropped cigarette pants for an edgy vibe.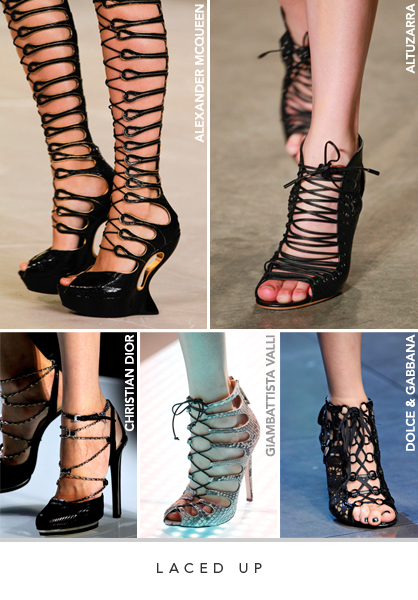 LadyLUX via Style.com
Laced-up
Laced-up and super sexy, corset-inspired sandals and pumps have been flirted with on the Spring runways. Most designers created laced-up styles that tied at the ankle, but Alexander McQueen went the distance with an architectural wedge that laced up to the knees. Thin-strap ghillies were popular on single soles and thin heels, keeping the focus on the laces.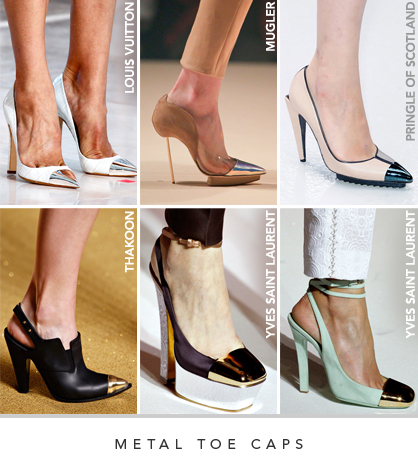 LadyLUX via Style.com
Metal toecaps
Inspired from work boots and Western cowboy boots, metal toe-caps toughened up pumps. Colored metal, silver and gold offered a strong contrast and looked especially punchy against this season's soft pastels. Toe-cap pumps can easily be the perfect touch to minimalist looks.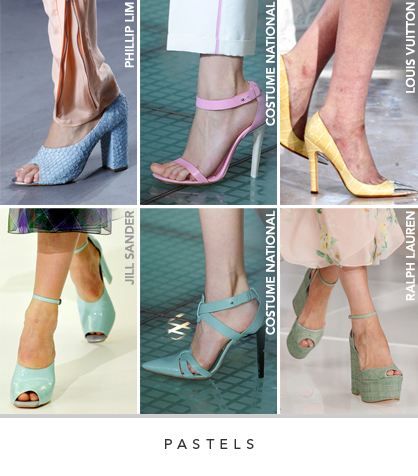 LadyLUX via Style.com
Pastels
For Spring 2012, chalky pastels have become the new sophisticate color palette, thanks to top designers such as Louis Vuitton and Jil Sander. The soft tones appeared in classic pumps, simple sandals and beach wedges, in a variety of materials. Crocodile, leather, patent leather and raffia were exhibited in pale pinks, yellows, greens and blues. Match pastel heels with floral skirts or with black and white for a pop.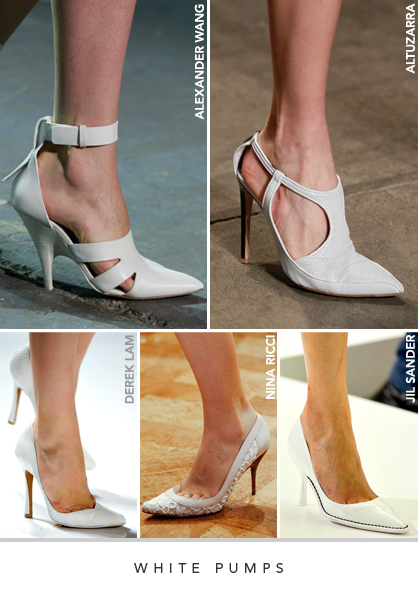 LadyLUX via Style.com
White pumps
It's time to store away nude pumps because white pumps are taking over! Stomping down runways from New York to Paris, pointed-toe white pumps are sleek and modern. Designers gravitated toward matte-finished leathers, crochet and perforated materials to craft interesting details. This chic new pump can go from day to night effortlessly.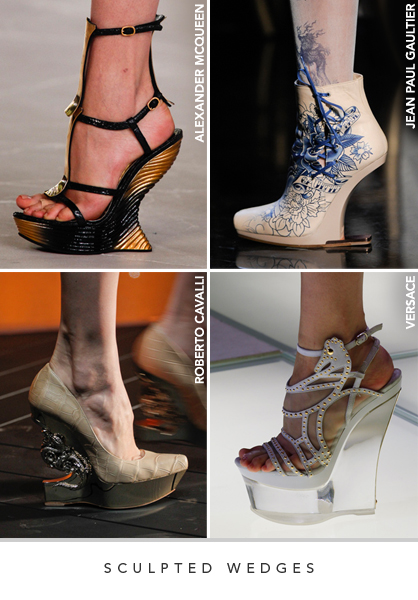 LadyLUX via Style.com
Sculpted wedges
Fashion may be simplifying, but some racy trends still remain. If wedges are up your alley, you might as well go all the way with a dangerously high sculpted one. Alexander McQueen, Jean Paul Gaultier, Roberto Cavalli and Versace created various pumps, sandals and ankle booties that displayed architectural lines. Lucite and metal finishes added a futuristic touch.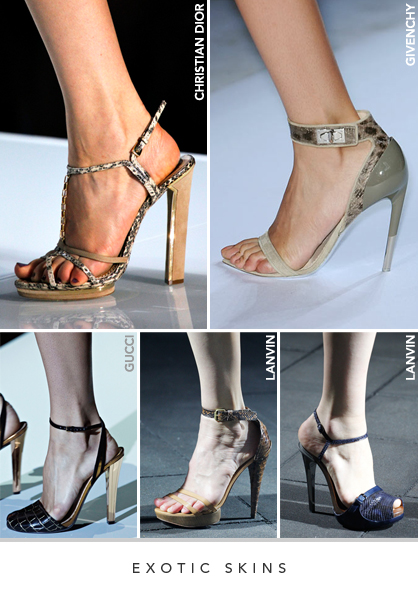 LadyLUX via Style.com
Exotic skins
Crocodile and snakeskin in both muted and vibrant colors brought luxury to sandals and platforms. Designers created textural interest in small doses with skinny, barely there straps. Featuring a bit of mixed media, the exotic skins were paired with shiny metallics and tonally simple leathers.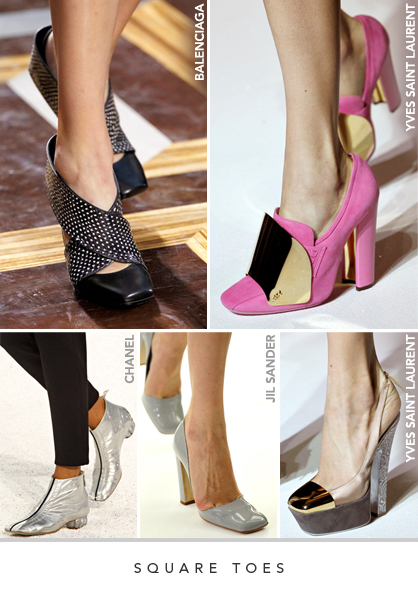 LadyLUX via Style.com
Square toe
Square-toe pumps made a comeback with a modern twist. Pumps offered a soft choice with single soles or an edgy flair featured on a platform. In keeping with the blunt shape, designers opted for blocked heels. Always ahead of the trends, Chanel jumped ahead with square-toe, low-heel ankle booties.
<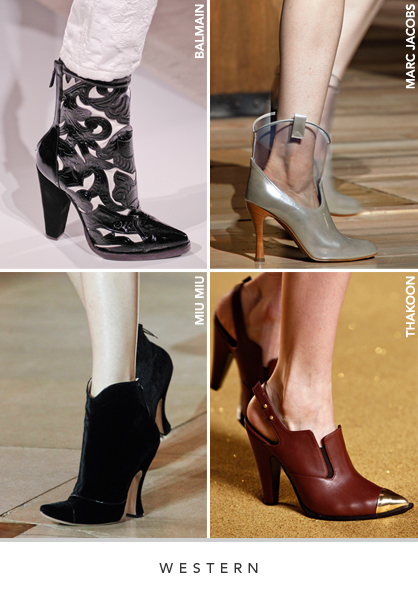 LadyLUX via Style.com
Western
In Spring 2012, Western boots continued to gain momentum as designers found fresh methods to update boots' traditional styling. Marc Jacobs and Miu Miu kept the cowboy boot's usual silhouette, but punched things up with metallic materials, vinyl and velvet. Thakoon reinvented the boot into a mule shape, and Balmain went wild with contrasting paisley details. You don't need a cowboy hat to rock a Western boot; simply combine the updated styles with a pair of jeans and a blazer for easy chic.

This article was contributed Annette Tang of the Versastyle. You can follow Annette and her fashion adventures on Twitter at @theversastyle.
Tagged in: trends, new york, new york, footwear, louis vuitton, paris, london, alexander mcqueen, runway, spring 2012, pumps, thakoon, versace, runway trends, milan, wedges, salvatore ferragamo, jean paul gaultier, rochas, miu miu, platforms, jil sander, mary katrantzou, costume national, western, celine,