Tangerine Tango bursts into 2012 as Pantone's color of year
Explosively loud and exceedingly bold, Tangerine Tango has been announced as Pantone's 2012 color of the year. The global authority on color, Pantone revealed yesterday that the shade will replace 2011's Honeysuckle hue. The reddish-orange tone will no doubt have us walking on sunshine. It has already appeared on both the Spring and Pre-Fall 2012 runways, on fashionistas in street style and in home interiors.
"Sophisticated but at the same time dramatic and seductive, Tangerine Tango is an orange with a lot of depth to it," Leatrice Eiseman, executive director of the Pantone Color Institute, said in a statement. "Reminiscent of the radiant shadings of a sunset, Tangerine Tango marries the vivaciousness and adrenaline rush of red with the friendliness and warmth of yellow, to form a high-visibility, magnetic hue that emanates heat and energy."
Daring as it may seem, Tangerine Tango has proved it can be an excellent staple color. A versatile choice, the orangey hue complements a spectrum of colors including yellow, purple, blue and green and flatters all skin tones. The past few seasons, designers already have taken note of the shade's excitement and created eye-catching apparel, color-pop accessories and brighter-than-life footwear all sporting the vibrant color.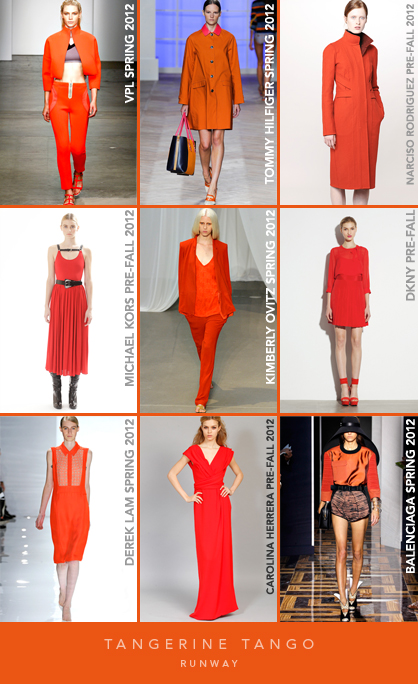 LadyLUX via Style.com
The tangy shade made a vivid appearance Spring 2012, with runway designers such as Balenciaga, Derek Lam, Kimberly Ovitz, VPL and Tommy Hilfiger opting to include some orangey pop. Not the least bit color shy, these designers delivered punchy jacket and pant sets, sensible trench coats, feminine blouses and sheer dresses perfect for a sunny day. Designers gravitated toward minimal styling, combining the red-orange with black and white. At the same time, they mostly maintained monochrome looks, creating a plethora of spicy citrus footwear and accessories.
Wedges, platforms and pumps matched the all-over looks but also served as bold statement shoe. Aperlai, Burak Uyan and Casadei didn't dial back the designs just to accommodate the sophisticated color though. Instead, the footwear veterans exhibited over-the-top patterns and architectural heels for an avant-garde appeal.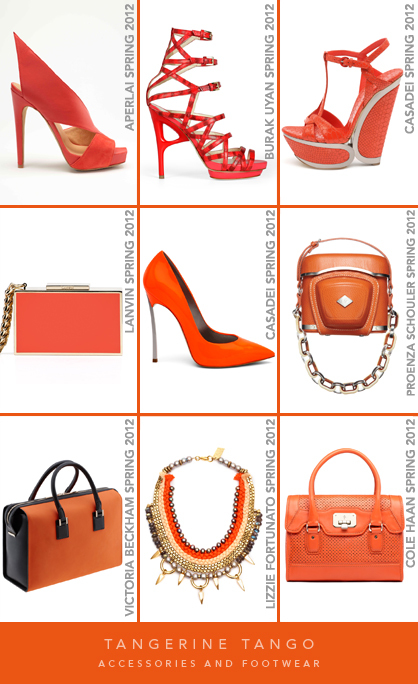 LadyLUX via Style.com
In handbags, tangerine symbolized both luxury and vintage. Smooth leather satchels and clutches jazzed up ladylike looks with brilliant hints of colors, forming timeless pieces. Exhibiting vintage flair, designers re-created camera cases and used the orange to create a 1960s worn-out vibe.
As Pre-Fall 2012 hits full swing, the sunset shade will transition fashion from summer into fall. Already appearing in the collections of DKNY, Carolina Herrera, Michael Kors and Narciso Rodriguez, tangerine will surely continue through the entire autumn season and become a year-round lively hue.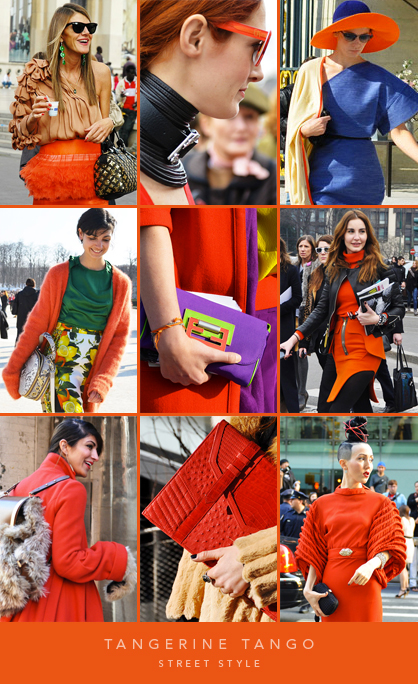 LadyLUX via Style.com
From runway to street style, fashionistas are attracted to the vibrant tone to express their bold attitude. Unlike the monochrome styling of the runway, though, these ladies are mixing orange with tans, blue, greens, purples and even floral prints. No boundaries exist in the streets. It's skirted, clutched, dressed up and made chic. Noted street-style favorites bursting in tango include Moda Operandi's artistic director Taylor Tomasi Hill and Vogue Japan's editor-at-large Anna Dello Russo.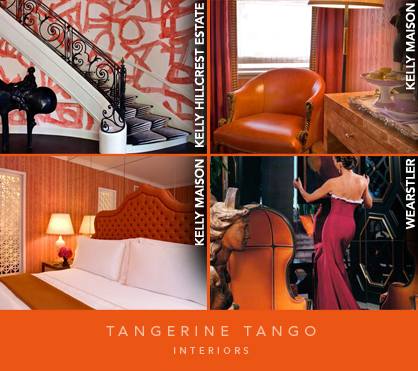 LadyLUX via Style.com
Tangerine Tango isn't reserved just for fashion. She may be a style maven with her own apparel line, but interior designer Kelly Wearstler still knows how to invigorate any space and tangerine is an easy yet unexpected go-to. Interiors can be freshened up with brightly colored chairs, pillows, lamps and other accents. Walls painted in solids or prints can make a huge artistic impact. Depending on the theme, orange can provide warmth or a modern vibe.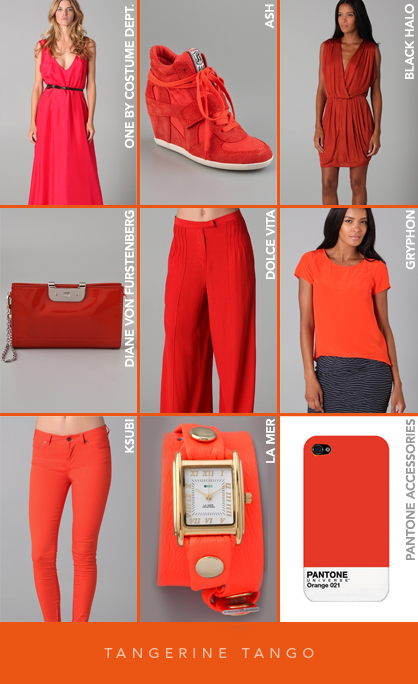 LadyLUX via Style.com
With 2012 just around the corner, there's no time like the present to introduce Tangerine Tango into your wardrobe and get a jump on the color of the year. The spirited color will take you through the holidays and have you bouncing into spring effortlessly.
Red and blue pants are old news. Update your bold pants with Dolce Vita's wide-leg trousers or Ksubi's spray-on skinny jeans. Take inspiration from style street fashionistas and team up either pant with a yellow sweater or green blazer for an upbeat groove. For a sophisticated look, try a tan blouse to neutralize the bright color.
Need some versatile office-to-cocktail-party attire? Black Halo's sleeveless jersey draped dress is an easy fix. Toss on a black blazer and layer of tights for vigorous office meetings, and for nighttime, switch to an oversized gold statement pendant necklace and matching Tangerine Tango platforms for easy chic.
For a glam event that goes beyond a few martinis, ONE by Costume Dept.'s gorgeous V-neck maxidress will have the paparazzi wondering who you are. Use a skinny black belt to cinch the waist and tie your hair into a sleek high ponytail for ultimate glamour. Complete the look with a pouty orange-red lipstick.
Simple and easy-to-wear, Gryphon's scoop-neck silk tee will become a staple in your wardrobe. Combine the tangerine tee with jeans or cutoffs and tan booties for a comfortable look. For something chicer, pair the tee with a gray tuxedo jacket and silver jewelry.
Get your pumped up kicks with Ash's super orange suede lace-up wedge sneakers. Step into Spring's major athletic trend with a spurt of color and sport the shoes with skintight panel leggings and a leather hoodie. Also try cropped pants of any color to show this vibrant footwear off.
To add a subtle bit of tang to your routine, try Diane von Furstenburg's wristlet, La Mer's wrap watch or Pantone's color swatch iPhone case. These simple accessories can be incorporated into your daily outfits so you are always wearing the color of the year.
Diane von Furstenburg's wristlet clutch can carry all the essentials for a night on the town and then can be tucked into your purse for daytime. The pop of color will add interest to any look.
Make La Mer's wrap watch your signature piece this year. Wear every day, whether dressed up or casual. Stack on some bracelets in bold colors or mix in silver bangles for color contrast.
A cool iPhone case is never out of style. Show off the Pantone shade every time you text your bff or check your Facebook account.
This article was contributed Annette Tang of the Versastyle. You can follow Annette and her fashion adventures on Twitter at @theversastyle.
Tagged in: trends, guides, shopbop, michael kors, balenciaga, spring 2012, diane von furstenberg, derek lam, dkny, dolce vita, la mer, orange, narciso rodriguez, kelly wearstler, ksubi, casadei, color of the year, kimberly ovitz, tommy hilfiger, gryphon, black halo, ash, tangerine tango, pre-fall 2012, anna delo russo, aperlai, taylor tomasi hill, one by costume dept, vpl, burak uyan, patone,