Tavi Gevinson styles 'Real Housewives' daughter for BlackBook
Tavi Gevinson is best known as the honest, evocative, 14-year-old writer of Style Rookie. Neither a fashion designer nor a journalist, the blogger who spends her days voicing opinion about designer presentations and posting mood boards, is now a leading commentator when it comes to what's hot… and what's not. Coming this fall, Tavi can now add "stylist" to her growing resume. BlackBook Magazine has chosen the not-so rookie of style to help shoot the cover of the coveted September issue.
Originally slated to star Chloe Sevigny, scheduling conflicts changed the cover to star Christine Staub. Known as Danielle Staub's daughter on "The Real Housewives of New Jersey", Christine has quickly propelled herself onto the covers of fashion mags. Tavi actually chose Christine, who is now signed with IMG, as the replacement. No word on the mood boards, but looks like Tavi took the change in stride since she spent most of July 8 pulling looks for the cover. The BlackBook editorial team had their qualms about employing a fashion-obsessed teenager with no experience. They mentioned on their web site, "We left her in there, slightly concerned that since the clothes she pulled were minimal for a 10-page fashion editorial—she pulled from 15 designers, but was very selective about which pieces she chose from each—she might get frustrated when pairing items to form looks." However, Tavi was quick to impress, coming away with a dozen "perfect looks". Although she doesn't have a resume that reads a mile-long (her rolodex sure does), her passion proves that, regardless of experience, a love for something can go a real long way.
A chic take on "Little House on the Prarie" dominated Tavi's mood boards, which featured pictures of Chloe Sevigny along with girls in milkmaid braids, soft florals, and the words "apple orchard". Christine Staub's wispy blonde innocence may translate from Chloe easily enough. But who's to say Tavi didn't go rogue and start from scratch with the new model? Either way, we're very excited to see what Style Rookie cooked up for her first shoot. Check stands in September!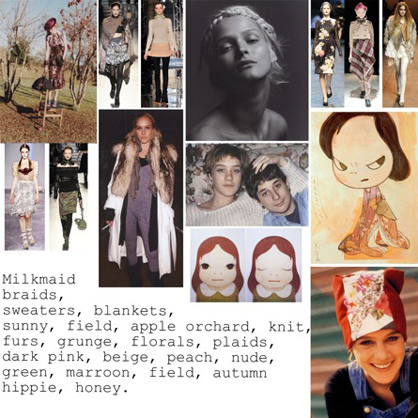 mood board via BlackBook
Tagged in: fashion, magazine, tavi gevinson, blackbook, style rookie, styling,