Tell-Tale Signs He's About to Propose
When he's ready to say "I do"
There are subtle – and not so subtle – signs that your boyfriend is going to propose soon. Sometimes it's when he's acting strangely, and at other time it's more normal activity, yet unusual for him, such as when he's hanging out with your dad, as he tries to get to know him.
Here are some of the top signs that your man might be about to propose marriage, including one true story from a guy who changed his behavior right before proposing to his wife.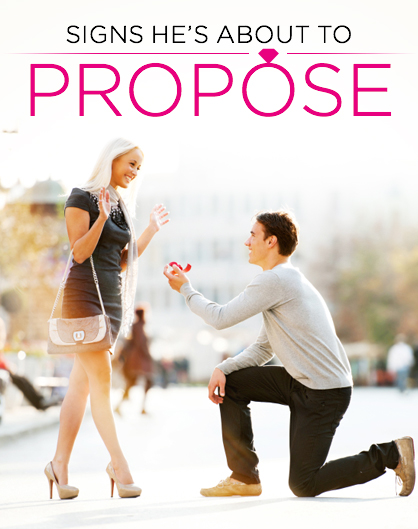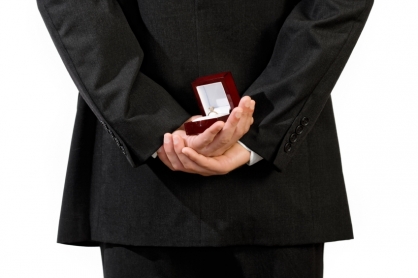 Mixed signals are common
Stef Safran, founder of Stef In The City dating service in Chicago, said that men can give mixed signals when they are finally ready to make that next step. Here are her top signs that indicate he might be ready to say "I do."
He starts including you in longer term plans such as holidays and plans family affairs far more in advance than normal.
He starts giving you more space for your things in his home.
He starts asking about what rings you like.
He starts asking you about talking to your dad (and he never talks to your dad).
Sometimes just when you think he's losing interest, it means the opposite.
Emily Duke, with DiamondEnvy.com, said, "I work with men and women looking for engagement rings on a daily basis. After getting to know them, many come back and share their proposal stories. A recurring theme I find interesting is that many women think the guy is about to break up with them. In reality, he is sneaky, busy and distant because he is planning, nervous and trying to keep a huge secret. It's a funny story for a woman to tell in hindsight, but when she is experiencing this change in the present, it is concerning."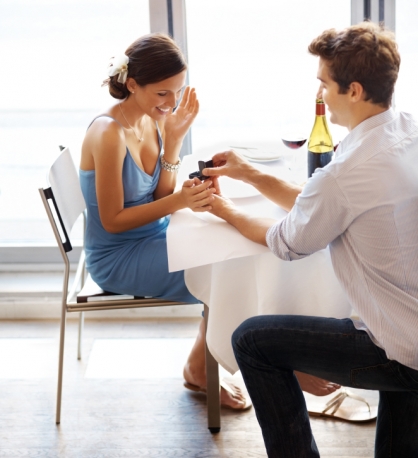 A bright future
If a guy asks you a lot about your future plans, that is a definite sign he's in it for the long haul, according to Kay Junior, who has worked with hundreds of brides on destination weddings and honeymoons through Swift Travel Deals in Little Rock, Ark.

"Before popping the question, he will want to make sure that you both are on the same page about your goals, financials and your future together. He may even discuss what it may be like to start a family with you," Junior said.
A lot of brides tell her that their future husband, right before proposing, has been eager to meet her parents or speak to them privately right before he ends up proposing. "Typically in most families it is custom that the guy gets permission from the girl's parents to marry her," she said.

"He will spend more time browsing online. Typically this is to get an idea or ring styles, trends and prices before he makes a decision on which to purchase, Junior said. "He will ask or try to figure out what types of rings or jewelry you like. You may have an out of the blue conversation discussing jewelry."

And another sign, she said, is that, "he will be more eager to save money or work extra hours. With a big purchase approaching, as rings can be very expensive, he may want to save more and spend less and work more to earn extra income to be able to purchase a ring without affecting his current budget."
Another sign is that you might catch him staring at you. "Typically this happens when he is thinking about the way he will propose to you," she said.
And sometimes friends or family members are let in on the secret before you are. If they start acting nervous or giddy around you, then that's a possible sign that they are aware of your upcoming engagement, she said.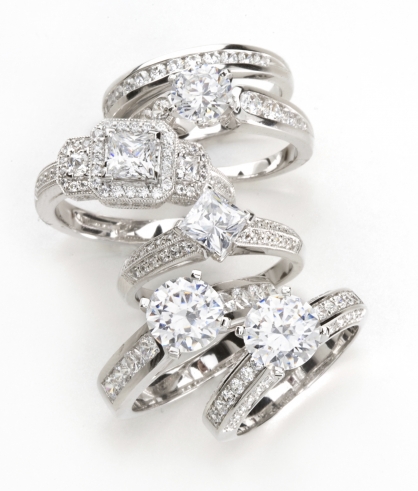 All about the ring
Slisha Kankariya, with FourMine.com, an online jewelry retailer, said that she's had brides tell her many specific signs that their boyfriends were about to propose:
He's been noticing your jewelry and accessories more and taking an interest in your style and preferences. He may secretly even be trying to see what your ring size is.
He wants to go golfing with your dad or spend time bonding with your little brother. He's made the extra effort to be around your family on special occasions.

While he generally shares everything with you, he's been keeping some secrets lately. When you ask him what's happening, he responds with a nervous laugh or smile.

He might be planning a vacation or getaway and putting extra effort into the details of planning everything from the activities to the food you'll be eating on your trip.

In the past you've taken an interest in friends' engagement rings. But now he's been observing and commenting on rings that you see and is carefully listening for your reaction.

He's been talking more about the long-term and definitely includes you in the picture. He asks you for your opinion on larger life decisions and weighs your preferences equally.

He's started to spend a bit more conservatively. This means he's thinking about the future and a way to buy you the ring of your dreams.
How it's done
Here's how one man geared up to propose to his wife. Robert Godlewski said, "It's been a while ago, but when I proposed I spoke to my uncle Louie who had connections in New York's diamond district. I secretly drew the circumference of my girlfriend's ring to get a good size estimate, and he was able to find an engagement ring in the ballpark of my budget. My now-wife and I also began discussing whether she would leave her teaching job and move to Atlanta, where I would soon be relocating to work for Fairchild Publications. I dropped hints about how much she would enjoy living in Atlanta. I also encouraged her to get a month-to-month lease on her apartment so she could more easily move out whenever she wanted. We had our sights set on a Caribbean cruise, but wanted to be married before sailing. We moved up the wedding date a few weeks to make it coincide with our honeymoon. We'll celebrate our 35th anniversary in September."