Unwanted Pets Wing Their Way to Freedom
Volunteer pilots fly doomed dogs to new homes
Saving animals from death at animal shelters is the key driver for organizations such as Pilots N Paws and Wings of Rescue where volunteer pilots fly unwanted animals from overpopulated urban shelters to places where they can find new homes.
Sadly, more than 3 million unwanted pets are euthanized in shelters across the U.S. every year, but volunteer organizations such as these can help save some furry friends.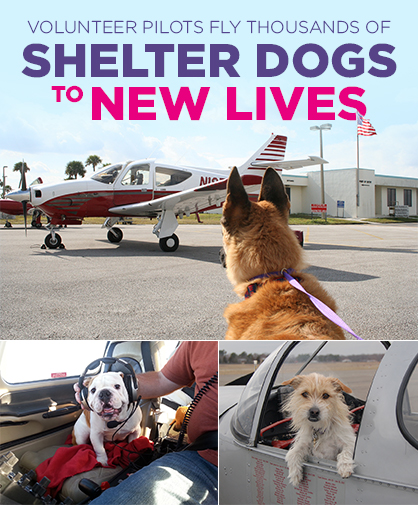 Volunteer pilots saving animals
Non-profit organizations such as Pilots N Paws and Wings of Rescue provide an amazing service to rescue doomed dogs, cats and other animals such as reptiles, pigs and rabbits from cities where they are destined to die in overpopulated shelters to places where they are wanted. Smaller dogs, for instance, are in great demand in areas with older populations such as Florida, but thousands of these dogs are put down annually in shelters in other parts of the U.S.
Pilots N Paws
Recognizing the need to help these pets, animal-lover Debi Boies and pilot Jon Wehrenberg began transporting animals in 2008 when Wehrenberg agreed to fly a rescued Doberman from Florida to South Carolina, to save the dog's life. The trip was a success and the two brainstormed on how to rescue other animals.
Pilots N Paws has rescued more than 75,000 pets in the past nine years, reaching more than 12,000 volunteers and 5,000 pilots. Last year alone, the organization flew more than 15,500 animals to new homes.
Each year, there are at least two big "flyaways" as Wehrenberg calls them, where a large number of pilots fly animals to new homes. The next one is slated for October 3 out of Rock Hill, S.C., when 50-70 pilots will fly more than 400 animals to new lives.
The premise is simple, he explains. "If you're already making a flight for business or pleasure, why not check the forum board to see if an animals needs to go the same direction. PNP flights save lives, and they add meaning beyond the $100 hamburger. Pilots are often looking for a reason to fly, so we're ideal for student pilots building hours toward a license, or pilots that love a good reason to fly."
The organization is always seeking new pilots and volunteers.
"The more pilots that join, the more animals we're able to save. We've seen positive growth each year, and our goal is to exceed 10,000 pilots. We currently have around 5,000," he said.
"It's well known that Mahatma Ghandi said, 'The greatness of a nation can be judged by the way its animals are treated.' It's crucial that we do as much as we can for these innocent animals in situations where they can't help themselves. Dog has long been man's best friend, and we recognize all of the love animals offer to people. The PNP flights aren't only saving the lives of the animals we fly, but we're enriching the lives of the people who are adopting the animals flown by our volunteers," he said.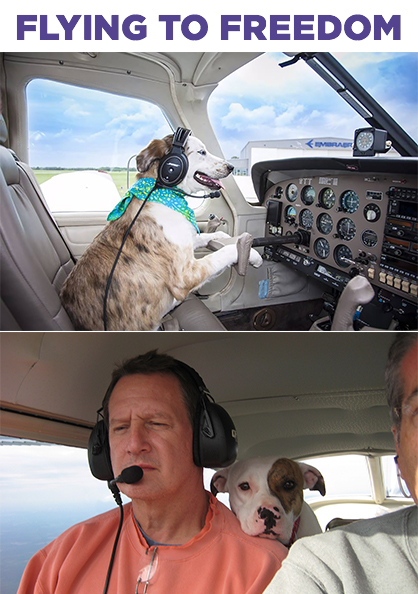 Wings of Rescue
Another worthy non-profit is Wings of Rescue, founded by Yehuda Netanel and Cindy Smith, where volunteer pilots have saved more than 14,000 high-risk shelter pets since being created in 2009.
"With approximately 3 million animals being euthanized in city and county shelters nationwide every year, Wings of Rescue is making a tangible difference with its unique alternative to the shelter system. Wings of Rescue is committed to saving the lives of shelter dogs and cats that are facing certain death by transporting them from over-crowded shelters to shelters that are under populated and in need of animals for adoption," Netanel said.
Wings of Rescue works with approximately 30 pilots and focuses on at-risk dogs and cats in shelters in Los Angeles and Bakersfield, Calif., and other similarly overpopulated areas.
"Some areas of the United States have no small dogs in shelters. We work closely with shelters in local areas to accommodate the types of dogs (breed, size, etc.) that are in need so they are adopted quickly from the receiving shelter," Netanel said.
The organization recently lost its flagship plane that flew 50% of the furry passengers and they are seeking donations to help raise the $2.5 million needed for a new plane. Netanel has donated the $1 million from the insurance proceeds of his lost plane to help kickstart the fundraising for the new plane to transport animals.
Never forget that when you see a plane above you, it might just be someone flying dogs and cats, not to mention rabbits and snakes, to safety.