Creating Wedding Day Memories
Wedding season is just around the corner and the final details are coming together. From the rehearsal dinner to the honeymoon, everyone wants to create the "perfect day." Let the wedding coordinators take care of those details so you can engage in the more personal moments. Beyond the memories that will last a lifetime, it's the keepsakes that really make a statement. These items don't have to rack up the wedding bill, but should be simple, sentimental and something to take home, other than a stomach full of indulgently-rich cake frosting.
The sentimental things will bring you joy getting them ready and creating memories for your loved ones to keep. Here are the personalized keepsakes that add the finishing touch to your big day.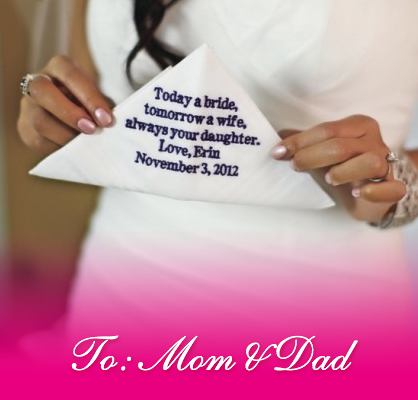 For daddy's little girl or the momma's boy, show them your personal touch of appreciation. Script-stitched handkerchiefs are the perfect way to share your day with the parents. Write a custom note, signing off with your wedding date. It's simple, thoughtful and might actually be used when they see you sharing your vows with your new spouse.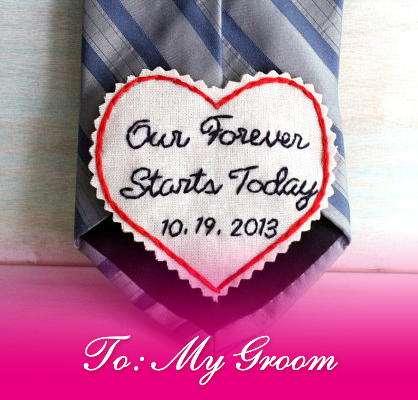 You've scored the ultimate man? Let him know how much he means to you. Weddings are all about customizing the moments to match your style. Give him an embroidered heart patch adorned with a short, personal note and your wedding date to always remember. The heart attaches to the back of his tie. He can wear the tie for another occasion, and will always be reminded of how special it was the first time he wore that tie.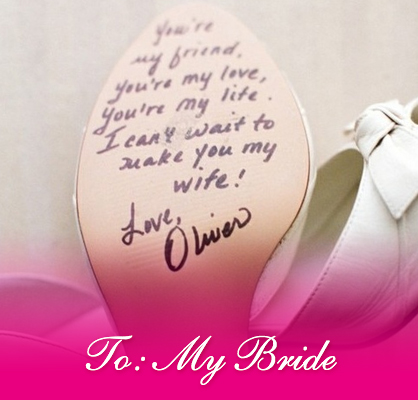 The woman of your dreams is about to walk down the aisle, surrounded by your closest friends and family. She's nervous. It's a given. Send a messenger to her bridal suite to steal her shoes for a quick minute. Send her down the aisle with a little love note on the bottom of her shoes and she'll be beaming at the sentiment. It also sends her that last moment's reassurance that you're always going to be there to ease her stress.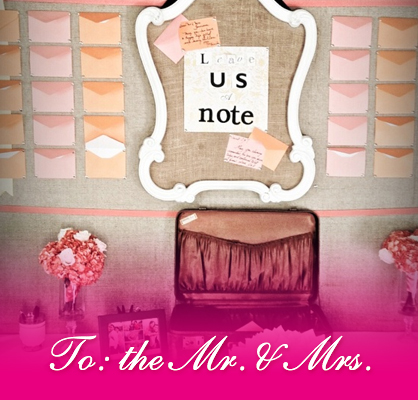 Lastly, give yourselves a little gift. A love letter box is the perfect way for your guests to send you off on your new adventure as a married couple. Use an old suitcase, wrapping paper covered box or basket to collect all the notes. Creatively put out paper, envelopes and pens for people to write on. Some people will send you off with advice, while others will share favorite memories about you as a couple. It's a great welcome back gift to read after the honeymoon.
Make your wedding day last a lifetime with personalized, sentimental messages.
Read more bridal