What to Wear: Spring Weddings
Wedding season is upon us! As your mailbox fills with invitations, your head might be spinning on what to wear. Whether it's a weekend away at a vineyard or a swanky evening in the city, we show you what dresses to wear for any type of wedding this spring.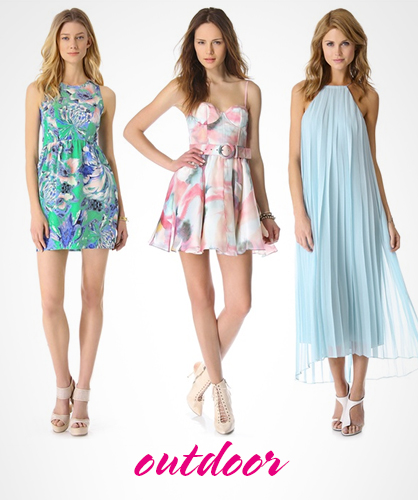 Tibi/ Pleated Chiffon Dress
Alice + Olivia/ Sweetheart Bustier Flare Dress
Shoshanna/ Louise Dress
An outdoor wedding soiree calls for flowy dresses, pastel colors and pretty prints. This bustier flare dress looks perfectly feminine with it's watercolor-print organza and graceful skirt. This pleated chiffon dress would be perfect for a beach wedding. The sky blue silk chiffon has an ethereal feel with graceful accordion pleats. The floral print dress is a lovely mini made of silk crepe featuring gorgeous painted flowers.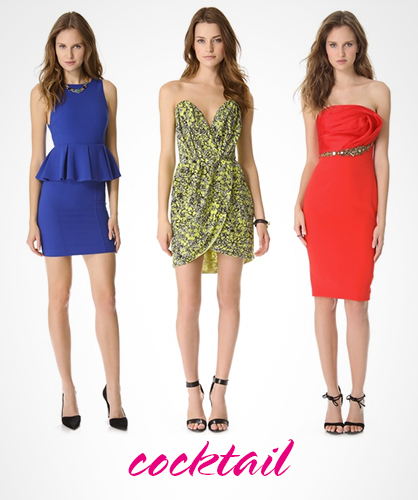 Alice + Olivia/ Pleated Peplum Dress
Porter Grey/ Printed Strapless Dress
Notte by Marchesa/ Poppy Cocktail Dress
Attending a cocktail wedding and need a dress that's fun yet elegant? We have you covered! Make a style statement in this printed strapless dress, featuring bright blooms on a strapless silk dress. This pleated pepllum dress is more subtle and sophisticated with a chic crepe around the waist and slimming pencil skirt. This poppy-colored strapless dress from Notte by Marchesa is perfect for spring. Twinkling antiqued crystals curve along the empire waist creating a softly folded bodice resembling a beautiful rose.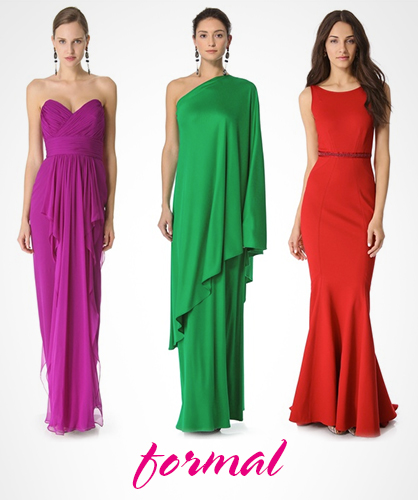 Notte by Marchesa/ Strapless Column Dress
Reem Acra/ Silk One Shoulder Gown
Zac Posen/Sleeveless Gown
If you've been invited to one of the swankiest weddings of the year, you'll want to make sure your dressed to the nines. Opt for this sophisticated yet glamourous red sleeveless gown for it's formal silhouette and timeless look. Look like a vision in fuchsia in this strapless column dress, featuring a sweetheart neckline and breezy silk georgette for a romantic elegance. Dress to impress in this lush green one shoulder gown. A cascade of shimmering silk jersey beautifully flows from the single-shoulder neckline to the floor.
Read more Spring 2013
Tagged in: trends, guides, fashion, dresses, designer, what to wear, spring 2013, weddings,