The Farmers Market: 5 Reasons You Should Shop Local
Fresh, ripe fruits crowd the walkways, their scents tantalizing. Bursts of color – bell peppers, carrots, radishes – catch the eye. Freshly baked breads stand eagerly in rows. Farmers markets are on the rise, with more than 7,500 registered in the USDA Farmers Market Directory as of 2012. Convenient, inexpensive and good for the body and soul, farmers markets are an all-around win for sellers, shoppers and communities alike. Here are five reasons you should head to your nearest local market.
Eat Healthy
Farmers markets sell items in their freshest possible state. In a traditional supermarket, it can take seven to 14 days from when the produce is picked to when it is put out to be sold. Your food, on average, travels 1,200 miles before it finds its way onto your plate. Yet studies have demonstrated that produce decreases in nutritional value the more time that elapses since its harvest. Instead of purchasing that carton of grapes shipped all the way from Chile, markets offer a range of just picked produce direct from farms. Don't clog your bod with processed food; get foods in their original state – or close to it.
"Increasing fruit and vegetable purchases is a critical means of changing diets and improving health outcomes," Anne Palmer, program director for the Center for Livable Future at Johns Hopkins School of Public Health, said.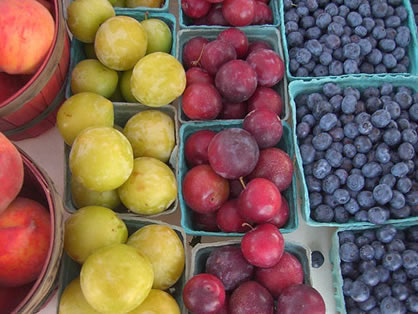 Fruits and vegetables are known for their nutritional density and low caloric intake. As concern over obesity, cancer, heart disease and other serious conditions grows, farmers markets stand ready to offer some relief and a chance to develop healthful relationships with food.
Strengthen the Local Economy
With massive unemployment threatening our economy, our country's thousands of farmers markets are bolstering local economies. Farmers markets grow business, which in turn generates jobs. In 2011, the Capital City Public Market in Boise, Idaho, for example, pulled in roughly $4.5 million in economic activity for the local economy. In addition, farmers who sell at markets garner at greater percent of the retail price, ensuring a fair trade.
Farmers markets represent a critical retail option for communities. Wages and proprietor income stays in the local economy. A group of case studies from Civic Economics discovered that per dollar spent a large chain store, only around 15 cents remains in the area. Locally owned businesses such as farms can retain 30 to 45 cents. A 2011 Economic Research Service study discovered that produce farms that sell to the local community employ 13 full-time workers per $1 million in revenue, whereas farms that do not sell locally employ only 3 full-time workers.
"Farmers markets are the ultimate green sector of the economy," Bernadine Prince, president of the Farmers Market Coalition, said. "Celebrate the power of farmers markets to incubate entrepreneurship and nourish both rural and urban economies."
Get It Organic and Cheaply
Your local farmers market is a prime organic foods shopping ground. A 2006 survey found that 45 percent of the produce vended at farmers markets is organic and more than 30 percent is free of chemicals and pesticides.
When Baltimore Supplemental Nutrition Assistance Program participants were questioned at a farmers market, less than one-third of these low-income consumers felt that high-quality produce was available and affordable in their community besides the market. More than half agreed or strongly agreed that the fresh fruits and vegetables they can buy at farmers markets make a difference in their diet.
A recent Economic Research Service found that less healthy foods have on average a low price per calorie, making them an easier choice for consumers than healthier options. A Seattle University price comparison study, however, determined that the majority of vegetables available at farmers markets had comparable or lower prices than the nearby grocery store. Another price comparison study, this time in the Appalachia and the Southeast, discovered that fruits and vegetables were on average 22 percent cheaper at farmers markets than at supermarkets.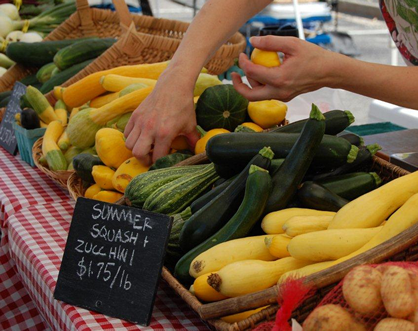 Grow Food Equity
More and more, low-income shoppers are turning to farmers markets to put fresh produce on the table. During 2011, SNAP participants redeemed more than $11.7 million in benefits at farmers markets, and nearly 2 million WIC mothers were able to buy fresh fruits and vegetables from farmers markets.
"Farmers markets are an essential player in the fight for food equality," Sharon Yeago, treasurer and past President of the Farmers Market Coalition, said. "Markets are increasingly being utilized by communities to provide access to healthy foods, not only feeding our most at-risk citizens, but local growers as well. "
Develop Community
Farmers markets bring together the community, as various groups congregate in a shared social space. Shoppers are not just developing healthy relationships with what they eat; they are developing sustainable relations with their neighbors and local farms. Psychologist Robert Sommer maintains that individuals who shop at farmers markets have 4.5 times more social interactions per visit than they would have per visit to a grocery store.
"Farmers markets create a public space for everyone to build relationships: farmer to farmer; farmer to consumer; and neighbor to neighbor," Copper Alvarez, vice president of the Farmers Market Coalition, said. "We stand in line with one another, exchange ideas about the food we eat, and we are nourished by the relationships as well as the food. Every time we gather at a farmers market, we become part of a unique experience that celebrates the diversity and wellness of our community."
Farmers markets also often reach out to the community by instructing consumers how to prepare fresh items at home and providing seasonal recipes.
To find a farmers market near you, search for one in USDA's Farmers Market Directory, or at LocalHarvest.org and EatWellGuide.org. For more information, visit the Farmers Market Coalition, a national nonprofit committed to strengthening farmers markets.
Tagged in: food, organic, produce, farmers market, farmers markets, farmers market coalition,