Coach Launches Krink Collection by Craig Costello
A new capsule collection of leather goods with designs by artist Craig Costello will launch in Coach stores and online at coach.com on March 1. The line includes handbags, ipad sleeves, wallets, luggage tags and zippered portfolios that retail from $98 to $798.
Known for his graffiti like designs, drip and splatter motifs, the Krink collection is a fun take on Coach classics. Working for a year to develop this collection, a complex 30-step silk-screen process was used to capture depth and texture of the drip designs.
After tagging bus shelters in San Francisco, Costello moved to New York in 1998 and began to develop his signature drip aesthetic around 2004. Dripping mailboxes and doors around the city, Costello was eventually arrested for his public art displays. "It's part of the territory. I don't have a record and I'm not a criminal," said Costello to WWD.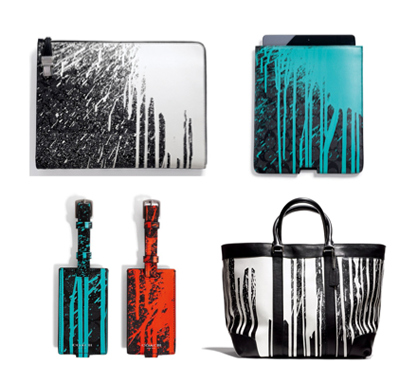 LadyLUX via WWD
Over the years, Costello has developed a product-friendly aesthetic since making a name for himself as a street artist with the tag, "KR." He's collaborated with numerous brands including Nike, G-Shock, InCase, Modernica, KidRobot and Levi's Japan to name a few.
"I think the projects we've worked on show a constant evolution of the brand. I don't want to be held to a singular vision or a singular definition. I like to be broad-based," said Costello of his disparate projects, which all stem from his distinct graffiti aesthetic," reported WWD.
Costello also markets his own line of art supplies under the name "Krink," which is a portmanteau of "KR" and "ink." These premium markers and inks are sold at art suppliers as well as trendy shops such as The Standard hotel commissaries.

Tagged in: handbags, leather, radar, coach, wallets, craig costello, krink collection,