E-Commerce Drives Luxe Retailers' Growth
We all know the Web is a hot spot. And luxe retailers know it too. While high-end consumer demand may have decreased some, the Internet maintains its power to transform companies and serve as a means of growth. Experts anticipate that e-commerce will prove to put the pedal behind the metal for many luxury companies this year, according to WWD.
Saks Inc. and Neiman Marcus Inc. recently reported their quarterly results, declaring that the Internet a primary source of growth.
Luxury consumers are still bearing the brunt of a poor economy. Stephen I. Sadove, chairman and CEO of Saks, estimated that the businesses' main customers have witnessed their tax rates grow by 8 to 10 percentage points, including adjustments such as higher capital gains taxes and an increase in payroll tax.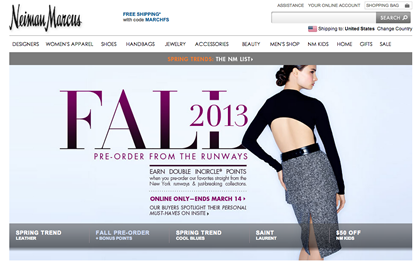 "In aggregate, it's a substantial increase to that consumer," Sadove told WWD.
The higher taxes are counterbalanced by strong stock market growth, but many luxe consumers have not been impacted.
"There's a little bit of a malaise that the higher income consumer is feeling," Sadove said.
While retailers still stick by old standbys such as engaging fashions and excellent service, many believe the real way to attract – and keep – customers is to integrate Web operations with stores.
Sadove believes that the Internet is acquiring a "critical mass" and that digital promotion pays off both online and off. Saks has decided to fill a portion of Internet orders directly from stores, intending to grow the practice.
Retailers who choose to go online see not only the number of customers increase, but also the expectations of the customers and the competition.
"On the Web you have to look at what somebody like Amazon is doing," Sadove said. "Not because they're selling the high-end apparel, but because of the consumer experience [online shoppers are] looking for."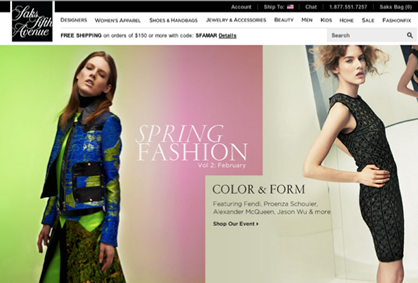 For example, Amazon.com has implemented a one-click purchasing system and an incredible range of customers reviews. "Those have now become the expectations of the consumer, so you've got to continue to invest," Sadove said.
Saks saw its fourth-quarter income fall 44.7 percent to $20.4 million from $37 million the previous year. Not counting special items, earnings remained stable at 17 cents a share.
Neiman's likewise has concentrated on online efforts, including investigating in websites abroad and requiring associates to carry smartphones to communicate with customers.
"We remain very focused in providing our customers the greatest level of flexibility to shop with us regardless of where she is and what device she is using," said James Skinner, executive vice president and CEO.
Neiman's just released, neimanmarcus.com.cn, a new full-price e-commerce website targeting Chinese consumers that is modeled after its United States site. In addition, the firm invested $10 million in a Chinese e-commerce firm, Glamour Sales Holdings, in 2012. Today the company possesses 44 percent of Glamour.
After concluding its second fiscal quarter, Neiman's net profits rose a mere $300,000, moving from $40.4 million from $40.1 million the previous year.

Tagged in: neiman marcus, luxury, saks fifth avenue, radar, e-commerce, online shopping,