LUX Beauty: Radiant Orchid
Since Pantone announced Radiant Orchid as the color of 2014 we've all been obsessing over the pinkish-lilac color. As we've seen numerous articles of clothing in this color, we can say that Radiant Orchid truly does look good on just about anyone. This made us especially eager to see what beauty products were out there, so if you're curious, here's our Radiant Orchid beauty picks.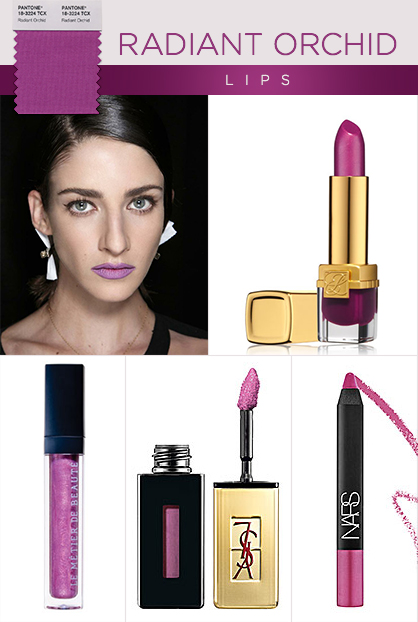 This is probably the easiest way to incorporate this color. Wearing a bold lip is nothing new to the beauty industry, but it's always a little more fun to wear a pop of color such as Radiant Orchid. Not quite pink and not quite purple, the color has the best of both worlds. There are plenty of options too. If you're looking for not quite as dramatic of a look, you can definitely rock this sheer gloss from Le Metier. If you're wanting a little more color, this Nars matte pencil will do just that, as will a lip stain from YSL. You can also go the traditional route with a killer lipstick such as this Estee Lauder limited edition version from the Bronze Goddess collection.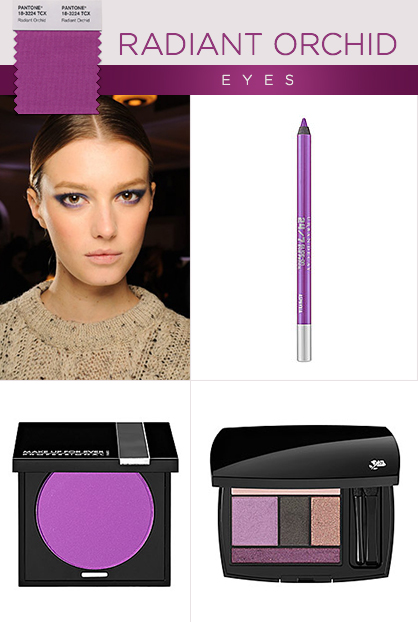 You can incorporate this color into your eye makeup fairly easily. There are different levels of commitment. Whether you opt to go all out for a dramatic take on the color, or opt for a subtle eyeliner. If you're looking to bring on the drama, go with Makeup Forever's matte eye shadow; if you're feeling adventurous, wet your brush and apply the shadow for a more vibrant color. While this color can certainly be bold, eye palettes usually offer other shadows to complement and tone down a look. This Lancome five-shadow palette is a good choice. For less of a commitment, go the eyeliner route and do a simple sweep of the color along your top lash line. Urban Decay offers a vibrant pencil.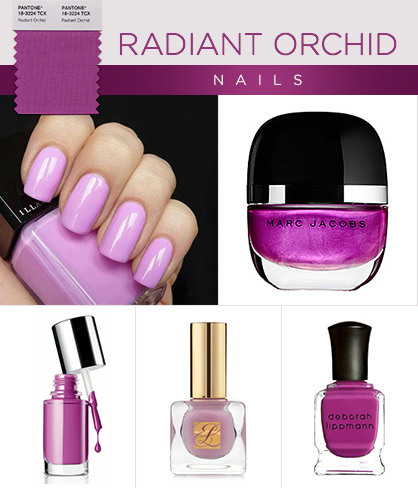 Much like lips, wearing color on your nails is pretty easy to achieve. With the many polishes out there, there are many variations of Radiant Orchid. A more lilac option maybe a better choice for those who don't prefer to wear bold colors, and Estee Lauder offers this shade. For the risk takers, go all out and opt for a sparkly polish from Marc Jacobs. Two other favorites are Deborah Lippmann nail lacquer and Clinque's limited edition nail enamel.
Read more about Pantone.
Tagged in: spring 2014, makeup, beauty, pantone, radiant orchid,