Michael Kors' New Emotion-Based Beauty Line
Come August, fashionistas will have a new colorful option with which to finish their beauty routine. Courtesy of Michael Kors and his beauty and fragrance licensee, the Aramis and Designer Fragrances division of the Estée Lauder Cos. Inc., three new collections – Sporty, Sexy and Glam – will embody these three emotions in fragrances and body and beauty products, reported WWD.
"It's wardrobing in the beauty world the way I do in clothing and accessories," Kors said to WWD.
Each feeling features two $24 Lip Lacquer shades, two $24 Lip Luster gloss products and two $18 nail polishes in hues such as Sporty's nude-taupes to Sexy's brilliant scarlet to Glam's edgy purples.
Kors is also releasing three $50 Bronze Powders: Glow, to brighten the skin; Flush, to give a shimmery tan look; and Beam, to create a copper glow. For the body, try Indulgent Body Crème for $60, Liquid Shimmer Dry Oil for $60 or Shimmer Bath Beads for $45. The line also lets you weather the sun with the $32 Liquid Self Tanner, the $32 After Sun Gelee and the $28 After Sun Lip Balm.
"Everything we've done in the beauty world has been because I've genuinely feel something's missing. That's how Leg Shine [a shimmery, tinted item designed to even out imperfections] came about. As we see this evolve, if I see something that's going to be an added component, that helps tell the story and helps simplify the whole beauty process for the customer, absolutely. But there won't be a set formula. It's an emotion, not a commodity," the designer declared.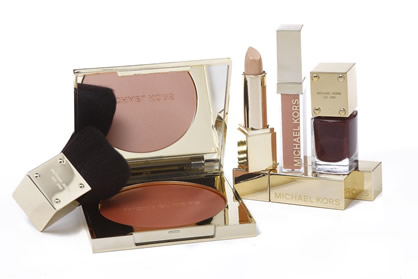 via WWD
Two of the three new scents partially break away from the designer's usual white floral notes. Sporty Citrus features mainly orange flower, with tones of orange and mandarin, while Sexy Amber is filled with amber surrounded by white floral and creamy sandalwood. Glam Jasmine goes back to Kors' roots as the white floral choice, with multiple jasmine scents offset by cassis and sandalwood. The three fragrances are available at $50 each for 1 oz., $75 apiece for 1.7 oz. and $95 for 3.4 oz.
"These are all my favorite scent memories," Kors said.
Eschewing beauty basics such as foundation and mascara, Kors sees himself as concentrating on what he believes his following wants to wear. For example, customer demand for jewelry generated a new collection of accessories.
"At the end of the day, I try to take a woman and make it easy for her in general," he said. "I always think the trick is, how do you look like you haven't spent a bunch of time when in fact it probably did take a lot of time. I wanted to do the essentials — the things you absolutely have to have to represent that mood. Not because someone told you 'Oh, you have to have it.' I've found that the best things evolve organically," Kors said.
The line will be released in the United States exclusively at 660 Macy's stores for one year. Around the globe, the collection will be sold in Michael Kors retail stores, with 25 to 30 stores functioning as flagships. Experts predict the new beauty products could bring in more than $80 million in international sales in the first year.
Tagged in: perfume, michael kors, makeup, beauty, radar,