Raffles Dubai Showcases World's Most Expensive Gown
Think a gown worth several thousands might break the bank? Designer Debbie Wingham just launched the most expensive garment in the world: a red diamond abaya worth a stunning $17.5 million. The abaya, a loose-fitting full-length robe, is outfitted with 2,000 stones, including 50 two-carat white diamonds and black diamonds, with a centerpiece of a rare red diamond, all set in platinum. Intricately fashioned and detailed by hand, the garment also features more than 200,000 stiches in 14-carat white gold thread and intricate beading.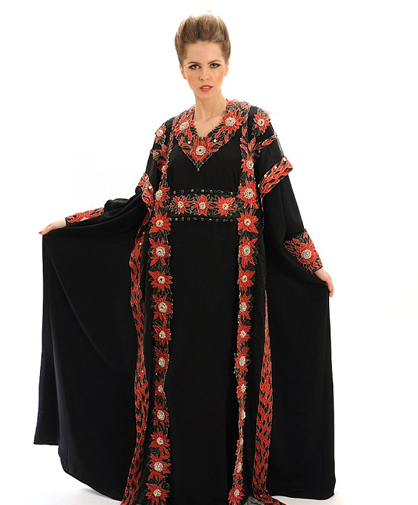 Photo Courtesy of Adel Hanna
Red diamonds aren't just expensive; they are the rarest diamond in the world. Only one in every 100 million diamonds is red. Boasting natural SL2 clarity, the gown's centerpiece red diamond is worth $7.4 million alone, as appraised by Antwerp. As the most costly diamond around, red diamonds are only discovered typically every 50 years, and even then are usually extremely small.
The designer has forayed into expensive dresses before with her black diamond dress, released in 2012 and considered to be the most costly black diamond piece of clothing around the globe. Covered by international media, the garment inspired a world tour and was soon a sensation.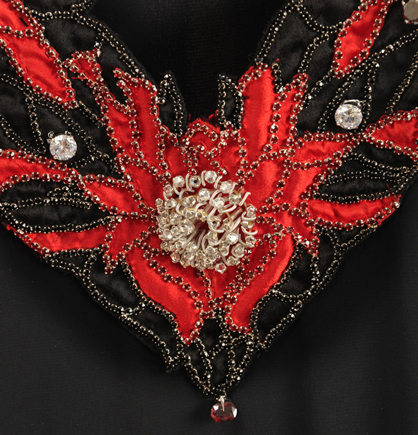 Photo Courtesy of Adel Hanna
The bejeweled abaya was inspired by Wingham's obsession with Dubai, which she intends to make her second home. The dress is not simply a stand-alone effort but rather part of an entire collection of modern abayas based on the traditional garment. The dress will be on display and available for a private showing at Raffles Dubai from March 21 to March 25. Wingham chose the hotel as her venue of choice as her favorite hotel, located in her favorite city.
Wingham's first step into the fashion world was a small boutique that later led to a showroom on King's Road. The designer's dresses, well-known for their fluid and fitted structure, have attracted a number of celebrities who have sported her looks while parading down the red carpet. See all her fashions at www.debbiewingham.com.
Raffles Hotels & Resorts is an international chain of luxury hotels first opened in 1887. With nine locations across seven countries, the luxe company is planning to expand to Istanbul, the Maldives, Indonesia, the Philippines and China during the next two years.
Tagged in: luxury, gowns, radar, diamonds, dubai, debbie wingham,