Radiant Orchid Revealed as Pantone's 2014 Color of the Year
Associated with creativity and originality, the shade of purple known as "Radiant Orchid" has been carefully selected by the global authority on color, Pantone, as the color of the year for 2014. Replacing 2013's emerald hue, Radiant Orchid combines undertones of fuchsia, purple and pink to create a captivating color for fashion, beauty and the home.
"While the 2013 color of the year, emerald, served as a symbol of growth, renewal and prosperity, Radiant Orchid reaches across the color wheel to intrigue the eye and spark the imagination," said Leatrice Eiseman, executive director of the Pantone Color Institute. "Radiant Orchid inspires confidence and emanates great joy, love and health."
A complement to neutrals and a flattering hue for many skin tones, there's no doubt this charming shade will have a strong presence in the upcoming year. See how to incorporate Radiant Orchid into your life for 2014.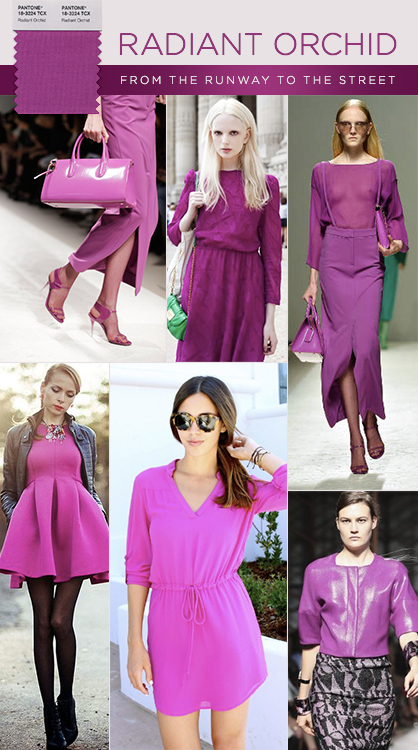 Taking the Spring 2014 runways by storm, designers including Max Mara, Marc by Marc Jacobs, Missoni and Burberry introduced the shade into their collections. Making its way onto the red carpet and into the streets, Radiant Orchid is already getting a head start and permeating the fashion scene. Look for the hue in men's and women's collections coming to retail this spring.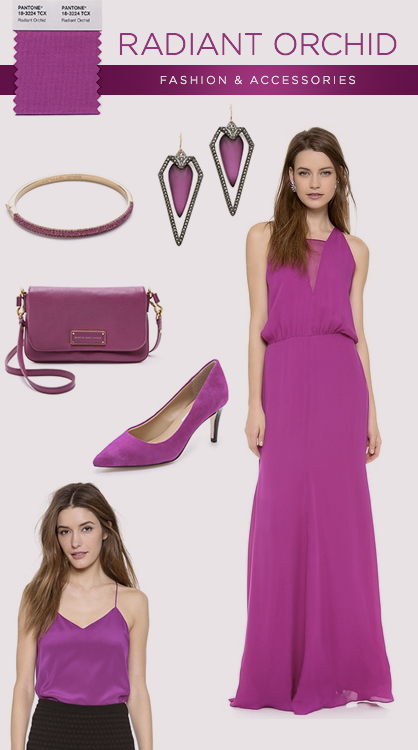 Michael Kors / Bangle Bracelet | Alexis Bittar / Arrowhead Earrings
Marc by Marc Jacobs / Purple Percy Bag | Mason by Michelle / Orchid Chiffon Gown
DVF / Suede Pumps | Tibi / Racer Back Camisole
Don't wait until 2014 to start working Radiant Orchid into your wardrobe; there are plenty of options to choose from now. Rosy undertones radiate on the skin and produce a healthy glow to those that wear it. Go for a head-to-toe look in a maxi dress, or incorporate the color into your shoes and accessories for a pop of pretty.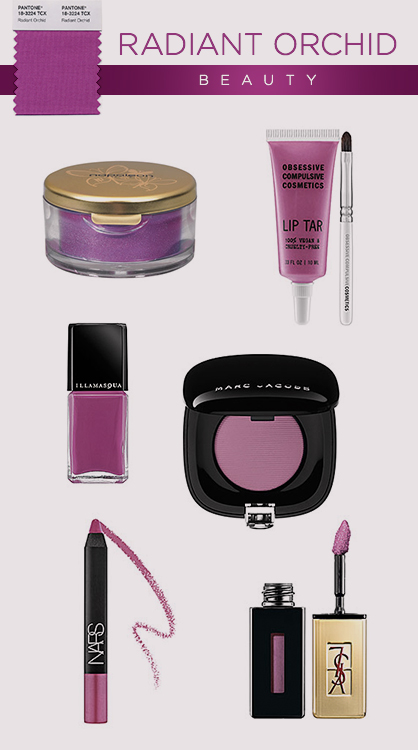 Napoleon Perdis / Loose Eye Shadow | OCC / Matte Lip Tar
ILLAMASQUA / Nail Polish | Marc Jacobs Beauty / Bold Blush
Nars / Matte Lip Pencil | YSL / Glossy Lip Stain
Enliven your beauty routine with pops of Radiant Orchid for a look that feels healthy and energetic. Featuring a blend of cool and warm undertones, this versatile shade is surprisingly flattering. Look for this shade paired with lavenders and pinks in eye shadows, nail polish, blush and lip stains. Stay tuned for the Sephora + Pantone Universe collection launching soon.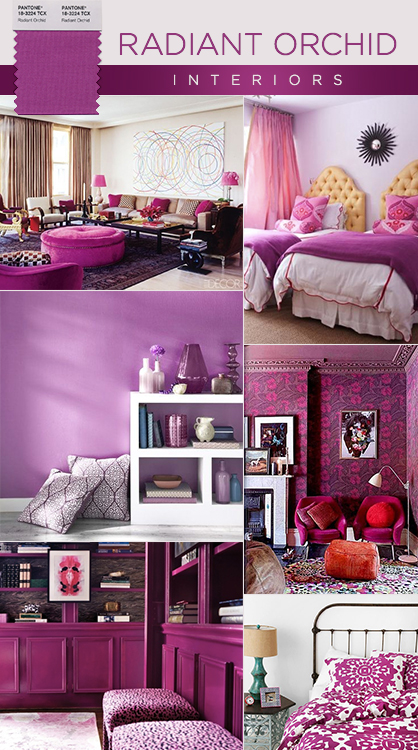 Living room or kitchen in need of a little makeover? Incorporate shades of Radiant Orchid for an uplifting look that's not overpowering. Perfect for wall art, pillows, decorative pieces and accent walls, this eye-catching hue has the ability to liven up any color palette. Mix with greens as a complementary shade or reenergize a room of neutrals.
Read more a href="https://www.ladylux.com/style/site/tags/tag/pantone/" target="_blank">Pantone
Tagged in: fashion, beauty, spring 2014, home, pantone, radiant orchid,